Dr. Marty ProPower Plus
This company has claimed this profile, is getting alerted on any new customer reviews entering this page, and may engage in dialogue with its customers to address their matters.

Companies cannot pay money or provide goods in order to remove or alter customer reviews.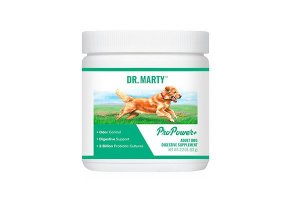 Summary
The formula found in Dr. Marty's ProPower Plus combines two billion CFU of four beneficial bacteria strains with enzymes and other ingredients that could help improve your dog's health.
Dr. Marty's ProPower Plus Review: A Detailed Look
Dr. Marty's ProPower Plus contains a blend of 14 health and digestive ingredients which allegedly delivers a long list of dog-friendly benefits, regardless of breed, age, or size.
The company states that this supplement may improve digestion, increased energy and alertness, boosted immune function, healthier teeth, less anxiety and nervousness, scratch-free skin, and a healthier, shinier coat.
To use, put one scoop of ProPower Plus's powder over your dog's food or a favorite snack, once per day. From there, the company promises that your pooch's health will be supported from nose to tail.
Your dog is part of your family, so you want to ensure they're as happy and healthy as possible. In this review, we will help you understand how ProPower Plus works and if it is the right option for your four-legged friend.
Analysis of Ingredients
The company indicates that ProPower Plus contains the following ingredients:
Super Pet probiotic-enzyme blend 1,000 mg or 2 billion CFU – Protease, Amylase, Cellulase, Hemicellulase, Lipase, Papain, Bromelain, Bacillus coagulans (SEBIOTIC®), Lactobacillus acidophilus, Bifidobacterium lactis/longum, Lactobacillus plantarum, and Fructooligosaccharides (DigebSEB®), Gum Acacia, Cellulose Plant Fiber
Champignon mushroom extract 80 mg
Kelp (Ascophyllum nodosum) thallus powder (Organic) 60 mg
The website also lists these nutrition details:
Crude Protein (min) 10.4%
Crude Fat (min) 0.31%
Crude Fiber (max) 28.1%
Moisture (max) 9%
Probiotics (min) 2 billion CFU/g
Using these numbers as a guide, Dr. Marty's recommends the following serving sizes, based on your dog's weight:
| | |
| --- | --- |
| Dog Weight | ProPower Daily Serving Size |
| 1 - 10 lbs | ½ scoop |
| 11 - 35 lbs | 1 scoop |
| 36 - 55 lbs | 1 ½ scoop |
| 56 lbs+ | 2 scoops |
Outside of the ProPower Plus's probiotic content, we're left with two remaining ingredients: 80 mg of Champignon mushroom extract and 60 mg of kelp thallus powder.
We did not find any clinical support indicating that Champignon ("white button") mushroom or kelp are specifically beneficial for humans or dogs.
However, mushrooms are high in fiber and protein, and they and kelp contain vitamins and minerals like selenium, potassium, copper, zinc, iodine, magnesium, iron, and calcium.
Safety
Like humans, dogs can take probiotics without the risk of serious side effects.
Mushrooms sold in large-chain grocery stores aren't toxic to humans or dogs, which includes the mushrooms used to make this supplement.
It's essential to talk with a veterinarian before giving your dog any supplements to help avoid potential side effects or interactions.
Pricing
ProPower Plus supplement is priced at:
1 jar: $69.95
3 jars: $188.85 ($62.95 per jar)
6 jars: $356.70 ($59.45 per jar)
The company offers free shipping and a 90-day money-back guarantee, less the cost of return shipping.
Popular Alternatives to ProPower Plus
There are a lot of canine probiotic supplements competing with Dr. Marty's ProPower Plus, many of which advertise the same general benefits.
They also share many of the same probiotic strains, prebiotics (food for the bacteria once they reach the gut), additional ingredients, and suitability for all ages, sizes, and breeds.
Their differences largely come down to pricing, formats, and specific formulations. Here how ProPower Plus compares to some of the top-rated options on Amazon:
| | | | |
| --- | --- | --- | --- |
| Brand | Price (Amazon) / Cost Per Serving | Format | # of Strains / CFU |
| Dr. Marty's ProPower Plus | $49.95 / $0.83–$3.33 | Powder (scoop) | 6 / 2 billion |
| Purina Pro Plan FortiFlora | $27.99 / $0.93 | Powder (sachets) | 1 / 100 million |
| Zesty Paws Probiotic Bites | $25.97 / $0.29–$0.87 | Soft chews | 5 / 3 billion |
| Nusentia Probiotic Miracle | $39.99 / $0.11–$0.22 | Powder (scoop) | 6 / 360 billion |
| Advita Probiotic Supplement for Dogs | $17.59 / $0.59 | Powder (packets) | 4 / 200 million |
| NutraPet Probiotics for Dogs | $19.97 / $0.17–$0.67 | Chewable tablets | 3 / 200 million |
Dogs can be picky eaters, so you might need to try more than one formula and format (powder, chewable, etc.) before landing on one that agrees with your pooch.
The Bottom Line
According to WebMD, the typical processed dog food delivers enough vitamins and minerals for your dog:
"Most dogs receive a complete and balanced diet – including necessary vitamins and minerals - from commercially processed dog food, according to the FDA. Dogs fed a homemade diet may need supplements."
WebMD goes on to emphasize that if your dog already receives adequate nutrition, supplementing with additional vitamins or other ingredients can actually harm their health, rather than boost it.
What about from an effectiveness perspective? We talked with Dr. Dawn M. Booth, director of the clinical pharmacology lab at the Auburn University College of Veterinary Medicine, to get an answer.
"It's hard finding quality evidence for the efficacy, much less the need, for these products," Booth told us.
American Kennel Club (AKC) states that canine-oriented probiotic supplements are very popular with some veterinarians and that a great deal of anecdotal evidence exists to support their benefits.
Furthermore, the AKC advises there are also several one-off clinical trials indicating that probiotic supplementation could—like in humans—enhance immune response, reduce diarrhea, and eliminate the need for antibiotics in dogs.
To help you decide whether or not your dog requires supplementation, as well as assistance choosing the best product (if any at all) while avoiding side effects and medication interactions, it's essential that you talk with your veterinarian beforehand.
Our Promise to You
In order to safeguard you and ensure helpfulness and relevance, our compliance team manually assess every customer review before it goes live.
We have a zero-tolerance policy for fake reviews, and companies cannot control or alter any reviews at any time.