Hempvana Pain Relief Cream Reviews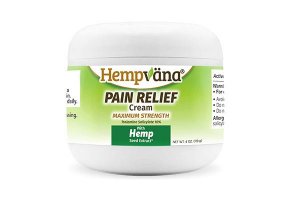 Summary
Hempvana pain relief cream is a topical analgesic that claims to provide relief from joint and muscle pain. A review of studies suggests that topical pharmaceutics' application may provide more short-term relief of minor aches and pain.
Pros
Active ingredient dosage formulated to offer deeper penetration to tissues
Easy to use and affordable
Cons
Studies are lacking showing long-term effectiveness of a topical application
Relief of pain is short term
Hempvana Pain Relief Review: Is It Safe and Effective?
Pain management options vary as the underlying cause can significantly differ from person to person.
There are many treatment options available to manage symptoms of pain include, including heat and cold packs, herbal supplements, over the counter medications, Physical Therapy, prescription medications, or surgery.
Topical pharmaceutical products such as Hempvana pain relief cream, when applied, seek to target the local area below the skin.
The active ingredients found in these pharmaceutical products are alleged to help facilitate deeper penetration into tissues at a rapid rate.
According to Hempvana, daily application will provide you with the following benefits:
Relieves pain and inflammation
Great for arthritis and muscle soreness
Treats pain, not your whole body
The method regarding the topical analgesics is to reduce the need to take pain treatments orally that may contribute to gastrointestinal issues. It may be a formidable alternative to address conditions related to OA when compared to oral ingestion.
In this review, we'll describe intended use, as well as the scientific backing of Hempvana Pain Relief Cream active ingredient.
Usage
Topical analgesics can be applied directly onto your skin at a site(s) in which you are experiencing pain.
According to the product description, Hempvana pain relief cream is intended for adult use only and can be applied up to four times daily.
The application begins by massaging a generous amount of the pain relief cream to the painful area (shoulders, elbows, wrists, knees, calves, and back) until it is thoroughly absorbed into the skin.
Is There Any Science Supporting Trolamine Salicylate 10%?
Trolamine Salicylate is used to treat minor aches and pains in the muscle and joints, such as arthritis, backaches, and sprains.
Trolamine salicylate is offered as a topical analgesic that is suspected to be a more effective and alternative means to minimize the adverse drug effects and complications of systemic analgesic use.
Salicylates specifically (provides the analgesic effect) are found in aspirins, which provide interference with inflammatory pathways.
Two studies show that a topical analgesic with salicylates compared to taken orally was associated with improved pain relief.
Based on blood samples and muscle salicylate levels, at least 82% of topically applied trolamine salicylate was absorbed during a period of 2 hours in pigs.
Since trolamine salicylate is applied directly onto the skin, the initial thought process was to increase blood flow to the area and vasodilate the blood vessels to increase the absorption of the salicylate.
However, an earlier study provides evidence of salicylate's ability to directly affect local tissue penetration without the need to provide systemic circulation to increase clinical effectiveness.
Data from a review of studies of osteoarthritis treatment suggests that topical analgesics may only be beneficial for the first two weeks.
A study to evaluate the efficacy of decreasing pain and stiffness of muscles when applying a 10% trolamine salicylate cream was done in patients suffering from osteoarthritis in their hands.
A one-time application of the cream was found to be safe and effective for temporary relief of minor pain and stiffness affected by osteoarthritis in the hands.
Osteoarthritis (OA) affects 240 million people globally and is the standard form of arthritis. OA primarily affects the elderly and can significantly limit independence, with pain being the most predominant symptom.
OA affects joints in your body, such as your shoulder, knee, ankle, elbow, wrist, hands, and back.
Changes seen in OA joints gradually degrade and destroy cartilage, the formation of bone spurs, inflammation, degeneration of ligaments, and menisci of the knee that may lead to chronic pain, joint instability, and stiffness.
While this condition occurs more frequently in the elderly, participation in sports-related activities while experiencing traumatic injuries can lead to OA.
Is It Safe?
Topical creams are generally safe. However, the lack of research, especially long term use, means that fully identifying the safety profile for this ingredient is not possible.
The efficacy and safety of acute topical non-steroidal anti-inflammatory drugs, including salicylate, are well studied. 43 studies confirmed that topical NSAIDs were effective and safe for osteoarthritis.
Trolamine Salicylate has no listed interactions with other drugs.
Side effects: Blistering, peeling, redness, irritation at the application site, nausea/vomiting, and ringing in the ears.
Contraindications: hypersensitivity from application to skin or site of pain.
Suggested use is for the treatment of minor muscle and/or joint pain, typically applied for adults.
If you are experiencing levels of increased pain that is not normal and new, you should notify a medical professional.
Available Alternatives
Topical pain relief creams are widely available from vendors that sell health and wellness products.
Product comparison will lead to finding a varying degree of pricing and formulation of ingredients.
Australian Dream Cream and Penetrex for Pain Relief are products that we have previously reviewed.
Both supplements contain similar ingredients that help to provide relief for joint, muscle, and back pain.
Australian Dream offers a 2 oz jar for ranging from $15-$18 (one 4 oz jar of Hempvana costs $19.99 including free shipping) and a pretty favorable safety profile.
One large 4 oz jar of Penetrex will cost you $34.95.
The Cost
Hempvana pain relief cream is available through many retailers, but purchasing a second 4 oz jar through their website can provide savings.
According to Hempvana's website:
One 4 oz jar: $19.99 with free shipping
Two 4 oz jars: $29.98 with free shipping
A 30-Day Guarantee backs Hempvana Pain Relief Cream. To claim a full refund or replacement, you must send the item back. You will be expected to have to pay for your shipping and handling, however.
The Bottom Line
Topical creams are generally safe but more long-term studies are required. Survey results indicate that more guidance is needed to effectively prescribe topical agents to manage pain in the long term, however.
While topical analgesics may provide good levels of pain relief, it may only be limited to acute conditions of sprains, strains, and overuse injuries.
Further, topical treatments may lead to better compliance of pain when compared to oral ingestion of NSAIDs.
Hempvana Pain Relief cream is a more affordable and reasonably priced option when compared to other topical analgesic creams used for the treatment of localized pain.
Always identify the source of your symptoms before use, and the inclusion of your physician can help determine the underlying cause and provide you the best possible care.
Our Promise to You
In order to safeguard you and ensure helpfulness and relevance, our compliance team manually assess every customer review before it goes live.
We have a zero-tolerance policy for fake reviews, and companies cannot control or alter any reviews at any time.