LeanFire XT by Force Factor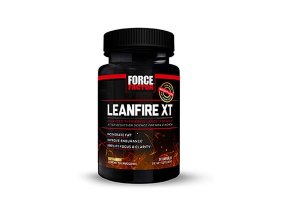 Can just a couple capsules of LeanFire XT really live up to its lofty claims? In this review, you'll find the answer to this question and many more by reading about the available scientific support for LeanFire XT's blend of ingredients.
LeanFire XT Review: What You Should Know
HighYa is supported by our readers. When you buy something through a link on this page, we may earn an affiliate commission. Learn more.
Claimed Benefits
Force Factor claims that LeanFire XT's thermogenic blend of ingredients will kickstart your metabolism and help you burn fat.
According to the product page, by taking one capsule 30–60 minutes before your two largest meals each day, you can expect the following:
Fat burning
Weight loss
Better endurance
More focus
Enhanced mental clarity
The proposed thermogenic effects of LeanFire XT may increase the production of heat in your body, allowing you to burn more calories.
The LeanFire XT Ingredients: What Does the Science Say?
Force Factor claims that the proposed benefits of LeanFire XT are made possible by its thermogenic blend of ingredients.
They offer a 721mg "Peak Thermovigilance Triplex" that consists of the following three blends:
1. Weight Loss Blend
Green Coffee Bean Extract (GCBE)
GCBE) offers caffeine and may also aid weight loss and blood pressure.
In a review of 3 randomized trials, those taking GCBE at doses ranging from 180-200mg for up to 4-months experienced more weight loss when compared to placebo.
Obese women that combined 500mg of GCBE with daily exercise over two months reduced their metabolic syndrome severity scores.
Green Tea Leaf Extract
Green tea is often included in fat-burning supplements for its suspected ability to boost energy and promote weight loss. Like GCBE, its effects may be related to caffeine.
The combination of 200mg of caffeine and green tea doses ranging from 901200mg daily increased energy expenditure. These benefits were seen regardless of the green tea dose.
The combination of 500mg of green tea and daily exercise improved body weight, BMI, waist to hip ratio, and body fat percentage to a higher degree than exercise alone.
L-Carnitine
L-Carnitine is an amino acid that may offer energy, weight loss, and cognitive benefits when supplemented.
According to this review of 9 studies examining the weight loss effects of L-Carnitine in adults, those using the amino acid experienced more weight loss and a more significant reduction in BMI. These benefits diminished with L-Carnitine use over time, however.
Cayenne Pepper
Cayenne pepper is often included in weight loss blends due to its active ingredient, capsaicin.
So far, the possible benefits appear to be only mild.
In a randomized trial, 1g of cayenne burned an extra ten calories over 4.5 hours. A more recent review confirmed these results. Researchers concluded that capsaicin might aid weight loss, though only to a minor degree.
Black Pepper Extract (BPE)
This spice may also boost metabolism. Overweight individuals treated with 6mg of BPE daily reduced their BMI and body fat.
2. Mind Matrix
L-Theanine
L-theanine is an amino acid that is often included in supplements that claim to enhance mental focus. It is also found in both black and green teas.
Combining 97mg of L-Theanine and caffeine improved accuracy on mental exams, though similar effects have not been well-studied.
Caffeine Anhydrous – 150mg
Caffeine anhydrous is a highly concentrated version of caffeine that may offer metabolism-boosting effects.
Caffeine, when dosed at 3 mg/kg before physical activity, led to more fat burning in healthy subjects when compared to caffeine-free regimens. Endurance exercise performance improved with doses ranging from 3-6mg/kg body weight.
In fit adults, 4.45 mg/kg doses of caffeine anhydrous were superior to caffeine; these individuals improved their running time to exhaustion.
3. Energy Complex
Theacrine
Theacrine is obtained from the leaves of the Camellia Kucha plant and structurally similar to caffeine.
Recently, 150mg of theacrine did not significantly enhance mental function, though subjects did report energy and mood benefits.
Dimethylaminoethanol DMAE Bitartrate
While your body produces DMAE, it is also obtained in fatty fish. DMAE is commonly included in nootropic supplements for its suspected brain-boosting benefits.
Nonetheless, there is not much support for these effects. A study in the 70s found 600mg of DMAE 3x daily reduced depression and anxiety in elderly subjects over 4-weeks.
Much more work is needed to identify the long-term cognitive benefits in human subjects.
Yohimbine HCL
Yohimbine is obtained from the bark of African evergreens.
Yohimbine at 20mg daily offered weight loss benefits in obese women. However, 43mg daily over 6-months was ineffective in men.
​​​​​​Is LeanFire XT Safe?
LeanFire XT is a stimulant-containing supplement and should be used with extreme caution.
As caffeine anhydrous is a highly concentrated form of the stimulant, you may react very differently when compared to your consumption of natural forms.
One teaspoon of caffeine anhydrous is equivalent to about 5000mg, or roughly 28 cups of coffee. Safe use for caffeine is considered to be 400mg of caffeine daily. While the 150mg offered in LeanFire XT falls well short of this, be aware that their blend also contains two other forms of caffeine.
Force Factor only details the caffeine anhydrous quantity, so adding LeanFire XT to your regular tea, coffee, and soda regimen may place you at levels beyond those that are safest.
Individuals with pre-existing heart conditions and those taking medications that support the function of the cardiovascular system are especially at risk, though healthy individuals can experience side effects too.
If you've consumed too much caffeine, you may experience restlessness, nausea, agitation, rapid heart rate, and increased blood pressure. The rapid consumption of 1,200mg of caffeine can also be associated with seizures or even death.
Never consume LeanFire XT in ways other than as directed and always consult your doctor before using a stimulant-containing supplement.
Pricing and Where to Buy
LeanFire XT is not available from their site, though several popular vendors offer this supplement. Check out the chart below for cost comparisons:
| | 30ct/ 60ct | Shipping | In-Stores/ Online |
| --- | --- | --- | --- |
| Amazon | $20.95/ $44.99 | Free | No/ Yes |
| Walgreens | $39.99/ NA | Free | Yes/ Yes |
| GNC | NA/ $69.99 | Free over $49 | Yes/ Yes |
Keep in mind that the 60ct bottle represents a 1-month supply. Based on current pricing, purchasing two 30ct bottles from Amazon is your most cost-effective option.
Force Factor does offer a customer satisfaction guarantee, though this is only extended to those with a Force Factor VIP Membership. This is their auto-ship program, which does not seem to be available as they don't offer direct purchase of LeanFire XT from their site.
Without the membership, they'll only honor refunds on unopened supplements – thus, you won't be able to trial LeanFire XT. This means that, again, Amazon is likely your best bet as they offer free 30-day returns.
For additional questions, call customer service at (877) 204-3263.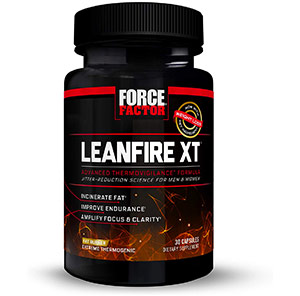 Buy LeanFire XT from Amazon:
LeanFire XT costs $20.79 for 30-count bottle and $29.99 for 60-count. Shipping is free. It is recommended to take one capsule before your two largest meals each day, so 60 capsules is a 30-day supply.
What Are the Alternatives to LeanFire XT?
As weight loss and fat-burning are common fitness goals, there are a number of vendors that claim to offer dietary supplements that can help you achieve these results.
At HighYa, we previously reviewed Performix SST. Like LeanFire XT, they offer ingredients like caffeine anhydrous, theacrine, BPE, cayenne pepper extract, and yohimbine.
At around $50, their 1-month supply is priced comparably to LeanFire XT.
You'll pay a few bucks more, though the Performix SST blend offers additional vitamins, minerals, and extracts.
Trans4orm from Evlution Nutrition is another option that includes ingredients like green tea, Yohimbe, and BPE. They offer a 2-month supply for around $30 at bodybuilding.com.
Incorporating lifestyle changes is likely your most cost-effective option. For example, you can reap the thermogenic benefits of a healthy diet and regular physical activity. Giving your metabolism a boost with these lifestyle changes is the best first step.
The Bottom Line
LeanFire XT's blend of thermogenic ingredients does have some scientific support for actions like boosting energy, metabolism, and focus.
The fact that LeanFire XT uses multiple forms of caffeine to facilitate these benefits can be concerning in certain individuals, however. The caffeine-related adverse effects seem to be reflected in LeanFire XT's rating at Amazon.
The supplement garners a 3.3-star rating from 286 users – nearly 50% of which are 3-stars or less. The unsatisfactory ratings seem to be due to side effects like the jitters, restlessness, and dizziness, though many also reported a complete lack of results.
Whether you have existing medical conditions or not, be sure to opt for the thermogenic benefits of healthy lifestyle changes as the first step on your weight loss journey. The addition of a supplement may enhance your results, though they can't replace the many health benefits.
Always consult your doctor before using supplements, making drastic changes to your diet, or engaging in intense physical activity to discuss the safest means of achieving weight loss.
---
Did not do anything.

By Wayne S.

,

Panama City, FL

,

Apr 1, 2020
Verified Reviewer

Overall Experience:

Took all the tablets for three months and nothing, no results at all. Took it the way they told to do and the time it said. I waited until they were all gone to make the review, lost no weight at all. A real scam. Three bottles and no help at all.

Bottom Line: No, I would not recommend this to a friend

---

This product works, I will buy it again!

By Kelly K.

,

New York, NY

,

Jul 18, 2019
Verified Reviewer

Overall Experience:

I noticed weight loss results after 3 months! I'm a proven example that this weight loss supplement really works. I noticed changes in my body within a month, I lost exactly 8 lbs exactly like the company advertised, that proven the goal this supplement was supposed to maintain. This is the only true dietary supplement that actually worked and burned stubborn fat, not water weight. I got my body back after gaining so much stubborn fat after giving birth, I finally found something that will get rid of the stubborn fat and pounds in a little bit of time and keep it off without exercise.

LeanFire XT is not a scam.

I am an active member, a proven example of the changes you will notice.

Bottom Line: Yes, I would recommend this to a friend

---

No. Just, no.

By Barbara H.

,

Germantown, MD

,

Jun 18, 2019
Verified Reviewer

Overall Experience:

I took my first pill today. Within 20 minutes I was shaking and went to the bathroom twice. Then I proceeded to yell at a guy at the gas station. That's not me. I don't yell at people.

The cover letter I received with my order stated to make sure you take a pill before your two large meals each day. Who eats two large meals in one day?

I'll stick with coffee and chocolate, thank you.

Bottom Line: No, I would not recommend this to a friend

---

Scam

By Amanda C.

,

Roanoke, VA

,

Dec 1, 2018
Verified Reviewer

Overall Experience:

All these people do is take your money 18 days from when you place order, and you don't get produce for over a week, and then they charge you. And the pills are junk, and the customer service is rude - one says still on trial, and then they bill you after you cancel the day before! And the customer service thinks they are important and scared to give Corporate's number because they lie! Jason, number 2000, is a joke.

Bottom Line: No, I would not recommend this to a friend

---

Advertisement

---

Liars and thieves!

By Jason M.

,

Owasso, OK

,

Oct 26, 2018
Verified Reviewer

Overall Experience:

I hope that you are reading this BEFORE you accept the "so-called" trial they have because they WILL absolutely charge you BEFORE your scheduled date.

I had absolutely no idea they had already charged my card until I called in to cancel to avoid being charged on the date they stated I would be charged, on which was 10/29. So I call in on 10/26, three days ahead of time, which is plenty of time to cancel, and I'm told that they just charged me $74.95 today. And I was told that I would be charged on 10/26 and that I must have mistaken the 6 for a 9, but they can cancel it going forward, and I'll get a refund when I send in the bottle they have already shipped (supposedly). But you see, I have not received an email stating that another bottle has been shipped, and an email was sent to me the day they shipped the trial bottle, so I know nothing has gone out as of yet, so they could easily still cancel the crap and refund me my entire $74.95 that they STOLE!

But no, the representative will tell you that they can only give you 60% of your money back now, or you will just have to wait until the next bottle arrives and send it back for a full refund, meaning you will have to wait several weeks if not a month for your money back because like I said, that bottle was NOT shipped to me today, and if you're anything like me, who happens to live on a budget, I don't have that kind of time to wait. I have kids I have to feed, and my rent is due to keep a roof over their heads, but I am the one who is having to bend over and take it because they charged me early!

SO, I ask for a supervisor and I said, "It was stated that I would not be charged until 10/29 and I want a refund since you charged me on 10/26 and the supervisor's exact words were, "Well, that's not going to happen because this is an 18-day trial and if you count 18 days from the day you signed up for the trial then that would actually put you at 10/24." So I'm like, then why was I told 10/29, and she basically called me a liar saying that I wasn't told that and she refused to help me whatsoever! In fact she hung up on me.

This is a supervisor representing this company! This company has to be a joke and out to do nothing but rip people off! It's supposed to give you energy, but yet my husband took one and fell asleep an hour later, so again, nothing but liars and thieves! Please save yourself the heartache and the money and DON'T make the same mistake I did!

Plus how can you say it's an 18-day trial and start the trial before you even ship the product? That's not a FULL 18-day period the consumer is getting to actually take the product. It's just all a lie and a way to steal from people, and then once they have your money, there is nothing you can do about it because they have supervisors like that working for them who will just say too bad, you're not getting a refund, and you're not canceling either, and then hang up on you.

So, now I guess I get to go and cancel my card and get a new one too, on top of losing $75 for nothing when I did what I was supposed to and called in plenty enough of time to cancel my trial before I was supposed to be charged. That is not right, and I hope someone figures out how to shut this company down before they are able to take advantage of too many more people.

Bottom Line: No, I would not recommend this to a friend

---

Do not buy, will charge card unauthorized charges!

By Myra C.

,

Ohio

,

Sep 26, 2018
Verified Reviewer

Overall Experience:

This is a scam, do not buy the free trial. I was told I have 18 days and I have yet to receive the free bottle, and a week later my card was charged almost $80. I was told once I receive the shipment to send it back with an RA number, and I have to pay for the shipping.

Bad company to do business with. Just go to GNC.

Bottom Line: No, I would not recommend this to a friend

---

Work in me!

By Victor C.

,

South River, NJ

,

Sep 4, 2018
Verified Reviewer

Overall Experience:

I am 50 years old. To take these pills, you first have to constantly exercise every time you consume them, not have any heart problems, not have nervous systems problems, eat very healthy, suspend dinner, eat nothing after 7 pm, no junk food or features, nothing that contains caffeine, and these pills will work and burn fat if you do all this. Good! This is not miraculous if you take it and do not make an effort to control your appetite and you not do everything I told you first. You will not see results and you could have tachycardia, beware!! The metabolism changes, so careful!

You have to focus on exercise, it makes you choleric, and you have control. I am addicted to these type of pills and learned to control myself and to think that if I take them I have to do exercise, it works in me. I have energy in everything I do awake with more concentration. I do not forget things, it is also important to mention that we all have a different metabolism, I gained weight when I got married, I was waist size 28, and I went up to waist size 34. My doctor told me that I had high cholesterol, and I need to suspend high-fat foods, but I also did not feel the same energy and started to research weight loss pills. I started taking them, I lost weight and I have incredible energy as 20 years old boy. I went back to my normal waist, and now I am 29 or 30. I feel very good about myself, as I am more healthy and my cholesterol has disappeared.

Many do not mention what happens to them at the beginning, it was not easy to control the new thing that happened when I was taking these type of pills, but I have a lot of control of not exceeding what is recommended. I'm not getting angry, and I'm not taking them for no reason, anything that contains caffeine. It has been already 16 years that I have taken these type of pills. The new ones that come to the market, I have my doctor check periodically, and everything is fine, thanks to God!

LeanFire Force Factor works very well in me, I am a person who tells the truth about my experience, and despite that, I have lost weight. For many years, I stay the same size, and I have no side effects. So be careful if you do not exercise and do not eat healthy, if you have heart problems, nerve problems or high blood pressure, do not take them. As I told you, it is not miraculous, you have to put the willpower and you will see results.

Bottom Line: Yes, I would recommend this to a friend

---

LeanFire XT

By Sandra S.

,

Michigan

,

Jul 24, 2018
Verified Reviewer

Overall Experience:

It is definitely a scam. I tried it for two months and it did absolutely nothing! They talked me into the second month saying they would refund the cost if it didn't work. When I called for a refund, they refused. They just tried to sell me a different product. What a scam!

Bottom Line: No, I would not recommend this to a friend

---

Self-employed

By Donna Irvin

,

Dallas, TX

,

Jan 3, 2018
Verified Reviewer

Overall Experience:

I took this product for one week and I was so sick. I tried it with food, without food, I exercised, and I was so nauseated and jittery I felt like rubber. It gave me no energy, but it turned my stomach upside down. Several times I thought my heart would come out my chest, which is very, very scary. I trashed them and vowed never to use anything of this nature again.

Bottom Line: No, I would not recommend this to a friend

---

Overall Experience:

I tried it, and it did give me energy, however, it made me feel like my brain was scrambled. I couldn't concentrate, and it made me waste a whole day of work after I exercised that morning because I could not get it together.

Bottom Line: No, I would not recommend this to a friend

---

Overall Experience:

I tried this both on an empty stomach as the directions state and with food. Both ways made me physically ill. I felt nauseous, sweating, rapid heartbeat, and I mean very rapid, lightheaded, shaking, it was so bad that I nearly went to the hospital when I took it on an empty stomach. I called them and they suggested taking it with food, but that didn't help that much.

Obviously I can't take it, so no weight loss, and I don't think it is safe at all. Listen to WebMD, seriously. I am losing weight on my own. It's slow, but I don't feel like I am going to die.

Bottom Line: No, I would not recommend this to a friend

---