Scentbird Reviews
Claimed This company has claimed this profile, is getting alerted on any new customer reviews entering this page, and may engage in dialogue with its customers to address their matters.

Companies cannot pay money or provide goods in order to remove or alter customer reviews.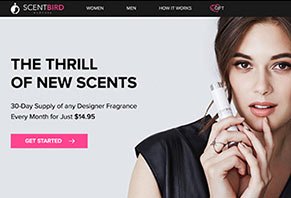 Scentbird offers you the chance to shop over 450 designer perfumes and colognes. Then, receive one sample spray each month through their subscription service.
About Scentbird
Still searching for your signature scent? Scentbird is a monthly perfume subscription service that promises members access to 30-day samples of men's and women's designer fragrances at a fraction of the full-bottle cost.
Founder and CEO Mariya Nurislamova was first inspired by the idea of a scent-sampling service as a teen. Mariya, nicknamed Masha, grew up in Berezniki, Russia—a place she describes as dilapidated and industrial. In an interview with Inc.com, Masha tells of her early appreciation for perfume; first her grandmother's bottles of Red Moscow, then the growing collection of international favorites secreted home in the suitcases of an aunt.
What makes Scentbird special? Described by InStyle as the "Netflix for perfume," Scentbird does more than give commitment-phobes an opportunity to try out products before shelling out hard-earned dough for the full-size version. To help members explore potential hits, the subscription service claims to employ technology to make smarter recommendations, tracking their feedback for future recommendations.
For bloggers, social influencers, and trendsetters, Scentbird offers an additional opportunity to earn through their affiliate program. We'll look at the claimed perks in a bit, but first:
How Does Scentbird Work?
To begin exploring what Scentbird offers, you first have to sign up at their website. New customers will be prompted to complete an interactive quiz to help the service identify your preferences. Based on your answers, Scentbird will suggest different perfumes. You can then select the best options and place them in a monthly queue. For August, you could get Agent Provocateur. For September, Anna Sui, and so on for the length of your subscription.
According to Brit.co, customers who aren't interested in signing up for a Scentbird membership can order individual 8 mL cartridges of perfume or cologne, the equivalent of a 30-day supply, without a subscription.
However, there's a catch: Before you answer whether your preferences lean towards floral or woodsy—or place an order sans-membership—signing up requires that you enter your payment information. If you're sure you want to shop, this isn't a problem. However, know that customer reviews complain about unexpected charges (more on that later).
By clicking "Buy Now," shoppers agree to purchase a continuous subscription right off the bat. A subscription results in monthly billing. Further, your Scentbird plan will automatically renew, which means the company can continue shipping you scents for a monthly fee indefinitely. Again, note that this is before taking a questionnaire or shopping Scentbird's selection.
Once you've signed up for Scentbird, your first order will ship either between the 15th–18th, or the 25th–28th of the month, depending on when you place your order. All recurring orders are shipped between the 15th and 18th of the month. You will receive an email confirmation of shipment each month and should allow 7–10 days for delivery. Also, note that Scentbird only ships to the US.
How Much Does Scentbird Cost?
Scentbird offers customers three different ways to receive perfume: membership, full-size bottles, and gift boxes:
Scentbird Monthly Subscription (Membership)
A Scentbird subscription costs $14.95 each month, and includes free shipping of each month's selection. Dedicated scent-lovers can save by signing up for one of their multi-month plans:
6-months: $84.00 ($14.00 /month)
12-months: $164.00 ($13.50/ month)
It's important to note that, should you choose one of their two multiple month subscriptions, your card will be charged the entire fee at one time.
What do you get by signing up for Scentbird?
Upon subscription, you'll gain access to over 450 scents—all guaranteed by Scentbird to be authentic.
Your first shipment will include a complementary carrying case to hold and protect your vial.
Each month, you'll receive a 0.27oz spray of your selected scent. This is claimed to be 120 sprays, or enough for one month of moderate use.
According to Scentbird's website, you may cancel your automatic subscription renewal any time by emailing them at support@scentbird.com. However, Scentbird does not offer returns or refunds of any kind on their subscriptions. (Something to consider before signing up for that multi-month plan.)
Scentbird Individual Bottles
Scentbird also sells full-size bottles of perfume and allows members to apply a single month's credit towards the purchase price, resulting in a $14.95 discount. If a full-size bottle is too large, you can also purchase a single cartridge for $16.95. Shipping on individual bottles is a $7 flat-rate for orders $49 or less. Shipping is free on orders over $50.
Full-size perfume bottles (not cartridges) can be returned for store credit only within 15 days of purchase. (No cash returns.) Additionally, customers are responsible for the cost of return shipping.
Sending Scentbird As a Gift
Shoppers can choose to send either a Scentbird gift box or gift a subscription. Gift Boxes are available for both men (cologne) and women (perfume), and each includes three vials of scent. Options include:
The Hollywood Diva Set: Gucci Premiere, Estee Lauder Modern Muse Le Rouge, and Yves Saint Laurent Black Opium
The Miss Heartbreaker Set: Dolce & Gabbana Dolce, Gucci Guilty, Giorgio Armani Acqua di Gioia
The Miss Pretty Set: Lalique L'Amour, Salvatore Ferragamo Emozione, Nest Fragrances Midnight Fleur
The Gentleman Set: Yves Saint Laurent L'Homme, Bvlgari Bvlgari Man in Black, Dolce & Gabbana The One for Men
The Trendsetter Set: Versace Eros, Viktor & Rolf Spicebomb, Gucci Gucci Guilty Black
The Mr. Billionaire Set: Bentley Bentley for Men, Paco Rabanne 1 Million, Tom Ford Tom Ford Noir
Each gift box costs $59.95 and includes the offer for one free month of Scentbird (for new members only). Shipping is free. Gift boxes can be returned within 15 days of delivery, although the recipient is responsible for return shipping.
What Is Scentbird's Affiliate Program?
If you're a blogger or social media trendsetter with a following, Scentbird offers an affiliate program that pays you to promote their service. The program promises the following perks:
A $7 commission on all Scentbird subscription sign ups
45-day cookie length to track potential sign ups
Text links, product links, and banners to help advertise
Incentives and bonuses
Affiliate programs differ from multi-level marketing plans in that you're not required to actively recruit customers. Instead, by placing a link to Scentbird's store, there's the potential to earn some cash.
These programs aren't new and are used by many startups to help offset the high costs of advertising. While affiliates are supposed to disclose the benefits they receive (including free samples), sometimes it's not so obvious.
This blurred line means that affiliate programs can make it difficult for consumers to know which blog posts positively reviewing a product are genuine, and which are purely promotional in hopes of earning the writer commissions. With that in mind, let's look at…
Scentbird Reviews: What Are Customers Saying?
Blog posts reviewing Scentbird's monthly subscription are generally positive, such as these from Mrs. Muffintop, Subscription Box Ramblings, and Beauty Blogger (dot) Reviews.
However, a look at the comment sections of one review reveals some less-than-happy customers: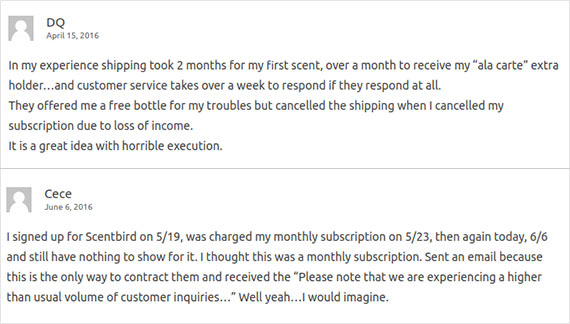 Images via ByAdvisor.com
Those two customers aren't the only ones who have experienced delays with Scentbird's shipping, either. Here are several comments left on the company's Facebook page: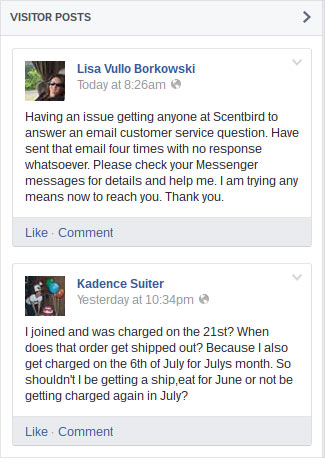 ​
While customers who have received their Scentbird shipment continue to leave positive reviews for their products, scrolling through comments shows that lagging shipment times and slow-to-respond customer service aren't one-off concerns.
Scentbird's Red Flags
Considering that Scentbird appears to send out the advertised size samples of genuine perfume, we don't feel that this subscription service falls under the category of "scam." Additionally, it's not uncommon for newer companies to experience some growing pains (Scentbird is only two years old), which could account for their slower-than-average shipments.
However, due to our experience researching products, there are a few red flags worth noting:
First, Scentbird requires your credit card information immediately. This can mean that, unless you're very careful about what you click on, you could end up with some unexpected charges. And remember, the company doesn't offer refunds or returns.
Next up, Scentbird is an autoship program. As we mentioned above, these programs can result in unexpected charges (keep an eye on your credit card bill!) and are generally reviewed by HighYa readers as having poor customer service.
Related: Free Trial Offers & Autoship Programs Scams: What They Are & How You Can Avoid Them
Finally, because Scentbird offers bloggers and social media stars a $7 commission for each time one of their readers clicks a link to purchase, searching through reviews means that you're likely to be subjected to some biased opinions—just something to remember if you're on the fence.
Looking for Another Way to Sniff Before You Buy?
While Scentbird certainly seems to deliver a unique angle for trying and buying different perfumes and colognes, it's important to note that they're not the only game in town. Popular competitors include:
Scentbox: From $12.95/mo
Olfactif: $18/mo
Beautyhabit: Six samples for $11 (I've personally shopped for samples here and was very pleased.)
Luxury Scent Box: $15/mo
FragranceNet.com: Not a subscription service, but you can purchase many different popular scents in sizes as small as .02oz and for as little as $2.99.
Researching these options, you'll find that many are priced relatively in line with Scentbird, and even offer many of the same perfumes and colognes.
How to figure out which option is best for you? For the most part, it could come down to a combination of price, scent availability, and overall online customer feedback.
This company is actively collecting reviews from its customers. All reviews submitted are subject to moderation and approval to ensure they meet our

Review Guidelines

.

Cancel

By Natalie C.

,

Poughkeepsie, NY

,

Nov 20, 2019
Verified Reviewer

I want to cancel and can never get a hold of anyone.

Bottom Line: No, I would not recommend this to a friend

Nov 20, 2019

Hi Natalie,

We truly apologize for any inconvenience caused and we're also sorry to hear that you want to cancel. We tried to search for an email from your name in our system but we're unable to find any. Thus, we want to help asap- send us your email and complete shipping address at socialsupport@scentbird.com with "HighYa c/o Pat" in the subject line and our team will provide a solution to your concern.

We'll wait for your message!

---

Great service

By Rick C.

,

Washington

,

Jul 31, 2019
Verified Reviewer

I just received my second shipment. Very pleased with the service. The only thing that could use some improvement is the Scentbird container. It is coated with a rubber paint that starts to break down if it gets wet. Not a big deal but it could be easily fixed.

Bottom Line: Yes, I would recommend this to a friend

Jul 31, 2019

Hi Rick,

We are incredibly grateful that you took the time out to leave us a wonderful 5-star review! I'm so sorry to hear about your case, I will be sending you a free, new colored case so that you can have the best Scentbird experience :) Rest assured this will be forwarded to our Quality Assurance team so it will not happen in the future.

If you have any other concerns now or in the future, please email socialsupport@scentbird.com with "HighYa c/o Pat" in the subject line and I'll be happy to help :)

---

Advertisement

---

Worst customer service ever

By Chelaina S.

,

Oklahoma

,

Jul 26, 2019
Verified Reviewer

I've had nothing but issues with this company. They literally have the worst customer service I have ever come into contact with. I decided to upgrade my subscription after a couple of months (worst mistake I've ever made), they charged my account a week early. I then waited an additional 3 weeks only to receive an email stating one of the perfumes was on backorder. Apparently, it takes 4 weeks to figure that out. I then had to argue with them for another week or so. Keep in mind they literally wait days to respond. Finally 6 weeks later they issued a refund. Last week I received another email stating I had been charged yet again. After the last nightmare I was very clear about canceling my subscription, however, now they say no refund even though it should've been canceled last month. Now I'm writing reviews everywhere as well as reporting them to my bank and PayPal.

Bottom Line: No, I would not recommend this to a friend

Jul 30, 2019

Hi Chelaina,

I am truly sorry about your unpleasant experience with us and this is absolutely not the experience we wanted you to have.

We have no excuses for what happened but we want you to know that we will absolutely take this as feedback and pass it on to the team most especially our operations team. They are doing their best to have all stocks evenly distributed to all of our customers and we are hopeful that this will prevent backorders from happening. We also offer our deepest apologies for the delayed response time as we were not able to assist you in canceling your account when you requested. We have received a higher volume of e-mails lately and our team has been working hard to get back to each and every inquiry as soon as we possibly can.

Due to the way our system is structured, it is very difficult to cancel an order after it has been placed and this is the reason why we were not able to provide a refund back to your account. Chelaina, we can never apologize enough but our support agent Nadine S. confirmed your account is canceled and your July fragrances are shown as successfully delivered. We'll strive to do better!

---

I like Scentbird

By Tiffany M.

,

Ohio

,

May 6, 2019
Verified Reviewer

I've received 5 orders from Scentbird so far. I read lots of mixed reviews first, but decided to proceed with caution. I use PayPal for billing, so if I decide to cancel, I can change my settings with PayPal, too, and not worry. Just be aware that subscription shipments take a while. I get charged around the 3rd of each month and receive my shipments towards the end of the month.

I did have to write Scentbird an email when one of my bottles leaked most of the perfume during shipping. It took a week to hear back from them, but they were professional and courteous; replaced my bottle for free, and shipped it quickly. I've ordered small bottles apart from my subscription and received those very quickly as well. Overall I'm satisfied!

Bottom Line: Yes, I would recommend this to a friend

Jul 19, 2019

Hi Tiffany,

Thanks for writing us a review and thank you for sharing your experience :) We truly appreciate it! The reason why our customers receive their shipments at the end of each month is that we ship in batches. In addition, because our fragrances are considered Hazardous Materials, the shipments can take up to ten business days to be delivered in ground shipping.

We're also happy to hear that you received your replacement right away from your leaked fragrance! Our aim is to provide superb customer satisfaction to all of our subscribers and this review makes us feel that we are doing our absolute best :)

---

Advertisement

---

So far so good

By Patrick S.

,

Huntley, IL

,

Apr 12, 2019
Verified Reviewer

I'm a newbie, received my first selection in five days. Comes in an interesting mini spray device with Scentbird logos on it. It twists to open. The fragrance seems good, it's kind of an oil-based cologne. I will keep updating as weeks go on, but as I said, so far so good.

Bottom Line: Yes, I would recommend this to a friend

Jul 19, 2019

Hi Patrick,

Thank you for writing us a review! I know this response is already a year late but we truly appreciate you sharing your positive experience with us :) By the way, if you ever choose to return to Scentbird, please send me an email to socialsupport@scentbird.com with "HighYa c/o Pat" in the subject line and I'll give you something extra.

---

Started out great

By Sheila R.

,

Silverton, OR

,

Mar 21, 2019
Verified Reviewer

Started out great. Some of the scents I loved, some I ended up giving away. Everything was great, then my financial situation changed and I was going to end my subscription, but at the last minute, I decided to just get a new scent every three months instead. So three months go by and I saw I had been billed from Scentbird. At first I was confused because I thought I had canceled, but when I logged into my account, I remembered I had switched to every three months.

So I'm excitedly waiting for my perfume and three weeks go by, then four, and no perfume. I went to email them and saw a notice that said due to a move to a new warehouse, shipments were behind, so I waited and waited.

Eventually, I contacted them...multiple times, and now it is nearing the end of March, and while I have received other shipments, I never received the missing August shipment.

So they received my payment, but I never received the product.

Bottom Line: No, I would not recommend this to a friend

Jun 18, 2019

Hi Sheila,

Thank you for writing a review and for letting me know about what happened last August 2018. I would like to apologize as your concern was not resolved during that time. We were a very small (but quickly) growing team back then but we've been actively working on improving our shipping processes and communication for the last few months.

I know that this response is a few months late but I went ahead and created a shipment for your

August 2018 fragrance to be shipped to you and added a few things extra as a token for our delays :)

If you have any other trouble now or in the future, please email socialsupport@scentbird.com with "HighYa" in the subject line and our team respond shortly :)

---

Is this a scam?

By Jeffery S.

,

South Carolina

,

Feb 21, 2019
Verified Reviewer

Everything seemed fine at first, and I received my first month's shipment. I noticed that their gift selections were all indicating "Out of Stock" and there were a few that interested me. Sent an email...and it took a really long time to hear back. Didn't think much about it, until I tried to respond to a rating email they sent. Surprise...the web link was not valid. Then I tried to log-on. Said my email address (where they send me emails consistently) was not in their system. Now I was getting a little irritated and suspicious. I tried to register again and got an error saying my email was in use. I went to the web address directly and every link was not working and returned a FORBIDDEN error. LOL. I have tried to contact them multiple time. No luck.

Bottom Line: No, I would not recommend this to a friend

Jun 18, 2019

Hi Jeffrey,

Thank you for writing us an honest review! I completely understand your frustration. I know that this response is a few months late but I would like to apologize for the delayed response time and technical errors you experienced last February 2019. This was not the experience we wanted you to have but rest assured our team is doing their best to improve our website as well as out of stock availability so you will not encounter these kinds of issues again.

If you have any other concerns now or in the future, please email socialsupport@scentbird.com with "HighYa c/o Pat" in the subject line and I'll be happy to help :)

---

Extremely disappointed

By Lilly P.

,

Miami, FL

,

Feb 12, 2019
Verified Reviewer

I got charged for January and February and have not received anything from them. They have not replied to any of my messages. DO NOT, I repeat, DO NOT buy anything from this company, they are thieves and will steal your money!

Bottom Line: No, I would not recommend this to a friend

Jun 18, 2019

Hi Lilly,

Thank you for writing a review and I am truly sorry about your unpleasant experience with us. We had growth challenges which we have been working around the clock to address. Rest assured that we make sure all products are delivered & I hope that your issue has been resolved. If not, please send me an email to socialsupport@scentbird.com with "HighYa c/o Pat" in the subject line. We are happy to make things right for you this time!

---

Love/hate relationship

By Ana C.

,

Arizona

,

Feb 3, 2019
Verified Reviewer

I really enjoy the scents when I EVENTUALLY RECEIVE my subscription! They take the money at the beginning of each month and well, today is already the 27h of January and I still haven't received my product. It's like this every single month. I've also tried reaching out to customer service and I always get a robot email response asking for more information. After so many times of trying to get help eventually you just give up. I'm looking for a new company that's just like Scentbird but without the disappointments.

Bottom Line: No, I would not recommend this to a friend

Jun 28, 2019

Hi Ana,

Thanks for writing us an honest review and I'm sorry that you experienced shipping delays during your subscription. I know that this response is a few months late, but I would like to assure you that we are definitely doing our best to improve our shipping process. Also, because we ship in batches and work hard to customize each order according to the fragrance you've selected, delivery time may vary.

I would also like to apologize if we sound less human in our responses, Ana. We will take this as a feedback and pass it on to the team as we continue to give our customers genuine and helpful responses as customer happiness is our top priority. It is also sad to see that you recently canceled your account with us.

Should you ever choose to return to Scentbird, please send us an email at socialsupport@scentbird.com with "HighYa c/o Pat" in the subject line. We'd be happy to make things right ❤️

---

Avoid

By Ken C.

,

Colorado

,

Feb 2, 2019
Verified Reviewer

It takes weeks to fill an order, and they bill you even if you cancel. If you file a service ticket, they simply don't respond but rather send you a bunch of links to read through.

Unfortunately for them, customer service still matters even in an increasingly tech-based world. When Amazon delivers within a few days, waiting weeks for an order is the stuff of 50 years ago.

Get with the program Scentbird.

To potential buyers: Avoid them. Just spend the money on a good bottle of cologne from a store.

Bottom Line: No, I would not recommend this to a friend

Jun 18, 2019

Hi Ken,

Thank you for sharing your experience with us and I would like to apologize for the unpleasant service you previously had with us. This is not the experience we wanted you to have. We were a very small (but quickly) growing team back then but we've been actively working on improving our shipping processes and communication for the last few months.

Customer service is our number one priority and we now have dedicated teams for each of our support channels. We totally agree with you and we are doing our best to improve our service in this fast-paced tech-based world.

If you ever choose to return to Scentbird, please send me an email to socialsupport@scentbird.com with "HighYa c/o Pat" in the subject line. We are happy to make things right for you this time :)

---

Slow slow slow slow

By Ashley B.

,

Folsom, CA

,

Jan 21, 2019
Verified Reviewer

Paid for the month of November. Come December, I canceled. I got charged twice, heard back from no one. Then finally someone reached out in January and two perfumes got sent out. Sheesh, get it together guys.

Bottom Line: No, I would not recommend this to a friend

Jun 18, 2019

Hi Ashley,

Thank you for posting a review and I'm so sorry to hear that your experience was not of the quality you expected. Our warehouse transition has caused major shipping delays in the recent months which we can imagine being frustrating. Rest assured that we're actively working to improve our shipping processes and communication :)

If you ever choose to return to Scentbird, please send me an email to socialsupport@scentbird.com with "HighYa c/o Pat" in the subject line. We are happy to make things right for you this time!

---