The Black Tux Reviews
Claimed This company has claimed this profile, is getting alerted on any new customer reviews entering this page, and may engage in dialogue with its customers to address their matters.

Companies cannot pay money or provide goods in order to remove or alter customer reviews.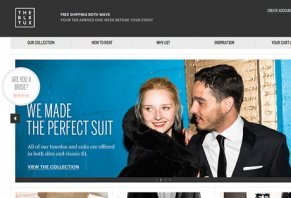 About The Black Tux
If you're looking for inexpensive, high-quality tuxedo and suit rentals, The Black Tux claims to take the hassle out of the whole process by providing online ordering, and pre-paid shipping both ways. On top of this, The Black Tux even claims to provide a Fit Guarantee on all of their orders, which can help you look your best on the day of your event.
But can the Black Tux really help you avoid the last-minute pickups, low quality materials, and high prices associated with traditional suit and tux rental shops? Let's suit up and find out.
Quick Facts About The Black Tux
By partnering with one of America's top suit-makers, The Black Tux claims to provide wool and cotton suits that feature 150s Merino wool, classic and slim fits, and a wide range of accessories, for prices much lower than traditional tux shops. With this in mind, The Black Tux carries jackets ranging in size from 34-58 inches, and pant waist sizes from 28-54 inches—although all pants come with a 2-inch waist adjuster. If you can't find the size you need, the company claims that they can manufacture a custom size if necessary, though this will require extra production time.
Because The Black Tux rental process is handled completely online, it occurs over 4 steps:
Visit The Black Tux website, pick the individual items you like, or choose from a range of complete outfits. Once you're finished, add them to your cart.
Get measured. To accomplish this, you can visit your local tailor in advance, or use the 10-minute measurement tool on The Black Tux website. If necessary, the company can even send you a free tape measure.
Your garments will be shipped via FedEx and will arrive seven days prior to your event. If you're within 14 days of your event and need something ASAP, a rush shipping and handling fee will apply.
On the business day after your event, place your garments back in the original box, add the pre-paid shipping label, and send it back to the company.
The Black Tux Pricing & Refund Policy
The Black Tux claims that their suits and tuxes would retail for $1,200, although they can be rented for the following prices:
Tuxedos: $95 - $120
Suits: $95 - $110
Shirts: $15
Vests: $15
Neckwear: $5 - $10
Cufflinks & Studs: $5 - $10
Shoes: $15 - $30
Misc. Items (Suspenders, cummerbund, tie clips, etc.): $7 - $15
All rentals include free shipping both ways, unless your order requires a rush shipping fee. Your garments will arrive folded in a garment bag, and should be ready to wear right out of the box. If there are any wrinkles, the company claims they should naturally fall out within a couple hours.
The Black Tux rentals come with a Fit Guarantee, which means that if your tux or suit doesn't fit properly, the company will cover the cost of alterations, or will send a replacement item.
If you cancel your order more than 30 days prior to your event, you'll be eligible for a full refund. Inside of 30 days however, you'll receive a merchandise credit that can be applied to future orders. If your order has already shipped, you can send it back to the company as soon as you receive it, and you'll then receive a merchandise credit upon arrival.
Keep in mind that if you fail to send your suit or tux back on the first business day after your event, you may be subject to a late fee of 25% of the rental price, per day.
For questions, concerns, or returns, you'll need to contact The Black Tux customer support at 888-717-1588.
What Do Other Consumers Have to Say About The Black Tux?
The Black Tux is based out of Santa Monica, CA, and has been in business since 2012. Since that time, they've been featured in BusinessWeek, TechCrunch, The Wall Street Journal, GQ, and more. Despite this, the company is not listed with the Better Business Bureau.
Online reviews regarding The Black Tux appear to be overwhelmingly positive, and cite great quality, good fit, and high marks for customer service.
What's the Bottom Line About The Black Tux?
The founders of The Black Tux claim that they were inspired to start the company due to their poor experiences with the traditional suit and tux rental process. But have they lived up to their vision?
By all appearances, it would seem so. In less than 2 years, The Black Tux seems to have made a big name for itself, and every review we read during our research seemed to provide glowing feedback.
Have you used The Black Tux for one of your events? If so, tell us about your experience by writing a review!
This company is actively collecting reviews from its customers. All reviews submitted are subject to moderation and approval to ensure they meet our

Review Guidelines

.

Never doing business with The Black Tux again!

By Daniel S.

,

Miami, FL

,

Apr 1, 2020
Verified Reviewer

You are the only company that I have had to deal with during these horrible times of the CORONAVIRUS that has not helped their customers. YOU DO NOT CARE ABOUT YOUR CUSTOMERS, every other company (airline, hotel and car rental) returned the money, you kept it (I know you are giving a credit - not good, because the event was canceled!), even though your agent said over the phone that you were going to give us a refund and that I did not use the suit, you are bad.

I know there is nothing I can do, it is YOUR POLICY (but policies can make exceptions, especially during times like these). The way I see it, Karma will get you back.

Again, NEVER DOING BUSINESS WITH YOU AGAIN and I am letting everyone know about you and the way you do business.

And please, do not post a "smart" reply to this review saying that you understand and will do everything in your power to make this better, because you are not. You didn't even want to get on the phone with me when I requested a phone call after "hiding" behind five or six emails. You are bad.

I am a real customer, my order #9458904.

Bottom Line: No, I would not recommend this to a friend

---

Very bad experience on the consumer end!

By Haakon W.

,

Santa Cruz, CA

,

Sep 10, 2019
Verified Reviewer

This company is not forthright about their policies!

I wore my tuxedo to the wedding, no problem. The wedding was on a Friday. I knew I had three days to return it, but mistakenly thought that meant three business days. I received no notifications from The Black Tux after the wedding, nor today, the day I was supposed to have the tux in the mail back to them. Yet there it is on my account on their website, "Return by September 2nd". I was never explicitly told or notified of this date, and had to dig in my account to find it. It's almost like they want to charge you the $425 late fee for the jacket, the $40 late fee for the tux...etc.

To "solve" my problem, I paid them a $60 "reservation extension fee". This company sucks, would not use again.

Bottom Line: No, I would not recommend this to a friend

---

Advertisement

---

Design flaws galore

By Nick S.

,

New York

,

Sep 6, 2019
Verified Reviewer

The main compliant I have is that you put in your event on the website, then you schedule your appointment. Yet it will - as was the case with me - let you schedule an appointment without enough time for them to get you a tux. The SoHo store is also a bit tatty. Bathroom was nasty. Generally felt like they'd thrown it all together haphazardly.

Bottom Line: No, I would not recommend this to a friend

---

Wedding suit

By Tristan C.

,

Chicago, IL

,

Jul 16, 2019
Verified Reviewer

Just got married and everyone loved my suit! Rented The Kennedy Outfit and felt incredible on my special day. My suit came in with plenty of time to spare, fit great, and was super easy to return. This is my fourth time renting from them and every experience has been positive.

Bottom Line: Yes, I would recommend this to a friend

---

Advertisement

---

Great suit for wedding

By Duy D.

,

Bartlett, TN

,

Jul 12, 2019
Verified Reviewer

I was recently in a wedding, and the groom chose to use The Black Tux. I had never heard of them to be honest. I went online and ordered the whole getup, from the suit to the belt and shoes. Upon getting everything before the wedding, it was wrapped nicely in a garment bag inside of a box that you use to send your suit back in. They even sent free dress socks. Everything fit great! I was surprised at how well it fit. And the quality was great as well. If I had known about The Black Tux for my wedding, I would have used them! I highly recommend this company.

Bottom Line: Yes, I would recommend this to a friend

---

AMAZING

By Bruce K.

,

Kent, OH

,

Jul 10, 2019
Verified Reviewer

From start to finish this was an amazing experience. Well priced and prompt service. Needed a different suit coat - operator error on my part with sizing - and it was sent immediately. Fit was terrific. Highly recommend!

Bottom Line: Yes, I would recommend this to a friend

---

What a GREAT EXPERIENCE!

By Patrick B.

,

New York, NY

,

Jun 24, 2019
Verified Reviewer

I was a little hesitant at first simply because they are pretty much an online store and that means you have to deal with phone or chat customer service alone. But I'm so glad I decided to take a chance on The Black Tux! First, going to get fitted and measured was the easiest thing, just simply set up an appointment and you're good to go!

Second, altering your measurements is also such a smooth and easy process! The website is user-friendly and essentially walks you through ordering for your event. They even have a FREE home try on!

I ordered my tux and accessories and received everything about 15 days before my wedding. I needed altering with my shirt and they were super responsive, very friendly, and very knowledgeable on what exactly I needed! And this is through chat! I'm just impressed by their customer service, their speed, and their professionalism!

My tux was amazing and I felt like James Bond that night. Everyone commented on how great it looked. I highly recommend using The Black Tux! They will make you look amazing for your day and you won't break the bank doing it!

Last but not least! Their return process is the greatest thing created since sliced bread. After your event, you have 3 days to drop it off at any USPS or UPS. There already is a return tag for it. Simply pack your tux, tape the box, and return! No headache to you!

Keep up the great work!

Bottom Line: Yes, I would recommend this to a friend

---

Prom tux

By Jennifer B.

,

Stratham, NH

,

Jun 21, 2019
Verified Reviewer

So pleased with our experience with The Black Tux. From the customer support to the quality of the garment...so awesome! My son had the most unique looking tux at his senior prom thanks to The Black Tux and he rocked it! Love that we didn't have to spend hours in a store getting measured and then return was so easy!

Bottom Line: Yes, I would recommend this to a friend

---

Simple, classy, and flawless

By Mike S.

,

Ashland, OR

,

Jun 21, 2019
Verified Reviewer

The Black Tux was amazing. Everything was simple, seamless, and of outstanding quality. The fact that you can even have the suit sleeves adjusted was just icing on the cake. All of my groomsmen loved their suits (as did I), and I would highly recommend the service to anyone!

Bottom Line: Yes, I would recommend this to a friend

---

Great experience - would recommend!

By Linda M.

,

Broad Run, VA

,

Jun 17, 2019
Verified Reviewer

We rented tuxedos with all the accessories for my daughter's wedding and though I was very skeptical it was a great experience. The tuxedos arrived with plenty of time to have a new jacket and pants shipped. We had to have sleeves altered and it was easy to submit the receipt for a refund. Times have changed...it's no longer necessary to go into a store for a fitting - or speak with anyone to get what was needed. Never thought it would be this easy but it was. Bonus - the clothing was all very high-quality and arrived in great condition.

Bottom Line: Yes, I would recommend this to a friend

---

Superb!

By Tamara A.

,

San Francisco, CA

,

Jun 14, 2019
Verified Reviewer

We rented last year and this year for prom, both times were a perfect fit, perfect experience, the outfit looked exactly as it did on the website, and we had a smooth ordering process because the website is extremely easy to navigate. Also, lots of hip choices across all categories and when the weekend was over, we loved the return tape included and return label that's accessed simply by ripping off the delivery label - that is genius - so we are abundantly happy campers! I already recommended you to others and we will certainly be back too! Thank you!

Bottom Line: Yes, I would recommend this to a friend

---