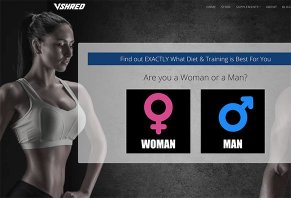 Developed by celebrity trainer Vince Sant, the V Shred fitness series promises to provide you with a personalized exercise program to meet your health goals.
V Shred Review: Hype or Actually Lose Weight?
For those looking to get in better shape, the V Shred series of fitness programs claims to help you lose weight, tone up, and follow a healthier diet without taking up too much of your time.
The company website states that the plan focuses on delivering results in the minimum amount of workout time necessary, and with the support of a blog and online community to keep you on track.
The V Shred program was founded by Vince Sant, a fitness author, celebrity trainer, and YouTube workout personality. His workout system is based around the idea of "minimum effective" workouts, and the plan promises get you in shape without resorting to extreme willpower or going hungry from a restrictive diet.
The brand's website offers a range of workout and nutrition programs, tailored toward your gender and personal goals. They claim that these personalized plans will help you achieve results faster than with standard fitness programs.
According to the company website, all of V Shred's fitness plans are designed with three goals in mind:
Offer fun, challenging, and fast workouts that can be completed at home or the gym.
Provide simple nutrition plans that don't feel like a diet.
All recommended supplements must contain premium ingredients at the correct dosage for optimal results.
Those are impressive claims, but does the V Shred program deliver on them? Let's look closer at how the program works to find out.
How Does V Shred Work?
When you first navigate to the V Shred website, you will be asked a series of intro questions about your sex, weight, height, activity level, and fitness goals.
From there, the site directs you to a 20-30 minute video from founder Vince Sant that touches on the ways one of V Shred's fitness programs will help you meet your stated fitness goals.
When I completed this survey, the brand suggested that I sign up for the "Toned in 90 Days" challenge, which costs $57.
Other programs are available through the brand's online store, and they included the following at the time of writing:
Fat Loss Extreme for Him or Her ($47)
Ripped in 90 Days ($47)
Clean Bulk Program ($87)
Six-Pack Shred ($19.99)
Big Arms Program ($19.99)
The Booty Builder ($34.95).
Other options include access to a $200 30-Day Challenge with a $5,000 grand prize, and custom diet and training plans for $225.
What exactly do these workout plans entail? As an example, let's look at what's included in the Toned in 90 Days program.
Mobile Workouts: All V Shred programs offer mobile versions of home and gym-based workouts that come with exercise descriptions, how to videos, and set and rep guidelines.
Beginner Diet Guide: This plan teaches the basics of dieting and nutrition and provides guidance for customization.
Advanced Diet Guide: Building off the first eating plan, this secondary diet guide teaches you how to create your own diet plan and how to tweak it when your goals change.
The 10 Commandments of Fitness: This guide offers core principles for fitness for getting the most out of your workouts.
Workout Log: This 90-day exercise journal provides you with an exact training plan, including types of exercise, numbers of reps and sets, and the amount of rest needed.
HIIT Guide: You'll receive a detailed cardio plan for short workout sessions designed to trigger the EPOC (Excess Post Exercises Oxygen Consumption) Effect, which is designed to help you keep burning calories after your workout.
Outro: This short pamphlet is designed to provide the motivation necessary to keep you committed through the full 90 days.
The Toned in 90 Days V Shred program also came with the following bonuses at the time of writing:
Six Pack Shred (Offered in the shop for $19): This behind-the-scenes guide of Vince Sant's core workouts comes with beginner, intermediate, and advanced exercise routines.
The Booty Builder (Listed for $34.95): This systematic workout focuses on four areas of the butt to produce toning and definition.
Recipe Guide (Listed for $37): This recipe guide was co-created by a celebrity chef in Los Angeles and highlights tasty and healthy recipes that help facilitate weight loss.
Supplement Guide: The videos within this guide offer education about beneficial supplements so you can stop spending money on products that won't work.
What Does V Shred Cost?
At the time of writing, V Shred offers a range of fitness programs that retailed from $19.99- $225.
The company also sells propriety supplements that are meant to address specific health issues such as weight loss, fat burning, pre-workout and recover. These supplements tend to be targeted towards either men or women, and they cost between $37-$49 for a monthly supply.
The website FAQ's show that the program comes with a 30-day money back guarantee, meaning those that use the program for 30 days and are left unsatisfied by it can request a refund through email at vince@vshred.com.
What Does the Science Say About V Shred?
While the V Shred program promises to help you lose weight and tone up more quickly than competing fitness brands, we couldn't find any research from the company that supports these claims.
However, there is a decent amount of research available for HIIT (high-impact interval training), which is the form of exercise that the program most relies on. As we've written before in our analysis of CrossFit, HIIT combines short, intense exercise circuits with recovery-oriented rests in between them.
What does this research say about HIIT? A study in the Journal of Obesity suggests that interval training shows promising results for eliminating abdominal fat of participants, which the New York Times labels as the most dangerous variety. While this report looks promising, the study concluded that more research needs to be carried out to come to conclusions about its effectiveness.
While V Shred program claims to be the most effective way to tone up and slim down, we couldn't track down evidence that would definitively prove this.
What Do Previous Customers Think of V Shred?
No matter what the research says, a fitness program will flop if users don't like it. What can we learn of user reviews of V Shred?
At the time of writing, V Shred customers awarded the company four stars out of five after over 280 reviews on Trustpilot. This is impressively positive, but we noticed a broader range of opinions in the comments section.
Many reviewers praised the workouts for being simple and effective, and they stated that the program helped them to lose weight. Others challenged this view and called the exercise plans a "cookie cutter approach" to fitness that relied on workouts that could be found online for free.
We also noticed some complaints about billing, as some users noted that they were charged more than expected for the program because the website's advertising didn't make it clear what was included with the purchase of each plan.
There are also numerous complaints on Trustpilot about the number of emails V Shred sent customers, and a few commenters stated that they struggled to get the company to honor their 30-day money back guarantee when they wanted a refund.
Overall, we noticed a lot of mixed reviews about the overall value of a V Shed program. Some people found that it gave them the accountability and motivation they needed to get in better shape, but others thought the plan was overpriced for the relatively generic content it provided.
What Fitness Programs are Similar to V Shred?
There's a lot of competition within the workout industry for your money, which makes it difficult to determine what type of program is best for your needs.
We decided to compare three other popular programs to V Shred to give you a sense of what each one offers:
| | | | | |
| --- | --- | --- | --- | --- |
| | V Shred | P90X | TB12 | BodyBoss |
| Program Cost | $19-$225 | $120 plus $20 S+H | $19.99/month (or $199 annually) | $45.90-$69.90 |
| Program Format | Mobile workout guides, online manual, and logbooks | 12 workout DVDs, 3-phase nutrition plan, and workout calendar | User-personalized workout plans for reaching peak performance with fitness and nutrition | 12-week step-by-step exercise program that uses a physical workout booklet |
| Program Length | 90 days- unlimited | 90 days | Unlimited | 12 weeks |
| Workout Targets | Weight loss, targeted toning | Core strength, targeted toning | Muscle pliability, performance enhancement, injury prevention | Fat burning through HIIT circuits |
| Dietary Information Included? | With certain plans | Yes | Yes | With certain plans |
Comparing these four programs, some big differences stand out right away. First, Super Bowl champion Tom Brady's TB12 plan is a subscription service for iOS, meaning that you need to pay for it every month you use it. That's a potential positive if you're interested in trying out the program and unsure whether you'll stick with it, but it can get pricy if you stay committed for the long term.
BodyBoss also stands out from these other programs because the workouts are offered in both a digital and physical book form, though each purchase does include access to explainer videos for the workout moves. This makes the program unique among the other exclusively digital options we looked at.
V Shred and P90X are the most similar of these workout programs, as they both offer a predetermined workout schedule that's designed to help you reach specific goals. V Shred might get the edge on personalization, as the website's initial quiz is meant to help you determine which of their workout plans is best for your needs.
Some people might prefer V Shred's fully-mobile approach that doesn't require you to play DVDs, but others likely will appreciate the physical reminder to exercise that DVDs will provide.
So which workout plan is best? That primarily depends on what your fitness goals are. Those who want to get toned on specific parts of their body, might appreciate the HIIT training and toning that comes from P90X, V Shred, and BodyBoss workouts.
However, if your goals are focused more on improving your performance (especially for sports), TB12 might be the better option.
Our View: Should You Try V Shred?
While this exercise regimen promises to help you lose weight and tone up with minimal effort each day, the company doesn't provide much proof that their program fulfills all the promises they make about it.
Though we can point to scientific studies that show HIIT workouts are a viable way to lose weight, the evidence is less clear about whether this method is more effective than other fitness strategies.
Likewise, the customer reviews we looked at showed a variance in opinion about this health program. Some reviewers on Trustpilot stated that the workouts helped them slim down, while others wrote that the exercise routines were too simplistic and easy to find for free in other places.
A few also noted that they were charged more than expected for the program, that customer service was hard to contact, and that the company wasn't eager to honor their money-back guarantee.
Nonetheless, the V Shred program wins points from us for approaching health from both a fitness and nutrition angle, and for offering different plan options depending on your current health and future goals.
We've written previously about how important exercise and a balanced diet is for maintaining your health, and any strategy you adopt that motivates you to move more is a success in our book.
If the V Shred program provides the motivation you need to exercise more, that's great.
However, we think there are plenty of other approaches that may work equally well (or even better) for getting healthy.
For those feeling unsure about what type of fitness plan makes the most sense for their situation, we suggest talking with a doctor to get a professional opinion based on your own overall health.
1 out 1 people found this review helpful

Very happy with program

By

Tracy W.

,

Middletown, CT

,

May 11, 2019
Verified Reviewer

I just purchased V Shred the 90-day program on March 29th. So far, I am enjoying the fitness routines and the meal plans, I have lost 2 pounds. I have the stomach pouch and never could get rid of it no matter how hard I tried. I want to thank you, Vince, for introducing your fitness program to me.

Bottom Line: Yes, I would recommend this to a friend

---

33 out 33 people found this review helpful

Avoid this like the plague

By

Jim A.

,

California

,

Apr 4, 2019
Verified Reviewer

Anyone seeking a fitness and meal plan should avoid this program at all cost! It is merely an automated email system designed to sell supplements. There is nothing "custom" about this program. I paid for a meal plan and a custom work out plan and received neither. I did, however, lose $129.00 for the first month and made the mistake of clicking on the V Shred University and saw another $10.00 removed from my account yesterday. I couldn't figure out how to find my custom plans, so I stuck to my former gym routine. It was easy to find lots of expensive supplements with the multiple sales-focused emails (I did not buy any of the highly priced supplements).

After the first few days of trying to find my "custom" plan I gave up searching and chalked it up to another cleaver online scam. Be very cautious of this program. I found more helpful advice for free on YouTube.

Bottom Line: No, I would not recommend this to a friend

---

Advertisement

---

36 out 38 people found this review helpful

Did NOT sign up for V Shred!

By

Denise J.

,

Pennsylvania

,

Mar 30, 2019
Verified Reviewer

As soon as I clicked on a product, I realized I had made a mistake. The program I purchased in February was $67.00 for the body toning and diet plan. The other workouts listed would not have been my choice. But I found I could not go back to that page with all the pictures and description. So I checked out, with the assumption I could make an exchange later.

AT NO TIME did I click on other options or even READ a description of V SHRED.

On March 2, I emailed was having trouble logging in. I did not know the name of the program. Here is her answer:

Desee G. (V Shred)

Mar 2, 11:17 PST

Hi Denise,

Thank you for reaching out. I'd be happy to assist with your concern.

Upon checking, you purchased the Toned in 90 Days Bundle, this includes the Toned in 90 Days program, the Booty Builder, the Six-Pack Shred, the Recipe Guide and Supplement Guide.

(NO MENTION OF V SHRED UNIV.)

Once you have logged in, click the My Stuff area in the upper right navigation area of our site and you will be able to see your purchased program(s). We highly recommend you to use the Google Chrome browser.

I hope this helps! If there's anything else that I can help you with, please let me know.

Best,

Desee G.

V Shred Customer Support Team

(NO MENTION OF V SHRED UNIVERSITY OR $9.99.)

I replied as below:

Denise Johnson

Mar 2, 11:58 PST

Hi Desee,

Thanks. That helps. But here is my situation. I thought I had made a mistake in ordering but I couldn't seem to go back to change it. I am a 66. I don't have a good history in exercise but I was never overweight until my late 50's. I had foot surgery that has affected my balance for now. I am more sedentary than active. I work in an office and read a lot at home. In January I started on a KETO diet and have lost 12 pounds. I know I do not have core strength, which is my main concern. I do have some osteoporosis. That means I need core strength and balance.

The toning program sounds right for me...but I did not want the Booty program . Is it possible to exchange it for another?

Thanks.

Also. Please confirm that this was a one-time purchase. We've been burned before..

TWO hours later, a reply:

Desee G. (V Shred)

Mar 2, 13:27 PST

Hi Denise,

Thanks for getting back to me!

Most of our programs are a one-time purchase and you will have access to them indefinitely once you log in to your account. They don't expire, so you can start using them whenever you're ready.

(MY PURCHASE WAS FOR 90 DAYS, WHICH I THOUGHT WAS THE REASON FOR THE DISCOUNT -TO TRY IT OUT.)

V Shred University (VSU) is our only monthly subscription program that renews each month.

(SHE STILL DOES NOT SAY THAT I PURCHASED VSU!)

Upon checking your account, I have seen that you have purchased the Toned in 90 Days at a great discount and this includes the Booty Builder. I'm afraid that we cannot change that to another. However, we recommend starting with your 90-day plan (Toned in 90 Days). You will follow this workout and the meal plan as laid out. Focus on just this plan for now, as it will have everything you need. Later on, when you get more comfortable, you can explore our other plans.

(NO MENTION OF THE MONTHLY $9.95.)

Two weeks later I found this on my credit card statement:

Travel/Entertainment

Mar 20 V SHRED UNIVERSITY 888-874-7331 NV $ 9.95

There was no answer to that phone number.

I wrote an email saying that I want to cancel the program altogether, because I have not yet logged in (and no longer care to do so) and that I want a refund for $67.00 plus the $9.99 because of their exploitive and deceptive practices.

I warned them that I would contact the State Attorney General's office in Nevada or wherever they are incorporated if they do not comply. That is a simple phone call to make. An assistant will take your information and pass it on. If enough of us make the effort, this company will hear from the State Attorney General' s office. There truly is strength in numbers.

Bottom Line: No, I would not recommend this to a friend

---

64 out 65 people found this review helpful

DO NOT BUY

By

Becc H.

,

Ontario, Canada

,

Mar 24, 2019
Verified Reviewer

I purchased the 90-day program after doing the body quiz, I was told everything was going to be $67. Except I was charged $169.98. I immediately freaked out because 1) that's a huge difference, and 2) I now thought I was being scammed or something.

I messaged the company...no response back. I tried calling them three times and couldn't get through, it just went to an automated voice that said to send an email or go to help section online. So I last resorted to messaging the owner Vinc on Instagram...didn't think he would really respond but he did, and I'm actually in shock at how rude and unprofessional he is as a businessman. He accused me of clicking a personalized meal plan button, which I didn't press or didn't press on purpose clearly, or I wouldn't have been so alarmed at my charges. All he had to do is tell me it must have been a mistake and let me know that I'll get a refund, instead, he actually argued with me that I'm wrong and he's right, not to mention the checkout page is confusing as heck. He was SO unbelievably rude, condescending, and arrogant. He claims he cares about people and their fitness goals, but from the response I got from him, it really doesn't seem like he cares one bit. DO NOT BUY V Shred!

Bottom Line: No, I would not recommend this to a friend

---

Advertisement

---

59 out 59 people found this review helpful

WARNING: Scammers at work

By

Dana W.

,

Texas

,

Mar 22, 2019
Verified Reviewer

I paid $57 and then saw what I really wanted cost an additional $67. I purchased the meal plan and saw it was all ridiculous, not what the video implies. Within minutes I was attempting to get a refund, but after going in circles with them, they refused. Don't waste your money!

Bottom Line: No, I would not recommend this to a friend

---

55 out 55 people found this review helpful

Rip off

By

Timothy W.

,

Virginia

,

Mar 20, 2019
Verified Reviewer

I join the group under the impression I would be charged $57 with a 30-day money back refund. I joined on March the 3rd, I was charged the $57, and when I see the final bill charged, they talked on another $67 I knew nothing about, and when I checked it out, everything $200 and up. I canceled the 7th and was charged $9 just to cancel (by true bill) and today is the 14th and still haven't seen my refund. This is a TOTAL RIPOFF, save your money! DON'T JOIN!

Bottom Line: No, I would not recommend this to a friend

---

41 out 41 people found this review helpful

Very unclear terms/expectation

From the beginning there exist lots of technical issues like not being able to get access to videos or information. Pricing is unclear, I thought it was 1/2 the price I was charged and then it was explained very differently what I was actually being billed for. Then I thought I was getting a 90-day meal plan but it turns out, even after paying the additional fee, the plan was for four weeks, which honestly is one week with you repeating the week for the additional 3 weeks.

The Facebook page is okay, but there isn't a lot of info from a coach. Just others saying whether they are doing ok or not. Lots and lots of emails that are ads...I was extremely disappointed. The coaching consisted of me reporting my progress and a very generic "that a girl" if I did okay and no response, inspiration or additional advice for difficulties. You are also responsible to make sure you don't slip between the cracks. I don't feel I received what I paid for so, no, I wouldn't recommend this to a friend, client or enemy.

Bottom Line: No, I would not recommend this to a friend

---

38 out 39 people found this review helpful

It's a scam, do not buy!

By

Maria A.

,

Florida

,

Mar 14, 2019
Verified Reviewer

I paid for the recipe guide thinking it is $14, but they gave me another order that I did not want that brought the price up to $71, which that item made me have to buy another item in the store because the extra item was to sign up for another program in the store. And there are only 33 recipes, so how long is that going to last me? And most of the things on there I don't like.

Bottom Line: No, I would not recommend this to a friend

---

47 out 48 people found this review helpful

Don't be conned - they just want your money!

By

Trina D.

,

Queensland, Australia

,

Mar 13, 2019
Verified Reviewer

I too have been conned by this company and paid for the "personalised" menu plan. Unfortunately, after signing up, I became unwell and wasn't able to reply until four weeks later. In the initial questionnaire, I said I was Vegetarian, so they put FISH in my menu plan and made the biggest focus on taking their "Burn" supplement - which, of course, would mean purchasing something else from them! I'd already spent US$114 (AU$160+), so I expected a lot more than what I got and one where I could buy normal food from a grocery store or supermarket.

When I raised this, and the reason for my late reply, the response was rude, condescending and patronizing, and displayed absolutely zero compassion or understanding as to why I couldn't reply within the four weeks. The trainer said she'll do me up a "simple" menu plan but "only once" - even though they screwed up and I paid a lot of money for it. I bet if everyone who paid for this customized menu plan compared the menus, they'd be almost identical (depending on if you're g/f, vegan, vegetarian, etc.).

I've asked for a detailed invoice as to exactly what I paid for and so far they have ignored my requests.

I also canceled V Shred University and days after they took another payment (I wanted to cancel early so they wouldn't take a payment out next month), but instead of keeping access for another month, they removed my access AND kept my payment ...and keep ignoring my request for a refund.

I also asked why NONE of the [copious amount of] emails they send ever mention my body type. The ONLY reason I was sucked in, was because they were offering something unique and targeted 100% to my body type.

This company takes advantage of vulnerable people, and then try and continue to suck more money out of you on supplements and other membership fees. Almost all emails and videos all lead to advertisements to try and get you to buy more stuff from them!

I usually research companies like this and rarely do I sign up, but was sucked in at a moment of vulnerability, and I absolutely regret it and don't recommend them at all. It's extremely clear to me that they just want your money, they're not interested in helping you!

Do your own research on your body type: Endomorph, Ectomorph or Mesomorph...it won't cost you a cent!

If not resolved, I will be lodging formal complaints with external agencies.

Bottom Line: No, I would not recommend this to a friend

---

98 out 99 people found this review helpful

It's a scam...

By

Juliana S.

,

New York

,

Mar 5, 2019
Verified Reviewer

Tonya G, that's a lie. There's absolutely nothing in the $57 program. After watching the video, I went ahead and paid $57. All I got is a password for registration. All those packages he promised in the video were all a lie. There's nothing there. When you login into your account you still have to pay to have access to those programs. Normally I read reviews before paying for anything online, but for some reason, I just went ahead and subscribed without a second thought. Please, please nobody should choose that amount of money. It's a scam, you'll not get anything after paying that money.

Bottom Line: No, I would not recommend this to a friend

---

65 out 71 people found this review helpful

Bummed, good program!

By

Aaron A.

,

Tigard, OR

,

Mar 1, 2019
Verified Reviewer

By far this will be one of the most confusing reviews of V Shred, because I absolutely love V Shred, and had been a long time. In fact, I can spend well over $650.00 on "V Shred University." That's right, I had it for years, that 18 weeks later I had spent quite of dough. Not only that, but I also bought other programs such as the "90-day blueprint" and "90-day bulk." I can tell you I am a huge fan of V Shred. I studied personal training on some level, and it's legit. The vids, the step by step, and his support are beyond amazing. The system worked for me. In fact, that's why I bought University. Because for 30.00 bucks a month, I could have someone else build my workouts.

So why the 3 stars? A couple of times Customer service had given me a month or two for some customer service issue I won't get into at the moment. One month they took the month back away. I reached out and they said I got too many. I explained someone provided it to me as compensation for the issue, and they said there is nothing that they can do. I decided to stop paying for V Shred soon after, and after spending $30.00 a month for 18 weeks, they took every program I paid for. So although I paid for each of the programs, since I wasn't continuing to pay, they basically took $650.00 worth of programs off my account. Not only will I never buy any more programs, but I forewarn you, if you do University, you won't be able to keep them if you cancel.

Bottom Line: No, I would not recommend this to a friend

---