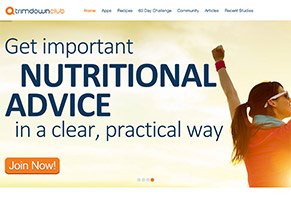 Trim Down Club is an online-only weight loss program, created by nutritionists and dietitians, focused on proper nutrition to help you shed unwanted pounds.
About Trim Down Club
Developed by nutritionists and dieticians, Trim Down Club is a membership-based weight loss program that's claimed to help men and women lose unwanted fat easily, permanently, and naturally; increase strength and energy, live healthier, and simply feel better.
In order to accomplish this, Trim Down Club claims to address the root cause of weight gain by providing 3 things:
Customized meal plans that match your body type, your tastes, and your lifestyle.
A collection of recipes that are delicious, nutritious, and most importantly, enjoyable.
Nutritional advice that is accurate and presented in a "clear, practical way."
Perhaps most of all, Trim Down Club is focused on bringing together a community of likeminded people who are focused on helping others enjoy good food and lose weight, which is why they call themselves a "club" in the first place.
We know you're excited to lose weight and live healthier. But once you get past all the marketing, can you really expect Trim Down Club to help you "get the body you've always wanted, naturally?" Consider the following:
How Does the Trim Down Program Help You Lose Weight?
It's no secret that in today's fast-paced world, nearly all of us are carrying around a few extra pounds based on the poor food choices we make.
Because of this, Trim Down Club primarily helps members lose weight by eliminating highly processed food from your diet and providing step-by-step instructions to naturally melt fat. All of this without 1) counting calories (or carbs, fat grams, or points), 2) subscribing to fad diets or pills, or 3) hunger or deprivation. In fact, Trim Down Club's program is claimed to allow you to replace every bad food that you eliminate with at least one good food that you enjoy.
Related: GOLO Diet Reviews
From a social aspect, Trim Down Club claims to have an active community of members who can help you keep you motivated throughout the process, as well as different interest-specific groups you can join, including beginners, a variety of tips and tricks, members who are 50+, support tools, and more.
How Quickly Will You Lose Weight with Trim Down Club?
According to Trim Down Club's FAQ, "you will notice changes in how your clothes fit within the first month," in addition to shrinking bulges in specific areas, less swollen fingers and face, and more.
Overall, this generally translates into 1-3 pounds lost per week, depending on how overweight you are, which will continue occurring until you reach your target weight or hit a plateau.
In addition, your high cholesterol and diabetes symptoms may improve, as well as your energy levels and strength.
What Kinds of Recipes Are Featured in the Trim Down Club?
Trim Down Club provides a vast assortment of recipes for breakfast, lunch, and dinner on their website, as well as salads, soups, drinks, and more. These recipes even include desserts, since they claim you shouldn't be deprived, although you will need to eat sweets in appropriate portions.
If you're wondering if there are any recipes that match your tastes, you can browse their Recipes page without first signing up for a membership. And if you need a specialized menu based on your specific needs, such as gluten-free, low-cholesterol, low-sugar, non-dairy, or vegetarian, Trim Down Club claims to have recipes for you as well.
According to the company, these recipes can be made using foods found at your local supermarket, although they may cost more than the groceries you're currently buying.
Does Trim Down Club Focus On Exercise?
Trim Down Club claims that 80% of weight loss revolves around the foods you eat, and only 20% relates to exercise. As such, the company focuses primarily on "balanced, complete nutrition incorporating whole, fresh foods," and claims that many people use the program to lose weight without ever exercising.
With this said, Trim Down Club membership does include access to an "anywhere, anytime" exercise program that incorporates fitness equipment you already own.
This means that while Trim Down Club may help you get trim, if you're also looking to become toned, you'll likely need to find an exercise program elsewhere.
Are Customers Losing Weight with Trim Down Club?
We've received a total of 79 Trim Down Club reviews here at HighYa since writing our original review, with customers giving the program an average rating of 2 stars, and 19% claiming they'd recommend it to a friend. As far as compliments, some customers appear to have been pleased with the weight loss results they achieved, the company's easy-to-use meal plans and menus, and stated that the information provided can help you achieve long-term weight loss.
On the other hand, the most common Trim Down Club complaints appeared to revolve around constant upsells (we'll talk more about this in the next section), disappointment with the featured content (many even stated that much of the same information can be found elsewhere online for free), and difficult customer service experiences.
Many of these complaints were mirrored on this SparkPeople.com forum thread, on Scambook.com, and many other online review sites.
From a company perspective, Trim Down Club is owned and operated by B2C Media Solutions Ltd based in Israel (according to their Health Disclaimer page), although the Better Business Bureau lists their address in San Francisco, CA. There, the company wasn't rated but had 2 closed complaints (as of 6/10/15), which appeared to reference unwanted upcharges.
Trim Down Club Pricing & Refund Policy
Trim Down Club memberships are priced at $47. For this price, you'll receive the following:
Quick Start Guide – Gives you an overview of the Trim Down Club program and helps you get started in less than 15 minutes.
Trim Down Main Program – Claims to outline everything you need to reach your weight loss goals and achieve the slim body you desire.
Trim Down Club Cookbook – "Some of the most extremely delicious recipes" that can be prepared in a relatively short amount of time in the comfort of your own home.
Food Shopping the Proper Way – Helps you see past food marketing gimmicks and buy only the healthiest and greatest tasting foods available.
Yes, We Can Maintain – Helps you naturally remain slim by avoiding old bad habits and understanding triggers that cause hunger cravings.
Online Tools – Progress meter, personal menu planner, diet journal, and other tools you can use to stay on track with your weight loss journey.
You'll pay only one time with Trim Down Club, and will receive unlimited, lifetime access thereafter. Important note: As we saw from some of the complaints above, "lifetime access" doesn't necessarily mean that you won't be presented with many offers (some customers claim there are too many) after signing up. And once you're excited to begin your weight loss journey, you may be primed to make purchases you'll later regret.
Like all products sold through Clickbank, your Trim Down Club membership comes with a 60-day refund policy, although the only way to request a refund is by sending a message through their online contact form.
Is Trim Down Club the Right Weight Loss Program for You?
Chopping to the point: As you might imagine, there are dozens of personal factors that go into finding a weight loss program that meets your needs. As such, Trim Down Club may work impressively well for some individuals, and less so (or not at all) for others.
The good news is that Trim Down Club doesn't claim to be a quick fix, and states upfront that it will take willpower and dedication on your part to achieve your weight loss goals.
With this in mind, Trim Down Club seems to focus primarily on nutrition (which appears to be the most important aspect of losing weight), although you'll need to look elsewhere for anything more than basic exercise techniques. Also, be sure start slowly and not be persuaded to purchase everything that's presented as soon as you sign up.
What's your experience with Trim Down Club? Were you successful at losing weight? Tell the world about it by writing a review below!
24 out 27 people found this review helpful

Do not use this site!

By

Debora

,

Cambridgeshire, England

,

Mar 8, 2017
Verified Reviewer

I signed up for the monthly subscription stupidly without reading these reviews. I clicked on one of the videos on the website and received notification that it cost me £39 ($47.73). I was so outraged that I didn't even watch it. Do NOT use this site!

Bottom Line: No, I would not recommend this to a friend

View all 1 comments

Hide comments

Mar 8, 2017

Hi Debora,

Nice to meet you.

My name is Adam Feldman. I'm the Director of Client Relations here at the Trim Down Club. I just received a notice of your review, and I wanted to get back to you as soon as possible!

I can definitely see how you might have been put off by our additional offers while signing up. I want you to know that this was not our intention, and I am very sorry. As unfortunate as this is, I must be clear that the only way to order one of these extras services would be to physically click on Accept. Otherwise we are not allowed or capable of charging you.

That said, I know first-hand that starting something new can be hard, and it definitely doesn't help to start off on the wrong foot.

So, to improve your experience and ensure that you reach your goals, I would like to get you in touch with one of our expert dietitians. They will be able to further customize a plan for you. This one-on-one service is upwards of £125, but I am happy to fully cover the costs and give it to you for free. Your success is more important to me than the money. Simply write to me at adam.feldman@trimdownclub.com

None of our members, or anyone, should feel like you do! And, that is why I really hope to hear from you soon and to have the opportunity to make things right!

Warm regards,

Adam Feldman

---

22 out 24 people found this review helpful

Con

By

Allison

,

England

,

Jan 19, 2017
Verified Reviewer

I joined a while ago and didn't find the site very useful. The emails received were for products asking for more money. I tried to cancel and asked for a refund (as promised). However, all I received was an email asking me to call an international number, again scamming more money. So, you can't get a refund back to the card you paid on, and the service is awful.

Bottom Line: No, I would not recommend this to a friend

View all 3 comments

Hide comments

Feb 6, 2017

Hi Allison,

This is Adam Feldman, Director of Client Relations at the Trim Down Club. I was alerted of your review late last night. And, after fully reading it over, I wanted to help address your concerns as quickly as possible. It seems like the review is about our product and service from a time that dates as far back as 2014. I want you to know that a lot has changed since then, and much for the better. Over the last year alone, we've made some really great changes to our products and services that makes me very proud to be a part of the Trim Down Club!

The first change we've made was an upgrade to our Menu Planner Application. These changes were based on feedback from our incredible (1 million strong) members. With their help, we built a menu planner that takes your specific dietary needs, BMI, age, as well as the foods you like into consideration to provide our members with a weekly menu in less than 10 minutes. In the past, this took close to 30 minutes, so this upgrade has helped our members save time as well as lose weight, and that is simply amazing!

Another great addition, has been the expansion of our team of registered dietitians. This expert group personally guide our members to success. And, they are always available to answer questions.

Lastly, we've made our website more mobile friendly. All of these changes were not easy, and we definitely could not have done it without the help of our incredible members. And, for this we can't thank them enough.

Regarding being offered additional products in our weekly newsletter, I can definitely clarify. To start, I personally know members that have had great success thanks to these additional products. With that said, we encourage every member to review their own goals and to decide if they are right for them. And, our chief nutritionist, Ossie Sharon, has personally reviewed and approved them all, so we feel very comfortable providing these products to our many members. At the end of the day, the decision is up to you if you would like to go ahead with these products or pass on them.

Furthermore, I can see that you had a hard time getting your money back. This is very upsetting, and I really would like to have a better understanding of what went wrong… I say this because we have a no questions asked 60-day money back guarantee. So, if one of our members is not satisfied for any reason, you get your money back.

Although your review seems to be based on an outdated product and service of ours from over 2 years ago, I still take the claims very seriously. That said, I would love for the opportunity to have a better understanding of what went wrong. And, I am willing to have one of our registered dietitians provide you with one-on-one consultations and on-going support to ensure that you have a healthy 2017 and beyond. Here is my personal email: adam.feldman@trimdownclub.com and I look forward to talking to you soon!

Warm regards,

Adam Feldman

adam.feldman@trimdownclub.com

Director of Client Relations

Trim Down Club

Jul 27, 2017

I've tried to cancel my subscription for the last two months, but payment is still taken out of my account.

Jul 28, 2017

Hi there Wendy.

It is important that I let you know that you posted this comment regarding your Trim Down Club subscription on a third party review website rather than sending it directly to our team at the Trim Down Club. Luckily, I try to keep tabs of comments like these. We (Trim Down Club), offer a cancel anytime policy as well as a 60-day money back guarantee, so it is quite surprising to hear that you have been trying for months to cancel your membership.

This ultimately has me wondering if your request was ever sent to our support staff. Regardless of the answer, I can definitely help with your request. Simply write to me at Adam.Feldman@TrimDownClub.com with your order number and I will ensure that you are no longer charged for our products and services. I hope to hear from you soon Wendy.

All the best,

Adam Feldman

Director of Client Relations

Trim Down Club

---

Advertisement

---

27 out 29 people found this review helpful

I'm all at sea

I recently joined Trim Down Club but don't really understand it. It is not clear when they give you a menu if you choose just one item or all of them. I am quite confused. Also, if I do want to ask for a refund where do I go? There seems to be no way of contacting them. This should be made easier to do.

Bottom Line: No, I would not recommend this to a friend

View all 1 comments

Hide comments

Oct 6, 2016

Hi Doreen,

My name is Isabella Gibson, the Director of Community Affairs at the Trim Down Club. I am sorry that you didn't find what you were looking for. We strive hard to ensure that all our members get the support they deserve in order to reach their weight loss goals.

With this in mind, I see that you were in successful contact with our support team on several occasions over the past few weeks. This included correspondences on how to use the Menu Planner and details regarding your receipt of a full refund.

Having researched the events above, I am confused by your review. With that said, living a healthier lifestyle is no walk in the park. And, I wish you the best in health and success going forward regardless if it is with the Trim Down Club or not.

Yours truly,

Isabella Gibson

Director of Community Affairs,

Trim Down Club

---

22 out 24 people found this review helpful

Payment

By

Jenny Bale

,

Bournemouth, England

,

Aug 24, 2016
Verified Reviewer

I have paid but haven't received a thing!

Bottom Line: No, I would not recommend this to a friend

View all 1 comments

Hide comments

Dec 20, 2016

Hi Jenny,

My name is Adam Feldman, Director of Client Relations here at the Trim Down Club. I have read over your review and want you to know that without your specific details, and since we are communicating outside of the Trim Down Club, I am bit limited. But given the severity of your review, I will make sure that by the time you finish reading my reply that you will already be making the most out of the Trim Down Club Program.

So, to ensure that you get immediate access, I encourage you to find our Welcome Letter, which was sent to your email. This letter includes your login details as well as how to get started.

Now that you are all set, I want you to know that the Trim Down Club is here: to be your go-to destination for the right way to lose weight and improve your health. We take a long-term lifestyle approach to help you get lasting results.

But the Trim Down Club is about more than just advice; our program provides essential tools that help make weight loss easier, such as the Personal Menu Planner. Simply choose the foods you like and, based on your preferences, we build a customized meal plan that balances proteins, carbs and fats to help you stay in fat-burning mode all day long. We take the guesswork out of how to eat, while giving you the flexibility to eat what you like, so that you don't feel deprived.

Further, I'd like to make myself (and our amazing team of registered dietitians) available to you moving forward. You can contact me directly at adam.feldman@trimdownclub.com or our registered dietitians www.trimdownclub.com/forums/ with any questions, concerns, or comments that you have. Believe me, it will not fall on deaf ears. We're here to help and happy to do so. We look forward to hearing from you, Jenny, and you can be sure that we will do everything we can to help you achieve your health and fitness goals.

My best,

Adam Feldman

Director of Client Relations,

Trim Down Club

---

Advertisement

---

36 out 38 people found this review helpful

Think I've been had.

Sat thru the presentation, decided to buy the basic package online. Screen then offered me a further package which I did not want, but screen would not allow me "no thanks". So I was billed for the second item. Contacted customer services to ask for an adjustment. I was away from home for 2 days, on my return, they had replied telling me a "ticket" had been opened for me and the next day followed up with "ticket closed, no money refunded". My goods have not yet arrived, but reading others' experiences, looks like the money back guarantee is a fairy story too. First time I've fallen for this - should've read reviews first.

Bottom Line: No, I would not recommend this to a friend

View all 4 comments

Hide comments

Dec 20, 2016

Hi Jan,

This is Adam Feldman, Director of Client Relations with the Trim Down Club.

Thank you for your genuine review. After investigating, I was pleased to see that your original request was naturally solved shortly after the review was written.

With that said, we will surely improve our automatic reply to be more precise!

Going forward, I would like to provide you with free, personal support from one of our experienced dietitians. On top of this, I am available at any time to help you make the most of our menu planner, professional forums, courses and much more.

My direct email is adam.feldman@trimdownclub.com. Together we will ensure that you reach your weight loss goals!

Adam Feldman

Director of Client Relations,

Trim Down Club

Apr 25, 2017

This very thing just happened to me. I went to sign up for the £1.99 deal, only to see screens, after screens, offering books and videos. I do not want anything, but there was no option of "no thanks." I have emailed them, asking for my money back. Please, Trim Down Club kindly refund me my money as I am not interested. I can see the response to Jan here, and it is fake since you have not improved anything on your website if the same thing is happening to me four months later. Please Adam, help me get my money back.

Thank you.

Jun 16, 2017

I have rheumatoid arthritis. After I joined the Trim Down Club, I was put on a diet for combating rheumatoid arthritis. It is very limiting and being on the Trim Down diet doesn't work for me now. I am asking for my money to be refunded. Thank you.

Jun 20, 2017

Hi Gwen,

I was just notified about your comment here on HighYa.com and wanted to get back to you as soon as possible. Please keep in mind that it is always best to contact Trim Down Club directly through this page: www.trimdownclub.com/contact-us/

That said, I understand just how limiting Rheumatoid Arthritis can be. But, thanks to the flexibility of our Personal Menu Planner application you shouldn't have a problem creating a menu that is Arthritis friendly since you choose the foods that you'd like to have in your menu. We then combine these foods into the perfect balance of carbs, fats, and proteins that support long-term weight loss. It's really that easy!

Based on your request, I can definitely return your money, but I would hate for you to give up before fully understanding the capabilities of the Personal Menu Planner. So, I would like you to personally contact me at adam.feldman@trimdownclub.com so I can ensure that you get a menu that fits your needs. I will keep an eye out for your email and look forward to hearing back from you soon.

Thank you,

Adam Feldman

adam.feldman@trimdownclub.com

Director of Client Relations

Trim Down Club

---

40 out 41 people found this review helpful

A quick and easy menu

By

Tracy

,

Melbourne, Australia

,

May 2, 2016
Verified Reviewer

The menu from the Trim Down Club is relatively easy to access and follow but all the other emails that they send you is direct marketing to buy this vitamin pill or that, whatever. I am so sick of all the emails with 1 word on it thinking it may be useful information but then you get the link to the video that goes on forever. Then it says you need these tablets at a reduced price, etc.

Bottom Line: No, I would not recommend this to a friend

View all 1 comments

Hide comments

Dec 22, 2016

Hi Tracy,

My name is Adam Feldman Director of Client Relations here at the Trim Down Club. It makes me happy to see that you found our program easy to access and follow. Comments like yours really brighten up my day!

Regarding our newsletter, I think that it is important that you know that The Trim Down Club has several strategic partnerships. These partnerships are based on mutual interests, and our chief nutritionist, Ossie Sharon, has personally reviewed and approved them all. Furthermore, many of us here at the Trim Down Club have taken these supplements and tried out these programs with success!

While we do get a commission for promoting these products, this is done to help offset our low, one-time fee. Plus, it's important to remember that no two people are alike and weight loss is a complex issue. We know firsthand that some of our members have excelled thanks in part to these programs. Therefore, we encourage every member to review their own goals and to decide if supplementary systems are right for them.

I am running out of space to write more, so I encourage you to write to me at adam.feldman@trimdownclub.com Rain or shine, I am always here and happy to help!

Sincerely,

Adam Feldman

Director of Client Relations,

Trim Down Club

---

49 out 53 people found this review helpful

Not worth the membership fee

By

Mary Hartley

,

Elizabethtown, PA

,

Feb 25, 2016
Verified Reviewer

Do not join! I have that found the goal of this club is not be of help to me, but to line their pockets. It seems every email I received has info that can be gotten for free on Google, but which they offer for your to purchase for a fee, like books, etc. I have found Dr. Axe to be more helpful, and his info is free.

Bottom Line: No, I would not recommend this to a friend

View all 1 comments

Hide comments

Dec 22, 2016

Hi Mary, this is Adam Feldman, Director of Client Relations with the Trim Down Club. I appreciate your feedback. We certainly want the Trim Down Club to provide relevant information that helps you reach your weight loss goals. Yes, much of this information can be found online, and the advice we give is not entirely unique. It is, however, solid nutritional advice backed by science and guided by licensed dietitians.

More than just advice; our program provides essential tools that help make weight loss easier, such as the Personal Menu Planner. Unlike other weight-loss programs that tell you what to eat or give you rigid meal plans for a specified period of time, with the Trim Down Club, you choose the foods you like and, based on your preferences, we build a customized meal plan that balances proteins, carbs and fats to help you stay in fat-burning mode all day long. The Trim Down Club simply takes the guesswork out of how to eat, while giving you the flexibility to eat what you like, so that you don't feel deprived.

The problem with looking to the internet for advice is that so much of it can be misleading or even downright harmful, and it's hard to know what's right and what's wrong. That's why the Trim Down Club is here: to be your go-to destination for the right way to lose weight and improve your health. We take a long-term lifestyle approach to help you get lasting results.

Please feel free to write to me at adam.feldman@trimdownclub.com. I would be happy to answer any questions you have about how to make the Trim Down Club work for you! And, I am even willing to have one of our registered dietitians provide you with a free (yes, I mean it) consultation!

Best Regards,

Adam Feldman

Director of Client Relations,

Trim Down Club

---

Advertisement

---

55 out 56 people found this review helpful

A waste of money.

By

S Parkes

,

United Kingdom

,

Jan 31, 2016

I read a previous review and I second it. It's very frustrating. For every video sent, there is 10 minutes worth of talking about nothing helpful to the listener, yet then a fee is required. This is madness. Don't waste your money. Also, be very careful if you click on the payment type to try and get to the next screen because it takes your money when you've given no details.

Bottom Line: No, I would not recommend this to a friend

View all 2 comments

Hide comments

Feb 15, 2016

I agree with S. Parkes from UK. Video was suppose to be quick but was still going after 20 long minutes. It's all BS & biggest scam. 5 foods must not be eaten, only told me 3 foods. Margarine, bread & forgot the other one.

Dec 22, 2016

Hi S Parkes, this is Adam Feldman, Director of Client Relations at the Trim Down Club. Your satisfaction is really important to me. Comments like yours help us continually improve the experience for all of our valued members. And, that's why I felt that it was so important to respond here.

From time to time, we send emails to our members with helpful information and products by companies we have thoroughly investigated and trust completely. While these services are not necessary to achieve healthy weight loss, they can offer our members an extra edge to get better results.

Because I do want to help you get the service you deserve, please contact me directly at adam.feldman@trimdownclub.com I look forward to hearing from you soon. I am willing to go above and beyond to ensure that you reach your goals!

My best,

Adam Feldman

Director of Client Relations,

Trim Down Club

---

37 out 43 people found this review helpful

Not a scam

By

Marggie

,

Flatwoods, KY

,

Jan 5, 2016

I paid a one time fee of $47. This includes the ability to create individualized menus, recipes, health and nutrition articles, exercise advice, and online support groups. You do not have to accept the up-sale emails. I kept that aspect of my email just in case there were products I was interested in. On this plan you eat real food that you like. It is designed to keep your blood sugar level so you are not hungry all the time. It has helped me. I recommend it for people who need to lose weight and those that need to control blood sugar.

Bottom Line: Yes, I would recommend this to a friend

View all 1 comments

Hide comments

Dec 22, 2016

Hi there Marggie, Thank you for your review. I am happy that you are enjoying the Trim Down Club Program! I totally agree with your comment "it is designed to keep your blood sugar level so you are not hungry all the time." We strive hard to give our members relevant tools to live a healthier lifestyle. I can see that our hard work is definitely paying off!

People like you help motivate us to continue helping people get the body they deserve. Living a heathy lifestyle doesn't need to be hard. Feel free to check in with me at adam.feldman@trimdownclub.com on your progress. I am interested to hear about your successes!

Yours,

Adam Feldman

Director of Client Relations,

Trim Down Club

---

27 out 31 people found this review helpful

Working for me, haven't asked for a refund though.

By

ChrisM

,

Dec 21, 2015
Verified Reviewer

I have gone from 275 lbs to 260. It's not earth shattering but a good start. This is the first time anything has actually worked since I got married. Have endured (and ignored) many emails and when I signed up I didn't do any of the "upsells". Can't speak to those. The program is fine. It is not a miracle solution but the dietitian has been responsive to my questions, the people in the forums are helpful and I have a menu plan which seems to be working. I have had to make a lot of changes in what I eat and when. My kitchen pantry has transformed. Another thing, I felt it was getting expensive and the other members helped me find ways of making it cheaper, that was important for me. I think it is worth it.

Bottom Line: Yes, I would recommend this to a friend

View all 1 comments

Hide comments

Dec 22, 2016

Hi Chris, thank you for your detailed review of our program. Your success thus far is amazing and much more than a good start! If you need any tips on how to continue your success, you can reach me at adam.feldman@trimdownclub.com I would love to work together with you to help you accomplish your goals.

Best,

Adam Feldman

Director of Client Relations

Trim Down Club

---

Advertisement

---

38 out 47 people found this review helpful

A scam, never honored the money back guarantee.

By

Ethel Bassermann

,

Montreal Canada, now in Florida for 5 months

,

Dec 1, 2015
Verified Reviewer

You are a scam, used 1 bottle and fell ill. Tried to get my money back guarantee and it has fallen on deaf ears. Dishonest and a scam, take our money and run. Never ever will buy the product again.

Bottom Line: No, I would not recommend this to a friend

View all 4 comments

Hide comments

Dec 5, 2015

This review is a scam. The Trim Down Club is not a bottle of pills. What a total load of nonsense.

Dec 7, 2015

My review was not a scam, I have written proof of everything that took place. Trim down is a scam!

Dec 8, 2015

Trim Down Club does not sell bottles of anything. It's an online weight loss program. What are you talking about?

Dec 22, 2016

Hi Ethel, this is Adam Feldman, Director of Client Relations at the Trim Down Club. I believe that we have a small misunderstanding, and I am happy to clarify. The Trim Down Club is an online program and we do not sell physical items.

Instead, we provide our members with a customized plan, which includes but is not limited to an innovative Menu Planner, professional guidance from registered dietitians, cookbooks, shopping tips, and much more. Many of our members have seen amazing results, and I would love for you to join and enjoy this experience for yourself!

The good news is that the Trim Down Club is only a onetime payment, which is really nothing compared to the variety we offer. If you need anything, really anything, you can always write me an email: adam.feldman@trimdownclub.com I would even be open to getting you in contact with one of our registered dietitians for a free consultation.

Regards,

Adam Feldman

Director of Client Relations,

Trim Down Club

---