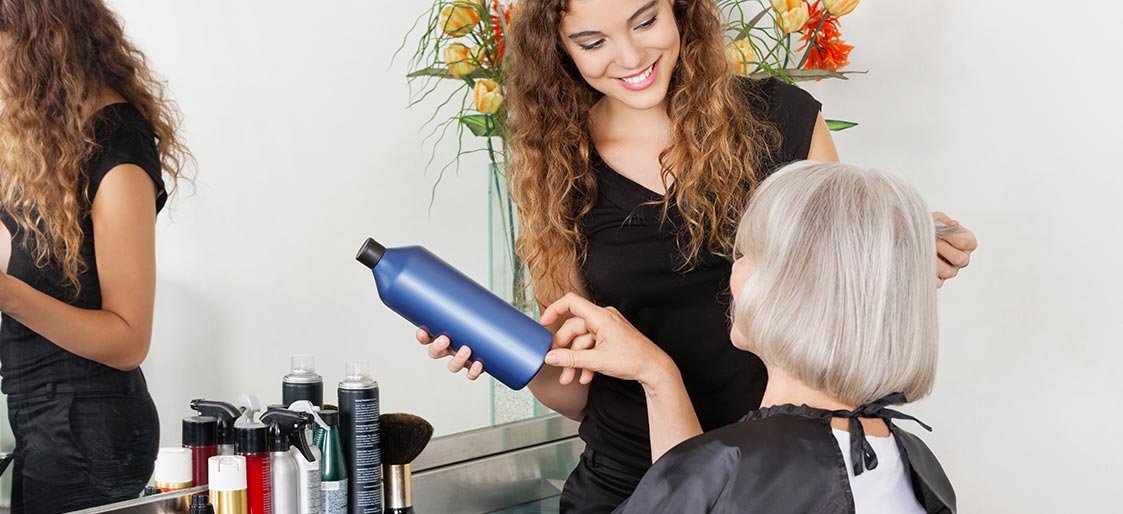 We've all had that moment after a cut, color, and blow-dry when your stylist presents you with a mirror so that you can marvel at the final results: Voluminous yet sleek. Hold that isn't stiff. Shiny without looking slick—your dream hair has arrived.
As you exclaim praises, your stylist will then subtly (or not so subtly) suggest each of the products that worked to help create your polished look.
Quality salon services often come with a sticker shock of their own—even before considering additional product purchases.
So, when you mentally calculate the total price, including any suggested products, it's difficult not to consider just how much you could save by sticking with your drugstore brands instead.
To help you become a more informed salon-shopper, here are some guidelines on what works, what's worth it, and when you can save.
If You Have "Normal" Hair
If you don't dye your hair, don't have sensitive skin, don't chemically process or straighten your hair in any way, and don't have seriously damaged hair, you won't experience a significant difference between less expensive drugstore shampoos and those you can purchase in a salon.
This view is supported by independent testing performed by Choice, an Australian consumer protection organization. Choice ran two tests of shampoos, the first in 2006 and a second in 2011.
To remain objective, the organization purchased all of the products they tested—no freebies from manufacturers.
In 2006, Choice enlisted over 500 home testers (80% female, 20% male) to blind test 41 shampoos, priced from $1.50 to $60. Each participant tried four different shampoos (in unmarked bottles) that were marketed as being suitable for "normal" hair or everyday use.
Participants were asked to rate the products for overall performance, "clean-feel" performance, and fragrance.
The results? Choice's trial found that the three most popular shampoo brands were drugstore cheapies—which were found to stack up significantly better than some of the pricier, more prestigious salon brands.
In 2011, Choice followed up with a second trial that included 41 participants testing 11 popular shampoo brands—with the same range of price points and same plain packaging.
The results were comparable to Choice's 2006 test. In fact, two of the lowest-rated products were among the most expensive on trial.
The two studies lead Choice to conclude that consumers should refuse to be upsold at their salon, despite any marketing hype and states:
"A shampoo's primary purpose is to clean your hair and scalp. Beyond that, it's a case of personal preference for consistency and fragrance. The trial proved price is no indication of quality or popularity."
If You Want to Extend Your Color
You're rocking a new hair color and don't want to see it go down the drain in just a few washes. But, you've heard cheap hair care products can quickly strip dye or dry out chemically treated strands—even spending time outdoors can fade your new, vibrant shade.
How to choose between both salon and drugstore products, many of which claim to offer advanced color care that will help to prevent fading?
According to Paula's Choice, those products that promise to protect your color aren't chemically different than regular hair care products. In fact, simply soaking your hair with water will significantly fade color after 12 rinses—and water, alone, won't keep your hair clean.
Instead of wasting your money on products that can't deliver on their color-saving claims, try to minimize your washes by opting for a dry shampoo every other day.
There are plenty of drugstore brands that get the job done. (Or if you're extra-cheap like me, just shake on some good ol' baby powder for extra oil absorption and volume in one.)
One word of caution for those who color? Dandruff shampoos can strip hair dye, so if you're having dandruff problems, hold off on that dye job until any flakiness is treated.
If Your Hair Is Chemically Treated, Dry, or Damaged
While no shampoo—drugstore cheapie or professional quality—is proven to extend the life of your color, fading isn't the only concern for chemically-treated hair.
Salon-grade hair products are intended to treat specific problems that tend to crop up for processed or unhealthy hair.
While the price isn't always indicative of quality, professional products do tend to use better ingredients and include added proteins—while leaving out any sulfates or alcohol that can make your hair brittle or frizzy over time.
Alternatively, drugstore products are more frequently made with less-desirable ingredients—two main offenders being wax or PVC (polyvinyl chloride).
These two ingredients can create buildup over time, making your hair more difficult to style and less responsive to treatments or conditioners.
In that way, the products you can purchase at a salon might be passed over in a one-time test. However, they can be loads more effective at keeping your hair looking great with extended use.
Conditioners
Think of your hair like a nice piece of leather—it requires moisture, in the form of conditioning, so that it doesn't become dry and cracked.
Certain ingredients condition your hair more effectively; proteins, ceramides, and lipids attract moisture to your hair and keep it there.
Drugstore brands may contain effective concentrations of those important ingredients, but not enough to be as effective as their salon counterparts.
Salon conditioners can soothe inflamed scalps and often have less irritating ingredients.
They also include proteins that replace the proteins stripped from hair during chemical processing, and can even act as overnight treatments to restore moisture to extremely dry or processed hair.
Additionally, professional brands contain much less water than drugstore brands, so you do tend to use less product to condition your hair. But, most importantly, salon-quality hair conditioners generally do not contain wax or wax-type products.
If you've ever used a conditioner that made your hair feel soft and supple until one day, without warning, it simply fell flat, you can blame wax.
An inexpensive filler, wax coats your hair each time you condition, leaving a stubborn residue that won't wash off with water.
Your hair feels great at first, but after a while, each strand is coated with an impenetrable residue, and there's no way for any of those other moisturizing ingredients to get in and do their job.
The Bottom Line
The truth is that so many drugstore hair products — shampoos and conditioners — can work perfectly fine, especially when considering the staggering price difference. What's more important than fancy brand names are the ingredients found on the back label.
For example, it's often the whole nasty family of sulfates that dries out hair and fades color faster. But, you don't need to purchase a salon shampoo to avoid them.
Both L'Oreal and Pantene offer inexpensive, sulfate-free shampoos and conditioners that help keep hair beautifully manageable.
If you'd like to learn more about which ingredients are most effective (and which to avoid), check out this handy guide at Oprah.com.
Otherwise, if you're not battling any specific hair troubles, such as dryness, dandruff, or damage from over-processing, there's no need to feel guilty about saying "no" to your stylist's suggestions.
Don't feel the need to purchase everything your stylist suggests. Odds are that some of the suggested products would be more helpful than others—just ask.
And if you do find that some of those salon-quality products make a very real difference in your hair, don't be afraid to check online for cheaper prices (unless, of course, you'd prefer to support the local business).
Finally, remember to carefully follow the directions when using your expensive purchase—some products work best with heat, dampness, or by only using the product sparingly.
Doing so is an often-skipped step that helps you ensure you get the salon-quality results you expect when paying salon prices for products.