BioTrust
Claimed This company has claimed this profile, is getting alerted on any new customer reviews entering this page, and may engage in dialogue with its customers to address their matters.

Companies cannot pay money or provide goods in order to remove or alter customer reviews.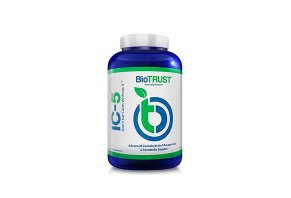 By offering a lineup of 17 high-quality dietary supplement formulations, each tested for potency and purity, BioTrust represents one of the fastest-growing online nutrition companies around.
---
This product doesn't work.

I have used BellyTrim for 90 days and lost neither a pound or an inch. I don't believe that this product works. I would not recommend it to anyone. I am an active older woman playing golf, walking, doing Pilates, Aerobics and an exercise class involving weights, crunches, planks, etc.

Bottom Line: No, I would not recommend this to a friend

Mar 13, 2018

Hi Gloria,

I hope this finds you doing well. My name is Tim Skwiat, and I'm with BioTrust Nutrition. I'm remiss to hear that your expectations were not exceeded with BellyTrim XP. After all, our products are created to work, and along those lines, we expect BellyTrim XP to help produce meaningful reductions in body fat and/or improvements in calorie-burning lean muscle when used as directed, alongside a healthy diet and regular exercise program.

Having said that, you are completely protected by our one-year money-back guarantee. Since you are not satisfied, a member of our customer service department will be reaching out to you to assist you with a prompt refund of your purchase. Please contact me directly at tskwiat@biotrust.com if you have any additional questions or concerns. We are here to help and happy to do so.

My best,

Tim

---

My experiences with BioTrust products and service

I hit rock-bottom when my weight climbed well over 400 lbs and my health had deteriorated to the point that I was only marginally functional. I began my journey to better health in March of 2017, and discovered BioTrust in May of that year.

I have been using several BioTrust products and taking advantage of the exceptional coaching and support ever since. I write this in March of 2018, almost a year since I started my journey, and my results have been astonishing. I have lost over 145 lbs. I am now able to sustain reasonably intense exercise for over an hour. It may not sound like much, but I can go up and down stairs without collapsing.

Is it all due to the BioTrust products? No. Of course not! I have literally worked my butt off! But the products have certainly helped immensely, and the support and encouragement from the BioTrust family has been a key part of my success. I will not deny that they are a bit overly aggressive with their marketing, but no more so really than any other primarily internet based seller.

I have needed their "traditional" customer service now twice, and both times the matter was taken care of promptly and without a hitch. Their "support" customer service (coaches, nutrition counselors, etc.) is top notch. I provide technical support for a living, so I'm not easily impressed, but these folks impress me.

Bottom Line: Yes, I would recommend this to a friend

---

Advertisement

---

I trust in BioTrust!

Great company. Great products. Great results.

I have been using three BioTrust products since January 2018, and I've seen fantastic results from using these quality products, and I recommend them to my family and friends.

Bottom Line: Yes, I would recommend this to a friend

---

BioTrust

I would like to submit this review on BioTrust products, service, and coaches.

First and foremost, this is a company you would want to work for! What an excellent, intelligent and responsive staff. From the outside, I am most impressed with the responsive of the coaches and nutrition staff. BioTrust does not want to "sell" you products you do not need. They are committed to providing products beyond industry standards and of the highest quality. Also, they are not solely in business to make a profit; they support charitable efforts like Make-a-Wish.

As far as products go, I have tried many. BioTrust Low Carb protein mix (vanilla is my favorite), BioTrust Organic Protein Bars - the Belgium Chocolate Chip probably my most favorite BioTrust product! I also enjoy the OmegaKrill 5X, LeptiBurn 2.0, BellytTrim XP, Metabo 379 and Cravefix 96. I am looking forward to trying the MetaboGreens 45X.

This is a well-run company with great products, and if you watch their website, you can often get discounts for excellent pricing. Overall, a great company with great products!

Bottom Line: Yes, I would recommend this to a friend

---

Advertisement

---

Decent product, customer-unfriendly company

By Susan

,

Charleston, SC

,

Feb 13, 2018
Verified Reviewer

I like the fact that the shake is low carb and isn't too sweet. It also seems to help with cravings and the taste is decent.

The two-star rating refers to the company and how they treat their customers.

1. They constantly email "free" shake offers. The last time I tried to take advantage of the "free" shake, I was told I wasn't eligible. Fine, no harm, no foul. EXCEPT that they charged me $4.95. When I called the company, they said they had NO RECORD of the charge. My bank account begged to differ. I had to call my bank to get the charge reversed because I would not be receiving a product since the company didn't acknowledge the charge.

2. They bill early. If you have an auto ship, you will get billed at least a week earlier than your recurring subscription date.

3. The emails are ENDLESS and are basically "click bait." It doesn't matter if you unsubscribe.

4. You can't cancel the auto ship on the website. You have to CALL to cancel.

I'm sick and tired of companies who say they're all about the customer but then prove the lie by enacting customer-unfriendly policies. So what I can send back a shake after a year. Big deal. That generous return policy is meaningless when:

- You take my money and have no record of doing it.

- You bill me a week ahead of my shipment date.

- I'm constantly deleting your spam.

- I have to run the customer service gauntlet just to cancel.

I would recommend this product with a caveat; the shake is decent. Only get the auto-ship if cost is a factor and you don't mind being charged a week early. Chances are you will never have a problem, however, if a problem arises, expect a long, difficult, and annoying road to resolution.

Bottom Line: Yes, I would recommend this to a friend

Feb 15, 2018

Hi Susan,

I hope this finds you doing well. My name is Tim Skwiat, and I am with BioTrust Nutrition. I am deeply disheartened to read your review and to find out you're anything less than perfectly satisfied. Having said that, we sincerely appreciate you taking the time to provide your feedback. It's our goal to provide our customers with world-class customer service and an overall positive experience, and we know that there's no one who can better tell us how we can improve than our valuable customers.

I'd like to take a moment to speak to your concerns. I do want to note that given the limited information you've provided (e.g., only a first name and city of residence), I'm not able to locate your customer profile or order history. However, if you would be so kind as to email me directly at tskwiat@biotrust.com, I assure you that we will look into everything as thoroughly as possible.

1. With regard to the offer you mentioned, we do send customers a free sample-size container of our protein. We only ask that customers help by paying the cost of shipping and handling, which was $4.95 in this case. While we advertise free protein, we make every effort to make the shipping charge very clear (e.g., "Just pay shipping.") What disturbs me, however, is that you said that a representative from BioTrust told you there was no such record of the charge. I would very much like to look into this further. If you could please contact me at your convenience with your order number, I will absolutely do so.

2. For folks who sign up for our monthly subscription, we charge their account when the order is processed, which occurs immediately prior to the order being shipped (just like if you placed an order via Amazon).

3. This is an excellent point, Susan, and we are in the process of refining how we communicate with our customers. While many of our customers appreciate the frequent emails with money-saving coupons and valuable information (e.g., podcasts, blog articles), we are listening to our customers like yourself who are requesting fewer email communications. Expect changes to this in the very near future.

4. We are also diligently working on our online customer portal. While we try making canceling or changing your subscription easy by calling our customer service, we understand the demand for an online interface where you can make adjustments without calling. It seems like it would be a simple implementation, it turns out that it's quite a time and labor-intensive. However, it's something that we're working on at the moment and anticipate rolling out to customers soon.

Having said all that, I reiterate my apologies for any frustration that you experienced. Please know that your feedback is valuable to us, and we're working tirelessly to make improvements to meet the evolving demands of our customers. Please also contact me directly at your earliest convenience. I not only want to make sure that you're completely taken care of, I'd like to send you a free product for taking the time to share your feedback and letting us know how we can better serve our customers such as yourself.

My best,

Tim

---

Misleading promotional sign-up offer.

By Andy

,

Los Angeles, CA

,

Feb 2, 2018
Verified Reviewer

If you do their promotion, they sneakily sign you up for automatic shipments. I signed up for the promo looking out for any language about having to sign up for auto ship, thinking that was their scam. I didn't read anything and thought I'd give it a try because Lewis Howes was promoting this company and I found him credible.

They did automatically enroll me in an auto-ship and sent me an order and charged me for it. I emailed them, and a support rep got back to me very quickly, which I appreciated. I'm not satisfied with their refund offer, but I blame myself for not following my instinct, and if something sounds too good to be true, it is.

The product is of acceptable quality but not worth the price.

Bottom Line: No, I would not recommend this to a friend

Feb 5, 2018

Hi Andy,

My name is Tim Skwiat, and I am the Director of Scientific Affairs with BioTrust. My teammates and I keep tabs on review sites like HighYa in an effort to provide our customers with world-class service and an overall positive experience. Along those lines, I'm very disappointed to learn that you experienced anything less.

Having said that, I do want to clarify that while we do offer a money-saving monthly subscription option for our products (20 percent off and free shipping), our customers are not obligated to choose that program. That is an option that can be selected or declined during the checkout process. Along those lines, I'm sorry that you accidentally enrolled in the program and had to go through the trouble of deactivating your subscription. I will, of course, pass along your complaint to our marketing team for review.

I have confirmed with our customer service department that you have been issued a partial refund for the first container that you were sent, which you, of course, are welcome to keep. Along those lines, I'd be curious to get your feedback on what you think of the product.

Please accept our most sincere apologies, Andy, and please let us know what else we can do to make this right for you and earn your trust as a BioTrust customer. You are more than welcome to contact me directly at tskwiat@biotrust.com.

Thank you,

Tim

---

Sent shipment I did not order and took money

I ordered the trial for my husband. He was put in the hospital before ever getting to use it. This was on December 22, 2017. The first auto-ship was to be sent on January 31, 2018. I tried canceling the 2nd of January, 2018. They told me it had already been shipped and $78 was taken out of my bank account! I, of course, wasn't expecting this charge and it put my account negative. Customer service was zero help after several emails.

BioTrust cannot be trusted whatsoever! Now it's up to me to return the new shipment, which isn't here yet on January 7th. I have to pay the return shipping too!

TERRIBLE COMPANY.

Bottom Line: No, I would not recommend this to a friend

Jan 9, 2018

Hi Kathy,

My name is Tim Skwiat, and I am the Director of Scientific Affairs with BioTrust Nutrition. I keep an eye on websites like HighYa because our goal is to ensure that our customers enjoy world-class customer service and an all-around positive experience.

Before I go any further, I want to say that I am deeply sorry to hear that your husband was hospitalized. I do hope that he is doing as well as possible. Our thoughts and prayers go out to you and your husband.

I'm regretful to read your review and to learn that you experienced anything less than the best. Having said that, I assure you that we will do everything we can to make this right for you. I will begin by forwarding your name and review to our Customer Service Department. As soon as we locate your contact information, one of my teammates will be reaching out to you to take care of you.

If this is not resolved to your satisfaction, can you please contact me directly at tskwiat@biotrust.com? I will make certain that you are taken care of.

Sincerely,

Tim Skwiat

---

Bad aftertaste

By Julie King

,

Missouri

,

Nov 16, 2017
Verified Reviewer

I paid shipping to get a trial size sample of the Vanilla Cream Low Carb protein blend. The taste was overwhelmingly a fake sweetener taste, which I don't understand knowing the ingredients. Sorry, but although the product looks very good and useful to me, I can't get over the taste.

Bottom Line: No, I would not recommend this to a friend

Nov 17, 2017

Hi Julie,

I hope this finds you doing well. My name is Tim Skwiat, and I am with BioTrust Nutrition. I'm remiss to read your review. While we conduct extensive testing to ensure that BioTrust Low Carb BioTrust Low Carb (which contains no artificial sweeteners and instead is sweetened naturally with stevia, inulin, and Swerve) is the best-tasting protein available on the market today. We understand that individual taste preferences vary significantly.

And while the majority of our customers are head over heels about the flavor of BioTrust Low Carb, we appreciate that not everyone will agree. That's precisely why we stand behind all our products with our 1-year money back guarantee. Along those lines, I have requested that our Customer Service team refund you for the $4.95 that you paid in shipping.

Having said all that Julie, I want to reassure you that your feedback is very valuable to us, and I will gladly pass it along to our R&D team for consideration. We're in the business that is constantly improving, and who better to tell us how we can do that than our trusty customers. With that being said Julie, I would be curious to hear which flavor you tried and how you prepared your BioTrust Low Carb. At your convenience, could you please email me at tskwiat@biotrust.com? I would also like to offer you a complimentary bottle of another flavor to see if you have the same experience. I look forward to hearing from you.

Sincerely,

Tim

---

Big let down on service and support

Let me begin by saying I am NOT reviewing their products as I have not received them yet. I am right off the bat very unhappy with the fact that yet another American business has opted to outsource their customer service to a foreign country. Do you not realize that we as Americans despise talking to people we have trouble understanding? Especially when we are frustrated and are trying to resolve a problem, and now we have to deal with a new problem of a language barrier? Very disappointed in BioTrust for taking away US jobs, and for the high prices of their products. You'd think they could afford to pay our own citizens.

Secondly, I personally am not happy when I receive a shipping email saying ORDER SHIPPED and TWO DAYS later, UPS still does not have my package in their possession. How is this possible? Calling customer service I have to deal with a person from India or somewhere nearby, that I can't understand, reading off standard responses to my shipping inquiry. How many times are you going to tell me that a UPS label has been created? I know this already. I can read this for myself on the UPS tracking page. I asked why my package still hasn't left your facility AFTER TWO DAYS.

All I can say is, these products better blow my mind or else the experience will not be worth buying anymore.

Bottom Line: No, I would not recommend this to a friend

Nov 15, 2017

Hi Mr. Johannessen,

My name is Tim Skwiat, and I'm with BioTrust Nutrition. First and foremost, thank you very much for taking the time to voice your discontent and for allowing us the opportunity to make things right for you and earn your trust and loyalty as a life-long BioTrust customer. While it's our goal to provide all our customers with world-class customer service (which is A+ rated by the BBB), we openly invite constructive criticism, such as yours, as we are committed to continuous evaluation and improvement.

Having said all that, along with the help of our Director of Customer Service and Quality Assurance team, we have reviewed the call history associated with your order. With regard to the first aspect of your review, BioTrust employs Customer Care Specialists in both the United States and India. I do want to emphasize that all of these teammates are employed by BioTrust. In other words, all of our CS team is internal; none is outsourced (e.g., third-party contractors). Overall, BioTrust proudly provides jobs for hundreds of US citizens.

Be that as it may, your feedback is important to us. While we've worked diligently to recruit the best English-speaking offshore agents, who are trained the same way and have access to the same resources as our US-based agents, we understand that there still may be a communication barrier. Along these lines, we apologize for any frustration that you experienced during your interactions with our CS team. Moving forward, I invite you to contact me directly at tskwiat@biotrust.com with any questions or concerns that you may have.

With regard to the second aspect of your review, we are in the process of investigating this further at our fulfillment center. Under normal circumstances, orders ship within 24 hours of being placed, often within the same day. It seems as though your order remained at the fulfillment center well beyond that window, which is unacceptable to us. That's precisely why we're looking further into the matter.

Having said that, we did process a re-shipment as soon as we became aware of the delay. Along those lines, it's my understanding that you should be receiving both the initial shipment and re-shipment within the next 24-48 hours. We are terribly sorry for this inconvenience, Mr. Johannessen. Like I mentioned, we take these matters very seriously, and we're looking into your case from all angles to identify coaching opportunities (within CS) and efficiencies (within our fulfillment center).

I am confident, however, that you will be extremely pleased with our products, and I'm very much looking forward to your feedback. In addition to making myself personally available to you, I'd also like to offer you a $50 gift certificate that you may use in a future order. If you could please contact me at tskwiat@biotrust.com at your convenience so that I can provide you with the coupon code, that would be greatly appreciated.

Once again, please accept our most sincere apologies Mr. Johannessen. Thank you very much for taking the time to offer your honest feedback. While we are remiss to hear that your initial experiences have left a sour taste in your mouth, we appreciate you allowing us the opportunity to make this right and to identify areas where we can improve.

Sincerely,

Tim

---

This stuff is bad

By Robert Horn

,

New Jersey

,

Oct 30, 2017
Verified Reviewer

I ordered BioTrust. They offered me a sample or a larger quantity, so I took advantage of the cost savings. I ordered a chocolate mocha. When I received my package, no sample, and the wrong flavor. I tried the protein powder after my workout. It was just gross. The flavor was "mediciney" and not a chocolate flavor. I usually purchase my protein whey from a large Vitamin store, and it cannot compare. Do not waste your money on this product.

Bottom Line: No, I would not recommend this to a friend

Oct 30, 2017

Hi Robert,

I hope this finds you doing well. My name is Tim Skwiat, and I'm with BioTrust Nutrition. I'm incredibly reluctant to hear that you're not completely satisfied with your recent order and our BioTrust Low Carb protein. I assure you that we will do everything we can to take care of you and win you back as a customer.

For starters, I'm going to have one of our customer care specialists contact you. We stand behind our products with our 100% satisfaction money back guarantee, and I'd like to have one of my teammates personally reach out to you to help you explore your options.

Having said that, our sample-size containers of BioTrust Low Carb are only available in two flavors: Milk Chocolate and Vanilla Cream. Our Cafe Mocha is only available in a full-size container. With that in mind, I'd also like our team to look into this to see if there was an issue on our end in terms of fulfillment.

With that being said, I would also like to send you a complimentary bottle of Cafe Mocha for you to try. Would you be okay with that? If so, I'll coordinate with our customer service team to do so.

With regard to the flavor, while the overwhelming majority of feedback we receive is exceptionally positive, we understand that individual taste preferences most certainly apply. That said, I'm curious to learn how you prepared your BioTrust Low Carb protein shake.

There is a digestive enzyme blend in the product (called ProHydrolase) that helps increase protein absorption and utilization, as well as ensure stomach-friendly digestion. The caveat is that this enzyme blend is "activated" when mixed with liquid when it begins breaking down the protein into smaller chains (i.e., peptides), which can alter the taste substantially. The end result is that the protein shake can taste quite bitter if mixed ahead of time and left to sit for a prolonged period of time (e.g., > 30 minutes).

Please keep an eye out for a contact from our Customer Service team, Robert. I assure you that we'll do everything we can to make this right for you. Thank you for the opportunity to do so.

My best,

Tim

---

Improved skin, hair, and joint health for my mom

By Sue Mosebar

,

Colorado

,

Oct 9, 2017
Verified Reviewer

Two months ago, my mom injured her knee, and she asked me if I knew of anything that might help her recover a bit faster. I went to a friend who recommended she try BioTrust's Ageless Body combined with Joint 33X. I liked the company (I love their Low Carb), so I bought a bottle of each for her to give a try. A couple of weeks later, she asked me to buy her more because she really liked them (I was pretty surprised as she's not always good at taking supplements).

A little background: My mom is nearly 79 years old, and she's an avid quilter, volunteers at a school once a week, and is always happy to help everyone around her. So seeing her slow down was a bit frightening.

I checked in with her again yesterday, and she asked me to feel her skin and look at her fingernails. One of her nails had been split for years (she always thought it was because of the hand quilting). Now, the split is gone. Her skin is softer, smoother, and is no longer dry or flaky. Even her hair feels softer and thicker, she told me.

Best of all, her knee healed quickly, and she's off physical therapy and back to her regular exercise class (she takes Tia-Chi and lifts weights a couple of times a week).

I'm so thankful to see the bounce back in my mom's step, and she asked me to submit a testimonial about her experience as she's absolutely thrilled (and she's not on the computer or internet).

Thank you!

Bottom Line: Yes, I would recommend this to a friend

---