DailyOM Reviews
Claimed This company has claimed this profile, is getting alerted on any new customer reviews entering this page, and may engage in dialogue with its customers to address their matters.

Companies cannot pay money or provide goods in order to remove or alter customer reviews.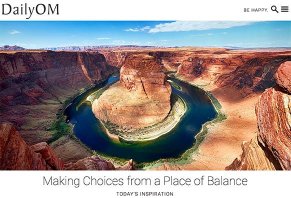 DailyOM's more than 100 e-courses, in addition to their inspirational writings, member discussion forums, and daily horoscope, claim to help you live consciously.
About DailyOM
Founded in 2004 by Madisyn Taylor and Scott Blum, DailyOM is all about helping you find happiness and make choices from a place of balance, using a variety of inspirational writings, daily horoscopes, discussion groups, and online self-development courses.
Specifically, Madisyn and Scott created the website for those from all walks of life who want to live a conscious lifestyle through a "universal approach to holistic living for the mind, body, and spirit."
This is where the 'OM' in DailyOM comes from, since they describe it as "an ancient syllable used in meditation" that's said to "be the sound from which the universe and all of creation first manifested," Or, the "sound that contains all sounds."
DailyOM has been in operation for many years and features a wide variety of content. But does this necessarily mean you'll find what you're looking for after handing over your hard-earned money?
Before spending a dime, we'll walk you through everything we learned during our research so you can make a more informed decision.
How Does DailyOM Work?
The DailyOM website can be distilled down to five main sections:
Inspirations – These short posts are written by Madisyn and geared toward helping you find motivation and enthusiasm. Recent topics include "Making Choices From a Place of Balance," "Things That Annoy Us," and "Habitual Anger."
Daily Horoscopes – Provides daily insights based on the alignment of different planets and stars. Archives going back several months are available for each astrological sign.
DailyOM Emails – Inspiration and Horoscope emails arrive once per day, every day of the week, while Music emails arrive every weekday, and Gift of the Week emails arrive one to two times per week. The company emphasizes that email addresses are kept completely confidential and are never shared with anyone.
Community Discussion Groups – You can participate in a variety of discussion topics with other DailyOM members (powered by Facebook, so you'll need an account), including the daily Inspiration emails, music, astrology, and user-generated topics.
Taking a Closer Look at DailyOM's Courses
One of the site's most popular features, their lesson-by-lesson courses promise to offer "a unique opportunity to study with some of today's foremost experts on self-development and applied spirituality."
Note: Their FAQ emphasizes that these courses are focused on providing practical value to students related to personal development, but they're not accredited, and you won't receive a certificate upon completion.
DailyOM's most popular course is 8-Week Whole Body Makeover by Janine Murray. Over the course of 56 lessons, she promises to reveal easy-to-follow workout videos, mindset tools to keep you empowered, and delicious meal plans that can help your body shed fat.
Specifically, this includes a beginner's guide to help you ensure success, a 14-Day Slim and Sexy Detox Meal Plan, a five-week clean eating meal plan to help balance hormones and slim your tummy, 12 follow-along workout videos, and seven weeks "of mindset focus journeys: inspiration everyday to break old patterns and create your most radiant self."
A sampling of additional options in their course lineup includes:
Self-Improvement – "A Year to Clear What's Holding You Back," "Heal Your Inner Child," "Finding Peace When Relationships Change"
Healthy Living – "21 Day Yoga Shred," "Fit and Fierce Over 40," "14 Days of Strength and Stretching"
Relationships – "7 Weeks of Self-Love," "Protect Yourself From Control Dramas," "Manifest Your Soulmate"
Home and Garden – "Make Your Car a Stress-Free Sanctuary," "Clear Your Home, Clear Your Life," "How to Create Perfect Feng Shui"
Spirituality – "Reinventing the Body, Resurrecting the Soul," "Meditation for Transformation," Overcoming Loneliness and Boredom"
Meditation and Relaxation – "The Peaceful Warrior 4-Minute Meditation," "How to Quiet the Mind," "21 Day Writing Meditation"
Energy Work – "Be a Divine Conduit for Guides & Angels," "When Energy Healing Meets Meditation," "Activate Your Psychic Superpowers"
Manifesting and Money – "Make Yourself a Money Magnet," "Meditate for the Abundance You Want," "21 Days of Debt Release"
Art and Writing – "Re-Write Your Life," "Discover Your Creative Writing Compass," "Heal Yourself With Writing"
After finding a course you're interested in, you simply need to click 'Enroll in course," complete the order forms, finish your purchase, and the content will be available immediately under the My Courses section of the DailyOM website.
Although course material is streamed directly and can't be downloaded, they're yours to keep and accessible whenever you like (as long as you have an Internet connection, of course).
Is a DailyOM App Available?
There are two DailyOM apps on Google Play:
Ocean Waves – Displays HD video of ocean waves on your Kindle Fire, Android tablet, or Android phone, which can help you calm down, de-stress, or fall asleep.
Start the Day Meditation – Short (usually less than three minutes in length), powerful guided meditations narrated by Madisyn and featuring a variety of nature photography. All you have to do is listen to the words and music, while viewing the pictures if you want.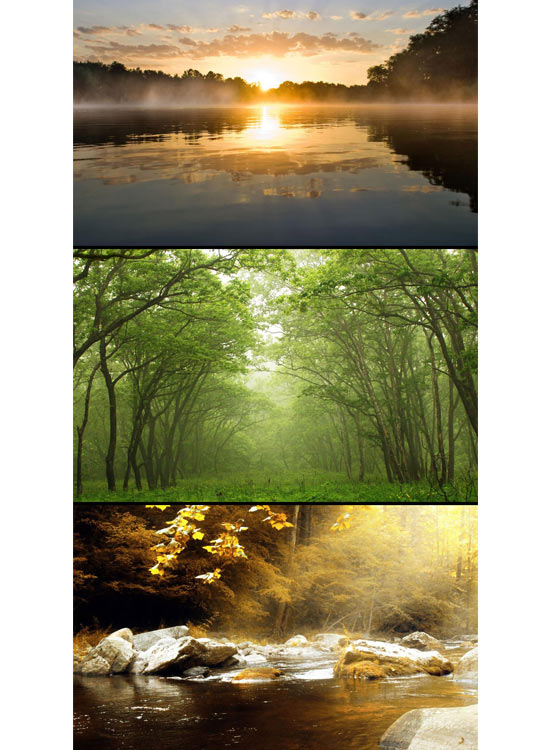 Inside DailyOM's Meditation app, users will have access to narrated meditations, soothing music, and a variety of natural images (several examples shown above). Credit: DailyOM
How Much Does DailyOM Cost?
Signing up for a DailyOM account and reading through Inspirations, accessing your horoscope, receiving emails, and joining discussion groups is free.
Gaining access to the course(s) of your choice involves a one-time fee. For most of the time of our research, customers could pay what they wanted ($10, $25, or $40) for each one. Their Gift Shop also sells a variety of products like books, shirts, guided meditations priced between $9.99 and $34.95.
When applicable, shipping cost is calculated by weight.
All DailyOM purchases come with a 30-day money-back guarantee, which you can request by sending a message through their site's contact form.
What Can We Learn From DailyOM Customer Reviews?
We didn't encounter much online customer feedback about DailyOM in general, although we did find several related to some of their specific products.
For example, the Thrifty Hollander blog tried out DailyOM's 21 Day Yoga Shred, but ultimately reported they found much of the content confusing (such as spending twice as long cooling down than exercising), or far below their fitness level.
They only made it a few days before calling it quits, "due to the lack of engagement, both physically and mentally." In the end, they concluded, "Although the program is at first glance a very good value, I'm not sure that the content is there to really provide what is expected."
We also encountered more than 150 customer reviews for Madisyn Taylor's different books on Amazon, who had collectively given them an average rating of about 4.5 stars.
Compliments frequently referenced accessibility and great (even "life-changing") information, while the relatively few complaints often revolved around print quality, and not necessarily content.
On Google Play, DailyOM's app had a total of four customer reviews and an average five-star rating, all citing ease of use and effectiveness.
Madisyn Taylor is DailyOM's editor-in-chief and writes all of the content found on the website. According to her bio there, she has "more than 25 years experience in personal development and alternative healing methodologies," and is also the author of several popular books and narrator for Billboard-rated guided meditations.
Comparing DailyOM to Other Spirituality and Self-Help Online Courses
Did we encounter any websites offering the same variety of content as DailyOM during our research, and presented in a similar format? No.
However, there are potentially hundreds of other sites that specialize in general spiritual, self-help, and meditation content and coursework, depending on your needs and preferences. Some of the most popular options at the time of our research included:
BodyMind Institute – Dozens of courses from a variety of instructors (including celebrities like David Avocado Wolfe) ranging in subject matter from "11 Keys to Miraculous Success" and "Essence of Knowing," to "Living in Power and Wisdom" and "Winning the Game of Test Taking." Prices range from $10 to $999.
The Chopra Center – Co-founded by Deepak Chopra, members have access to a variety of scheduled events, coaching, an online library, and 15 different courses like "Breathwork: Pranayama Techniques to Enhance Vitality," "The Quest: Spiritual Solutions for Creating a Life You Love," and "Taking the Leap."
Some of these are self-paced and available online, while others require physical attendance. Prices vary from $30 to $300+.
Class-Central – Unlike DailyOM, Class-Central doesn't offer courses directly, although their searchable database lists thousands of them spanning a dizzying array of topics from dozens online providers, including spirituality, meditation, and personal development.
Udemy – Original content created by topic experts. Related courses available at the time of our research included "Uncover the Mysteries of Past Life Regression," "Meditation for Beginners: How to Meditate Deeply & Quickly, and "Build and boost Self Confidence: Discover your strength."
Prices are set by the course's author, although they typically range between $10 and $30, each.
Spirituality and Practice – A massive resource for spiritual literacy and self-help, including a glossary of different practices, e-courses, films, books, and art.
How can you use this information, along with everything else we've discussed in this article, to help you make a more informed decision about DailyOM? Let's answer this question as we wrap up.
Our Final Thoughts About DailyOM
In the end, personal development is just that—personal. It's bound to be the case that what works fantastically for one person and helps them achieve their best self might be a total flop for someone else, so it might take some trial and error before finding what resonates with you.
In this way, it's positive that DailyOM provides a 30-day satisfaction guarantee on all of their courses, so you likely won't be out much more than a bit of your time if you give one a try and it doesn't work out.
Just keep in mind that, while millions of people have found self-help and spirituality courses, books, and films helpful in their personal journey, they shouldn't be considered replacements for treatment from a professional.
So, if you're looking to get the most value for your money, consulting a mental health professional beforehand might be a solid first step.
---
21 Day Total Body Challenge

By Ann M.

,

Manchester, NH

,

Jul 9, 2018
Verified Reviewer

This program was way above my level of fitness. I contacted them by email almost immediately requesting a refund. I not only did not receive a refund, I never even got a response. Quick waste of $25 for me.

Bottom Line: No, I would not recommend this to a friend

Aug 22, 2018

Dear Ann, I'm sorry, we did not receive your refund request. If you could kindly email support@dailyom.com we would be happy to provide a refund.

Sincerely, Brenda

Customer Service

DailyOM

---

Spinal reset

By Karen K.

,

Sydney, New South Wales, Australia

,

Nov 19, 2018
Verified Reviewer

I'm halfway through the 14 days spinal reset course, which I'm really enjoying. I've previously had two bulging discs in my lower lumbar 20 years ago, and sometimes my back gets twingy. This course has been really good in helping me get mobility back into my spine. And it's taught me some great but gentle strengthening exercises.

Bottom Line: Yes, I would recommend this to a friend

---

I paid for NOTHING

By Nilmini B.

,

Victoria, Australia

,

Nov 19, 2018
Verified Reviewer

I have purchased two courses.

The yoga one is absolutely useless! You get better information FREE on YouTube.

The second one doesn't work. NONE of the videos load. I have emailed them but never heard back from them.

Don't bother with this rubbish!

Bottom Line: No, I would not recommend this to a friend

---

21-Day Yoga Body with Sadie Nardini

By Carrie M.

,

Morzine, France

,

Aug 29, 2018
Verified Reviewer

I have been receiving the DailyOm emails for several months now and enjoy the comforts and insights provided by these writings. I recently signed up for a 21-day yoga course with Sadie Nardini. I have found the format flexible and easy to use, the content excellent and I am feeling enormous benefits from practicing yoga daily. The practices are gentle, yet strengthening with adaptations for all levels. I like the delivery. Overall I am very satisfied with my purchase, which I feel sure will keep me fired up to continue with my self-practice. I intend to find other DailyOm courses to help me with that.

Bottom Line: Yes, I would recommend this to a friend

---

Advertisement

---

Don't bother with DailyOM

By Jessica S.

,

New South Wales, Australia

,

Aug 25, 2018
Verified Reviewer

I signed up for a course through DailyOM which was advertised via my Instagram conveniently just after a breakup. Thank you, Siri. The course was "Be Free from Unhealthy Relationships" by Rhonda Findling.

I paid an elected amount of $15, which I thought was a fair price. I found the content to be general and rubbish. I didn't find it particularly well written, and in some cases the content was unedited. The self-help advice consisted of suggestions such as, "Keep a diary, speak to your friends, don't text him!"

The advice was basically not to text the guy that you like. One subject was "Lesson 6: Behavioural Things You Can Do To Not Call, Text, or Email." There was even a sound recording attached to the bottom of the lesson plan that made no sense and was inaudible. There was a note that wrote, "Although this audio is addressed to women, it can be applied to men as well. You can interpret what I say on the audio for your own situation." Total rubbish!

The course ended with this amazingly inspirational quote by Dr. David Simon "Free to Love Free To Heal" LOL! I should have spent my money on a good book via Audible.

Bottom Line: No, I would not recommend this to a friend

Sep 28, 2018

Dear Jessica,

We are sorry the course was not a fit for you. We would be happy to exchange your course for a different course or provide a refund for your purchase.

Please email support@dailyom.com so we can provide further assistance.

Sincerely,

Brenda

Customer Service

DailyOM

---

Very short and wordy

By V R.

,

Ontario, Canada

,

Sep 26, 2018
Verified Reviewer

I thought it was cheap enough to risk trying. I can't always get videos to load. I find the instructor to be all over the place, talking way too much and moving around a lot. Videos would be good if they went through the routine, then had an option to watch it with full explanations. Not fluid or any kind of workout, not even a good stretch.

Bottom Line: No, I would not recommend this to a friend

Sep 28, 2018

Dear VR,

We are sorry the course you purchased was not a fit for you. We would be happy to exchange your course for a different course or provide a refund for your purchase.

Please email support@dailyom.com so we can further assist you.

Sincerely,

Brenda

Customer Service

DailyOM

---

I love the DailyOM

By Gari F.

,

New York

,

Nov 28, 2018
Verified Reviewer

I thoroughly enjoy the DailyOM. Their email reminders re: spirituality and emotional/mental awareness are wonderful. I have bought 2 of their classes, Releasing Yourself from Family Karma and Healing Your Inner Child and I have learned a lot about myself through their questioning. I am currently working through the Inner Child course. I think to be successful in their programs, you have to be genuinely interested about the subject at hand and motivated to daily practice/reflection.

Bottom Line: Yes, I would recommend this to a friend

---

Load of garbage. Should have known better with it being Deepak Chopra.

By Glen D.

,

Jun 20, 2019
Verified Reviewer

The course advertised was nothing of the kind. Simple words on a page, no videos - no proper content. Nothing. Utter con. I've requested a refund and am waiting for a reply. So far, nothing. 21 quid they wanted for this rubbish.

Bottom Line: No, I would not recommend this to a friend

Jun 25, 2019

Dear Glen,

If you have still yet to receive a response for your refund request, please reach out at support@dailyom.com.

---

DailyOM 21-day Yoga Shred is a rip-off

By Bee Q.

,

Oregon

,

Oct 18, 2019
Verified Reviewer

This is such a disappointing product. It was advertised as a 20-minute a day workout. Instead of actually producing a Yoga Shred class she posts old instructional videos with poor quality.

Only on day 3, and already frustrated with her instructions to do twenty minutes of an old one hour video. The instructions are to begin when the class actually starts moving, do 20 minutes, and then just lie on our back and rest/cool down. So basically no warm-up, no cooldown, just try to fast forward until you see people moving and play the video for 20 minutes. Trying to fast forward a video on an iPad is frustrating already because the smallest movement causes the video to advance a ton. Just trying to find a good spot to start would take a chunk out of my day.

I wonder why none of the reviews I read prior to buying showed any of the honest and critical reviews that are in the discussion forum, of which there are many. It seems like DailyOM doesn't even read these and doesn't ever address feedback.

It looks like she has managed to rake in some good dough without actually doing any work to provide a quality product to her customers. Not very karmic in my opinion.

Bottom Line: No, I would not recommend this to a friend

---

Forget about "each lesson is yours to keep" and/or decent customer servicer responsiveness, either.

By Monica F.

,

Los Angeles, CA

,

Mar 17, 2020
Verified Reviewer

I did a couple of classes and the content has been satisfactory. But the course description stating that "Each lesson is yours to keep and you'll be able to refer back to it whenever you want. And if you miss a lesson or are too busy to get to it that day, each lesson will conveniently remain in your account so you won't have to search for it when you're ready to get back to it" is a LIE. Two courses that I had bought and wanted to revisit a year or so later disappeared from my list and I had to reorder one of them. Several attempts to contact the company were met with total silence. Not to mention that their minimum fee has increased by 50%, from $10 to $15. They sell laudable positive content in their programs but fall sadly short in terms of how they treat those who spend money with them.

Bottom Line: No, I would not recommend this to a friend

---

Junk

By Diana D.

,

Townsville, Queensland, Australia

,

Jan 21, 2019
Verified Reviewer

Who wrote this? I've read two weeks worth and it's a load of JUNK. I'd love my money back as I can't be bothered opening up some "lesson" which is five sentences. They are obvious to anyone, and this isn't helpful to anyone. Can't join discussion which indicates you're all messed up and don't want people writing the truth as I do. Stick your dollars up your dumb butts.

Bottom Line: No, I would not recommend this to a friend

Apr 16, 2019

Hello Diana,

We understand that you were deeply dissatisfied with your course purchase and we have taken the steps to refund you. We have sent you an email regarding this.

In addition, discussion groups are only read by others who have taken the course. If ever there is a tech issue, never hesitate to reach out so we could troubleshoot this. In addition, you can always write to us on Facebook, a public forum, or email us at support@dailyom.com.

Customer Service

DailyOM

---