Flaviar Reviews
Claimed This company has claimed this profile, is getting alerted on any new customer reviews entering this page, and may engage in dialogue with its customers to address their matters.

Companies cannot pay money or provide goods in order to remove or alter customer reviews.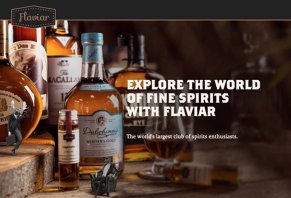 Looking for a new liquor that you probably won't find nearby? Flaviar is a club for spirits enthusiasts that helps you experience new liquors like whisky, bourbon, and gin from all around the world and build a home bar.
About Flaviar
Dubbing themselves as a club for spirit enthusiasts, Flaviar is a US and EU based spirits discovery commerce company that claims to help you taste craft and premium spirits, discover your favorites, and build a home bar. On top of this, Flaviar claims to be a cultural hub and community dedicated to democratizing access, exploration, education, and discovery in the world of fine spirits.
If you're tired of the usual choices at your local liquor store and are looking to expand your palate and your knowledge, Flaviar can seem like a solid option for addressing all these issues. But when it comes down to it, how does their service stack up?
How Flaviar Works
Flaviar is a membership-based club that claims to help each and every member develop their own tastes as they build their dream home bar. And more importantly, as they curate their bar to make it more exotic--and more personal--than the world's best speakeasy.
In order to accomplish this, Flaviar claims to helps its members navigate a vast landscape of spirits through members-only tasting boxes, live events, insider knowledge, private bottlings, access to rare products, unbiased commentary and reviews, and a database of over 20,000 spirits from all over the world.
According to the Flaviar website, membership offers nine main benefits:
Tasting Boxes - 'Try Before You Buy' themed boxes that allow members to taste products side-by-side and discover personal flavor preferences. Members receive one free box each quarter.
Live Experiences - Flaviar works with distillers, bars, and brands to organize live Members-only events throughout the year.
Home Bar - A digital platform on the Flaviar website allowing Members to record spirits preferences, log favorites, and map out their very own home bar.
Exclusive Bottlings - Flaviar works directly with distillers to create unique products exclusively for Members.
Member Community - A vast and interactive network of connoisseurs and casual consumers alike sharing knowledge and opinions on over 20,000 products.
Online Shop - Flaviar offers members a curated online liquor store featuring a rotating selection of exclusive spirits, craft and big brand alike.
The Flavor Spiral - An innovative visualization of spirits tasting notes.
The Vault - An exclusive selection of extremely rare and hard-to-find spirits.
Free Shipping - Flaviar club members get free shipping on any full size bottle order once per month, while tasting boxes always ship for free.
Because discovering new liquors can be a learning experience, Flaviar also offers a series of seven-day email courses that can help make you a more informed consumer, which is called the School of Spirits. Here, the company claims that you'll be able to discover fine spirits, learn tips and tricks on tasting, and earn a Flaviar certificate.
Flaviar Pricing & Refund Policy
A Flaviar membership is priced at $60 per quarter, or $210 per year.
Keep in mind that your Flaviar membership will auto-renew, so if you'd prefer to end your it membership, you'll need to request cancellation before your next renewal.
If you cancel your Flaviar membership within three days and before using any benefits, you'll receive a full refund. Outside of this, refunds are at the sole discretion of the company.
Is Flaviar a Good Choice for Discovering New Spirits?
If you are interested in learning more about liquors from around the world, does Flaviar represent a good option? Maybe, but keep the following in mind:
What You'll Receive
While most Flaviar members appear to agree that the company gives you the opportunity to try out a wide variety of spirits that you might not otherwise have access to—without having to make a big financial commitment and purchase an entire bottle—keep in mind that:
Although you can choose a complimentary Tasting Box, the samples in the box are curated by Flaviar.
It appears that Flaviar tends to favor whiskies, so if you don't care much for this type of liquor, you may not enjoy your membership as much.
With this said, you'll definitely want to browse through their previous tasting boxes to get a better idea of what they offer.
Customer Reviews
Overall, it appears that Flaviar has almost wholly positive online customer reviews, with the most common complaint citing lack of customizability. Another complaint that we encountered more than once during our research is that tasting boxes don't necessarily include enough liquor for three people. While this is definitely open to personal preference, it's something to consider, especially if you'd like to sample each one more than once in order to discern whether or not you'd like to purchase a full-size bottle.
On the other hand, some of the most common compliments cited customer service that is quick to respond to any problems (lost packages, etc.), bottles that are packaged attractively, and pour indicators on each bottle to let you know how large of a serving you're pouring.
Since writing our original article, more than 270 Flaviar customers have provided feedback about their experiences, giving the company an average rating of 4.3 stars. Common compliments revolve around solid selection of high-quality spirits, lots of helpful information, and the availability of sample packs.
Most of the complaints (what relatively few there were) referenced high prices, with a handful relating to less-than-stellar customer support experiences.
Bottom line – Is Flaviar Right For You?
Although it's not necessarily inexpensive, Flaviar appears to have a reputation for providing customers with the ability to try a variety of liquors from around the world, and should definitely be on your radar if you're looking to expand your knowledge (and your tastebuds).
Love this service

By Conor R.

,

Oakland, CA

,

Apr 6, 2020
Verified Reviewer

Whether you consider Flaviar an app, a website, or a whiskey club, it covers all the needs for whiskey and fine liquor aficionados. Their customer service is amazing, they always have great bottles to try and an easy-to-understand rating system.

Bottom Line: Yes, I would recommend this to a friend

---

Exactly what I was looking for

By Michael L.

,

Brooklyn, NY

,

Apr 4, 2020
Verified Reviewer

Was really craving a way to taste and experience new whiskies without buying a whole brand new big bottle. I wanted a sample, to see if it liked it before I go and buy more of it. Flaviar is exactly that, each quarter you get a sample tester of three 50 ml bottles of your picking of whiskey. They have a variety of 3 packs to pick from, bourbons, scotches, ryes, Japanese whisky, etc. Even other spirits, rum, gin and such. I do the quarter payments, $95 and you get one 3 50 ml tastings and a bottle of whiskey from a specific selection (of 8ish bottles to choose from). The other months you get free shipping to buy more bottles or tastings. I do wish you had the option to get 2 sets of tastings instead of 1 set and 1 full bottle. Or even another plan like one 3 set tasting a month. I would sign up for that, 12 tastings a year would be awesome.

The tastings are awesome, they give you a coaster and a bunch of flavor spirals to read about the spirits you are drinking.

Pros: Great way to get new tastings. Quick shipping (for me at least - about a week), good customer service, a lot of ways to learn about the spirits you are drinking, and constant flow of new stuff (merch, the vault - high-end drinks, new tastings). And you get to read reviews on the spirits before you buy.

Cons: You (at least I) feel like you want/deserve more. You pay $95 (or $300+ for the yearly) get your 1 quarterly tasting (three 50 ml) and bottle and then it feels like that's its. You have to wait another two months until you get another tasting. You can buy more tastings/bottles using the one free shipping they give you but it feels like its missing something. Wish there was just a little bit more.

I am a fan, and can't wait until my next tasting. Hopefully, they have a monthly subscription in the works for more tastings! Maybe a $50 monthly subscription that gets you three 50 ml tastings a month (from a 4-5 selection to choose)? With the option to skip a month (kind of like Bespoke Post but for spirits).

Would definitely recommend to someone who likes/enjoys drinking as a hobby (knowing where the stuff is made and respects the field) or is getting into it.

Bottom Line: Yes, I would recommend this to a friend

---

Advertisement

---

Outstanding

I received my Flaviar membership as a Christmas gift from Santa. Boy, does that guy know his stuff!

Flaviar boasts an incredible inventory, prompt delivery, and excellent customer service. Splurge on the membership fee - it is worth it!

We are scotch drinkers and enjoy some of the more select offerings (Ardbeg, Glenmorangie Signet). The selection was both broad and deep!

Bottom Line: Yes, I would recommend this to a friend

---

Customer service

By William A.

,

California

,

Mar 30, 2020
Verified Reviewer

Recent joiner to Flaviar. Have had a few questions about membership and a recent order. Valerie is my CS rep and has been quite helpful in dealing with my issues and answering the questions and adjusting my order. She is the perfect example of customer service. Thanks to Flaviar for having someone as Valerie for me to contact.

Bottom Line: Yes, I would recommend this to a friend

---

Advertisement

---

Lovely

By Helen W.

,

Queens, NY

,

Mar 30, 2020
Verified Reviewer

Enjoyed the offerings, enjoyed the staff. Lovely gift for the un-giftable. Friends had fun exploring. I enjoyed the online information sessions - full of facts and fun. Wish I had a better nose.

Bottom Line: Yes, I would recommend this to a friend

---

Best customer service ever!

By Bradley N.

,

Powder Springs, GA

,

Mar 24, 2020
Verified Reviewer

I am currently on my second year of membership and I love everything about Flaviar! I use the tutorials to educate myself and have learned enough about spirits to hold my own conversationally at tastings. I have not had many service-related issues but when I have, the customer service is unmatched.

Bottom Line: Yes, I would recommend this to a friend

---

Great customer service, fantastic selection.

By Carl V.

,

Atlanta, GA

,

Mar 23, 2020
Verified Reviewer

I got a subscription as a present, and found the tasting boxes are phenomenal. They led me to get even more bottles, and their flavor profiles helped me find even more to try.

On the few occasions shipments were damaged or incorrect, customer service has always made things right the best they could.

I renewed my membership when it expired, and I would happily do it again. It's been worth every penny.

Cheers!

Bottom Line: Yes, I would recommend this to a friend

---

Good way to try new spirits

By Lottie G.

,

Copenhagen, Denmark

,

Mar 18, 2020
Verified Reviewer

Good value spirits subscription service. Has a slick website interface, and friendly customer service.

Would be good to be able to see before subscribing the premium bottles you can order for free as part of the subscription, but otherwise a transparent and nice to use service.

Would recommend to others!

Bottom Line: Yes, I would recommend this to a friend

---

Great experience!

By Steve S.

,

North Carolina

,

Mar 12, 2020
Verified Reviewer

After several months of considering a membership with Flaviar, I finally made the decision to join. The multitude of good reviews helped to sway me. I received my first shipment and I am very pleased. Going to ABS stores to select a good bourbon can be very frustrating. With this membership, I now received the guidance I need to make good selections. Their customer service is top quality. I had a question about my membership and I received an email response the next day and then they followed up to make sure they had answered my question to my satisfaction. I love all the benefits of this membership.

Bottom Line: Yes, I would recommend this to a friend

---

Great customer service

By Matt M.

,

Washington

,

Mar 6, 2020
Verified Reviewer

I recently purchased a few bottles of bourbon and less than 30 minutes after my confirmation email I received an email from Valerie letting me know that my monthly free shipping had been reloaded. I emailed her back and let her know that I had just made an order and she refunded the shipping right away. Thanks Valerie!

Bottom Line: Yes, I would recommend this to a friend

---

Excellent customer service

By Michael B.

,

Louisiana

,

Mar 5, 2020
Verified Reviewer

I wanted to change my membership from quarterly to annually. The customer service agent, Conradine, did just that via email with no trouble at all! Best customer service I have received in a while, very quick, knowledgable, and efficient!

Bottom Line: Yes, I would recommend this to a friend

---