HelloFresh Reviews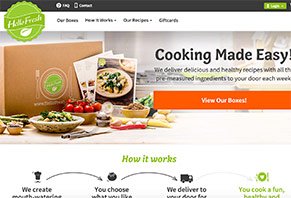 HelloFresh is a meal kit delivery service that claims to provide you with all the ingredients you need to make delicious meals, delivered right to you.
About HelloFresh
In business since 2008, HelloFresh is a subscription food delivery service that claims to making cooking easy by delivering "delicious and healthy recipes with all the pre-measured ingredients to your door each week."
Each HelloFresh box is claimed to include seasonal, high-quality, and fresh food obtained directly from "mall farmers, butchers, fish mongers and fellow culinary enthusiasts," as well as signature step-by-step recipes from a variety of cuisines, each of which are reviewed by their in-house dietician to ensure they're balanced and nutritious.
Overall, HelloFresh claims to make cooking convenient and easy, to feature fresh ingredients and exciting recipes, and to eliminate food waste by providing you with just the right portion sizes.
According to HelloFresh, the process works over 4 steps:
HelloFresh creates delicious and nutritious recipes.
You choose the recipes you like (more about this next), and HelloFresh will send you all the ingredients.
The ingredients are delivered to your door, for free, in an insulated box.
You cook your meal in about 30 minutes.
It's hard to resist the temptation of farm-fresh ingredients and easy recipes on your doorstep. But is this really what HelloFresh offers, and are they worth the price? Consider the following:
Different HelloFresh Box Types
HelloFresh offers 2 different types of boxes:
Classic Box – Claimed to be HelloFresh's most popular option. Includes three meals for 2 or 4 people, most of which feature some sort of meat (e.g. poultry, pork, etc.)
Veggie Box – Claimed to contain the same delicious recipes and farm fresh ingredients as the Classic Box, but tailored toward vegetarians (note: there is no vegan option).
After choosing your box, you'll then need to enter your delivery zip code. From there, you can choose between Wednesday, Thursday, or Friday delivery options (between 8am and 8pm).
Finally, at the bottom of the page, your first delivery date will be displayed. Once you're ready to go, simply click the Add to Cart button to checkout.
What Does HelloFresh Really Offer?
When it comes down to it, the biggest advantage that HelloFresh claims to provide is saving you from having to visit the grocery store. However, is this really the case?
After all, unless HelloFresh sends you everything you'll need to eat for the week (which they don't), you'll still have to visit the grocery store to buy meal ingredients for the other 4 days of the week.
In other words, you'll pay a premium for having your meals planned in advance and sent to your door, which will certainly save some time, but it won't eliminate the need to regularly visit the grocery store.
See Also: The Pros & Cons of Grocery Delivery Services (Plus Comparison of Popular Companies)
Also, consider that cooking food usually the most difficult and time-consuming part; not picking up the groceries from your local store, so you'll have to weigh the pros and cons of HelloFresh carefully before committing to a purchase.
Important note: HelloFresh currently only delivers to the 48 contiguous US states, although they claim to be working on a way to reach AK and HI customers in the future.
Other Meal Delivery Options
Next, although HelloFresh has been in business for quite some time, they're not the only meal delivery service game in town, which includes competitors like Blue Apron and Plated. We'll talk more about these options next.
Mixed Customer Reviews for HelloFresh
HelloFresh had an average rating of 2 stars based on 43 Yelp customer reviews (as of 5/29/15). While some reviewers found HelloFresh's recipes to be delicious, their meals-in-a-box to be convenient, and their instructions easy to follow, the most common complaints appeared to cite:
Food received in poor condition or that spoiled quickly (in fact, one reviewer claimed roaches emerged from their sealed box after opening),
Difficulty using their website/understanding when accounts should be cancelled so as not to be charged for another box, and
Poor customer service experiences.
LifeHacker wrote an in-depth review comparing HelloFresh to other popular subscription food delivery services, and found that:
Their per-person price was the highest of the three,
They offered a moderate level of meal options,
Their recipes were simple and easy to follow, with "the most factual information, including a kitchen tools list and estimated nutrition (not just calories, but carbs, fat, protein, and fiber)."
However, their recipes were also noted to be "fairly basic and unsurprising—lots of pastas for the vegetarian options, for example."
Overall, the author tied the winners between Plated and Blue Apron, essentially putting HelloFresh in the last place.
From a company perspective, HelloFresh is based out of New York, NY and held an F rating with the Better Business Bureau. Of the 33 closed complaints listed (as of 5/29/15), the company failed to respond to 13 of them.
There, common complaints appeared to revolve around ingredients received in poor condition (mold, wilted, etc.), difficulty receiving refunds, and difficulty using discounts and promotional coupons.
HelloFresh Pricing & Refund Policy
HelloFresh boxes are priced as follows:
2-Person Classic Box: $69
4-Person Classic Box: $129
2-Person Veggie Box: $59
4-Person Veggie Box: $109
According to the HelloFresh Terms, a customer "must cancel his or her subscription with HelloFresh no later than midnight on Wednesday the week before the next delivery." This means you'll need to contact the company at least a week in advance if you don't want to receive any additional boxes.
Once this occurs, you'll receive a pro-rated refund for the remainder of your subscription period. Outside of this, however, unless in instances of damaged or defective products, no refunds are available.
In order to request a refund or cancel your HelloFresh subscription, you'll need to contact customer service at 800-733-2414.
Should You Give HelloFresh a Try?
Chopping to the point: From less-than-stellar customer feedback to placing last in LifeHacker's comparison, although HelloFresh certainly offers some advantages, it appears they leave a lot to be desired in the meal kit delivery industry. As such, you might be better served by some of their competition.
If you do decide to give HelloFresh a try, though, you'll definitely want to watch a series of videos on their Managing Subscriptions page, since one of the primary customer complaints revolved around how to cancel subscriptions, skip a week, or how to switch between 2 and 4-person boxes.
Have you tried HelloFresh? If so, tell us (and 1.2 million HighYa readers) about your experience by writing a review below!
Also, you'll find this detailed guide helpful: Comparing Costs: Popular Meal Kit Delivery Services vs. Groceries
This company is actively collecting reviews from its customers. All reviews submitted are subject to moderation and approval to ensure they meet our

Review Guidelines

.

16 out 17 people found this review helpful

Still charge you after you cancel your subscription

By J.R.

,

Feb 13, 2016
Verified Reviewer

We began HelloFresh with a coupon as a gift to try out. It was fine, not a great value even with the coupon, but not terrible. We decided not to continue the service after the first meal, since we couldn't justify spending $23 a meal that we had to cook ourselves, so we canceled the order. The next month another box arrived and we were charged again and a few days later another box of food arrived. We contacted costumer service and they told us they would refund the our account. We were then charged again for the following week and refunded for one of the weeks. Upon contacting costumer service again (which don't bother calling, they don't answer after an hour and then hang up, the callback service does the same), I was told we were refunded for the food that never shipped nor arrived. So I was refunded for nothing.

Their online cancellation that they claim is easy requires clicking cancel about 9 different times, they change the wording and move the cancel box around each time. They are clearly designed around their leaching business model more than they are about providing a quality product. Avoid this product at all cost. They are not worth the hassle.

Bottom Line: No, I would not recommend this to a friend

---

12 out 12 people found this review helpful

They're Tricky

By Angela

,

Seattle, WA

,

Jul 11, 2016
Verified Reviewer

I ordered a "free" box last week to try out the service. The copy was misleading and indicated I would not be charged for an additional box without opting in. I saw that I was charged for the following week -- a week I was not even in town to cook the food.

I was considering ordering the box again in the future but the whole experience now feels very predatory. How would I know if I want another box by Wednesday if I just got my first one on Monday? I had not even cooked any of the meals yet. This company should truly consider a real opt-in process after offering the free box week. If people want the box, they will opt in and you will have longer-term customers. No one likes to feel forced/tricked into a $70 weekly box. There are many other services out there offering similar meals so your highest priority should be respecting your customer and providing a transparent experience that makes them want to do business with you. Just my two cents.

Bottom Line: No, I would not recommend this to a friend

---

Advertisement

---

11 out 12 people found this review helpful

Horrible!

By Lucas

,

CO

,

Jul 20, 2016
Verified Reviewer

I was a subscriber to HelloFresh for 3 months. From April to July 2016. Let me first start by saying the food was good. The recipes were easy to follow. Now the bad. (And there is so much bad.) My first box was scheduled to arrive on a Monday via UPS between 8 and 8. It did not come. I called and they refused to refund. I was offered a credit which I didn't want. However after much debating I ordered the following week to utilize the credit for a free box. That week the box came a week late.

This became the "norm" from HelloFresh. When I called (and I called a lot) not one customer service agent apologized and empathized or really seemed to care. My credit card was charged for boxes I never ordered. Out of all my deliveries I only received two boxes on time. Several were late and several came days late leaking and unusable. At one point I was hung up on by a rude supervisor at HelloFresh. I was contacted by a manager at one point, but was at work when he called so I asked if I could call him back. He said that was not acceptable and that he would call me back, but never did. Finally when my last box came late, the customer service agent told me "well maybe you should pay UPS for early delivery". I said NO! I shouldn't have to; her reply was "shall I cancel your service then". Which I did.

I would like to point out that each time the boxes came late I also called UPS. Every time they said the same thing that they did not receive the package from HelloFresh until Saturday and that it was scheduled for two day delivery, and with no delivery Sundays, that makes it Tuesday at best. Had HelloFresh done what they should have and gotten the order to UPS Friday, the box would have come on time.

It is sad that all my complaining fell on deaf ears.

As I mentioned, the food was good but as good as that may be, it does not overpower the horrendous, rude, pathetic customer service. I also saw on the BBB countless complaints of similar stories. Customer service and satisfaction should be of utmost priority always and HelloFresh lost a customer because of it.

I am now with Home Chef. The meals were shockingly amazing and customer service was wonderful the one and only one time I had to call.

Bottom Line: No, I would not recommend this to a friend

---

10 out 11 people found this review helpful

Extremely disappointed

By Joann Doyle

,

Providence, RI

,

Jul 31, 2016
Verified Reviewer

I have canceled after only 3 weeks. Food not cold enough upon arrival and it comes in a cardboard box, not a cooler container like Omaha steals. The veggies soft, almost spoiled, herbs dark and slimy and meats and poultry lacking afresh scent. And they have the nerve to call themselves Hello Fresh. Hello NOT fresh is more likely.

Bottom Line: No, I would not recommend this to a friend

---

Advertisement

---

13 out 13 people found this review helpful

Duped & Very Disappointed

I received a coupon for HelloFresh and thought that I would give it a try. We prepared the meals according to the provided recipes and the food was okay. I tried this for 2 weeks and found that it just wasn't working out with my families schedules. I went on their website to postpone and just decided to cancel altogether.

Today, I received a box again after canceling. I discovered this when going through my bank statement and saw a new charge for $129. I immediately went online and cancelled again. I also sent 3 emails via their website to cancel. They never replied. I called and talked to a service rep and manager. Neither was willing to refund the charge stating that they only saw the 2nd cancellation which of course, allowed them to ship and charge me again. How frustrating and convenient.

When I asked if I could talk to someone that could help me, the manager said they'll tell me the same thing. I asked him to please have the manager call me anyway. We'll see if that happens. I asked for someone in their Corporate Headquarters and Joe the manager said they have no direct lines. Roadblocks at every turn.

I seriously believe they know what they're doing. Way to force your product and take money from the customer. Extremely disappointed. Any good business would have simply apologized and refunded the money regardless. The public should have this information before proceeding with a company who will tell you that you're wrong, you didn't cancel and won't refund your money. By the way, Joe did say that my account is cancelled now (after the delivery and charge), his manager will call me (we'll see) and have a good day. Wonderful! We'll see if I get another order and charge. Stay tuned...

Bottom Line: No, I would not recommend this to a friend

---

15 out 16 people found this review helpful

Horrible food and service.

By Vanessa

,

Ohio

,

Nov 5, 2016
Verified Reviewer

It's not even worth 1 star! I signed up for a FREE box. Wasn't suppose to be charged anything, at all -- I called to verify. We got our first (free) box and it was HORRIBLE. The veggies were wilted and rotting, the recipe was gross, and wouldn't feed three people let alone a fourth person.

Then, later I look at my bank account to realize they DID charge my account and I called them right away. They told me there was nothing they could do because the box was in route and it was after the time to stop it. They told me if I was to refuse the shipment they would then send me my money back. My husband called, spoke with the manager and they told him they would give him $15 back via our bank account and that was it. Which, still to this day, 5 days later, have yet to see a penny back.

The box came by UPS, and we sent it back like we were told to do. I called them the following day to inform them I didn't receive the box and wanted my refund like I was told, and they told me they wouldn't give a refund what so ever. I fought with them, went to 2 different managers and they gave me a credit on my HelloFresh account. Which, I informed them SEVERAL times I will not and won't order a thing from them again. They refused any sort of refund other than the credit. Then one manager said she would take the credit back since I didn't want it and deactivate my account.

All I want is MY money back in MY account! I am not asking for anything extra, or anything, just my money that I work my butt off for.

They are thieves. They can take your money, even after you do as you're told they won't return the money they took out of your account, without permission.

They said they are providing fresh food, which they are NOT. They are not there to help you or to make the customer happy. Be careful wasting your money on them. Your better off going to one of the other companies.

Bottom Line: No, I would not recommend this to a friend

---

7 out 9 people found this review helpful

First and last time

I started HelloFresh for the first time this past week, but never again.

The box came and left out the main ingredients, such as the meat (chicken), etc. I opened the first box and there wasn't meat in it. All of the boxes had everything but the actual meat. This doesn't even deserve a star because I wasted money on this company and never got my money back.

I would NEVER recommend HelloFresh to anyone.

Bottom Line: No, I would not recommend this to a friend

---

10 out 12 people found this review helpful

They charge and send food even though you don't order it

They offer a discount to try the service, but this is just a way to get your credit card info.

I responded after the delivery that I did not care for the service and did not want to re-order.

Three weeks later, my card is charged, and a box of food shows up. When I call they said, "oh, you just suspended the service for three weeks." I told them that I never did, and they said that I did.

The box of food is going in the trash.

Don't fall for this; you will be charged for food you did not order.

Bottom Line: No, I would not recommend this to a friend

---

6 out 8 people found this review helpful

Unethical marketing

By Thomas

,

Greenwich, CT

,

Apr 11, 2017
Verified Reviewer

I decided to try my first box of HelloFresh after receiving a discount code in the mail. I canceled two days after ordering the first box and specifically chose my last delivery date to be the same date as my first delivery date, as I just wanted to TRY the service first before committing to more meals.

However, after two weeks, they charged my credit card again (on a 2-week old deactivated account) for the full price and delivered a second box to me. When I called customer service, they said it was my mistake and that I was the one who specified I wanted a delivery of the second time. I don't know what to say to these questionable business practices. Highly unethical.

Bottom Line: No, I would not recommend this to a friend

---

11 out 12 people found this review helpful

Poor customer service resolution

By David

,

Tucson, AZ

,

Jun 4, 2017
Verified Reviewer

We started HelloFresh from a friend's coupon, and we really enjoyed the meals. I even had most of my office sign up on my recommendation.

We started to pause shipments, yet they were still delivered. When we would discover the box on the patio, the food was spoiled. I found out the same had happened to my partner's shipments. HelloFresh told us they had no record and they would not reimburse or send out a new shipment. We then canceled the company, and then shipments started again a few months later. When we called, we got the same response: "we have NO record of you canceling."

I would NEVER use this company and will make sure people understand what it is!

Bottom Line: No, I would not recommend this to a friend

---

3 out 5 people found this review helpful

Most terrible business practice ever

So a cute young lady pulls me aside on the street in Columbus and signs me up. I wanted to try a service anyway so let's go with it. Two boxes with two meals each. The stuff came and it was not great, not worth $49, not worth $69.

I went online and canceled the service. I also gave them feedback that the gel packs broke and got all over everything. They smelled like alcohol and I had to throw the food away. Mauricio C. could not help me on the Chat and Chat Supervisor was even worse. Turns out, this is a regular thing for them. I gave one star because I could not give any less.

Stay away from HelloFresh, especially if they try to sign you up on the street.

Bottom Line: No, I would not recommend this to a friend

---