Smart Blood Sugar Reviews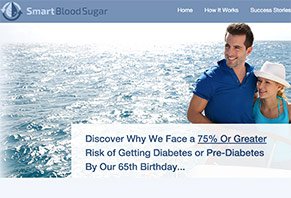 The Smart Blood Sugar system claims to focus on glucose load instead of the glycemic index to help manage your diabetes, increase energy, and lose weight.
About Smart Blood Sugar
This article contains links that should you click and make a purchase, we may earn a commission from the sale. See our Advertiser Disclosure.
The Smart Blood Sugar system claims to be a "powerful," 100% natural system that uses a few simple dietary "tweaks" to reboot your metabolism and help you maintain healthy blood sugar levels for the rest of your life.
In fact, Smart Blood Sugar is claimed to immediately reduce your risk of diabetes, without drugs or injections.
According to the Smart Blood Sugar website, the program also provides you with strategies, tools, insights, and tips that can minimize blood sugar spikes and insulin surges, while helping you to lose weight.
In order to accomplish this, Smart Blood Sugar is claimed to focus on total glucose load instead of the traditional glycemic index, which can help your body use "stored energy" to keep your energy levels up, prevent insulin resistance, and decrease the demand placed on your pancreas.
Because of this, Smart Blood Sugar claims that it's not a diet, but "a way of moving and eating that lasts a lifetime."
The Smart Blood Sugar website claims that some users may see immediate changes, although it can take as long as 12-18 months to experience any benefits.
Regardless of how long you've been battling your diabetes, you may have given up any hope of a cure. But is this what Smart Blood Sugar represents, or is it just a crafty way of getting ahold of your hard-earned money? Consider the following:
What Is Glucose Load Balancing?
According to the Smart Blood Sugar website, "glucose load balancing" is defined as "the process of actively managing blood glucose at optimum levels," which allows your body to release stored glucose, or glycogen, and burn fat to use as energy.
However, outside of websites directly related to Smart Blood Sugar, "glucose load balancing" doesn't seem to be referenced by any medical professionals. Instead, this term is likely a marketing twist on the more traditional term glucose balancing, which is simply managing the levels of glucose; something that any diabetic should already be doing.
In other words, the term "glucose load balancing" is essentially meaningless.
What's the Difference Between Glucose Load & Glycemic Index?
In the Smart Blood Sugar video, it's claimed that the program focuses on glucose load instead of the glycemic index. But what's the difference, and why is it important?
According to a 2011 Huffington Post article, glycemic load is "a ranking system for carbohydrate-rich food that measures the amount of carbohydrates in a serving of food." On the other hand, glycemic index "indicates how rapidly a carbohydrate is digested and released as glucose (sugar) into the bloodstream. In other words, how quickly foods break down into sugar in your bloodstream."
Ultimately, this means that "glycemic index does not take into account the amount of carbohydrate in a food. So glycemic load is a better indicator of how a carbohydrate food will affect blood sugar," which is why glycemic load is the focus of the Smart Blood Sugar system.
Is Eating High-Fat Foods Good for You?
The Smart Blood Sugar program also claims that eating high-fat foods is one way to help manage your body's glucose levels, and that this eating behavior does not lead to increased instances of heart disease or stroke. But is this really the case?
According to a Harvard University article, this is true, but only partially. Why? Because the types of fats you eat do matter.
For instance, "Good fats, such as the polyunsaturated fats found in liquid vegetable oils, nuts, and seeds can help ward off type 2 diabetes. Trans fats do just the opposite.
Eating omega-3 fats from fish does not protect against diabetes, even though there is much evidence that these marine omega-3 fats help prevent heart disease."
In short, don't think that you can go around eating all the high-fat foods you want in order to address your diabetes (or any other medical condition, for that matter)
Is the Smart Blood Sugar System Proven to Work?
Finally, according to the Smart Blood Sugar website, the program "has been shown in multiple scientific studies to have long term impacts on fasting glucose and insulin and [to] protect against metabolic syndrome (a common precursor to diabetes)."
However, no clinical studies are referenced on the program's website to back of these claims, and there weren't any third-party studies supporting these claims elsewhere online at the time of our research.
As such, it's our opinion that Smart Blood Sugar's claims of being clinically proven are gross exaggerations at best, or complete mistruths at worst.
Customer Reviews for Smart Blood Sugar
With such a generic name, there weren't any legitimate online customer reviews available for Smart Blood Sugar at the time of our research.
However, we learned that Smart Blood Sugar is promoted by Primal Health, LP based out of McKinney, TX.
The company held a C+ rating with the Better Business Bureau despite having only 30 closed complaints (as of 5/15/15), most of which appeared to reference products that did not provide a good value and difficulty obtaining refunds.
Smart Blood Sugar Pricing & Refund Policy
Smart Blood Sugar is priced at $27. In addition to the Smart Blood Sugar e-book, your purchase will also include 5 bonuses:
Complete 7-day meal plan
Complete shopping list for each meal
The 99 Foods to Lower Blood Sugar guide
How to Read Nutrition Food Labels guide
Smart Blood Sugar Guide to Alcohol
Smart Blood Sugar comes with a 60-day refund policy, less S&H charges, which you can request by calling customer service at 877-300-7849.
Should You Spend Money on Smart Blood Sugar?
Overall, there are some important unanswered questions about Smart Blood Sugar, and what we do know about it seems a lot less revolutionary than the manufacturer might like you to believe.
Because of this, we'd definitely recommend speaking with your physician about tried-and-true methods of managing your diabetes, increasing your energy, and losing weight before ordering Smart Blood Sugar.
Special Offer
Looking for a Way to Get in Shape, Lose Weight, and Improve Your Health?
We recommend the Noom wellness app based on our extensive research and high customer rating. Noom is offering our readers a 14-day trial for a limited time. Click here for this special offer and to learn more about the program.
---
Oklahoma

By Dinzle S.

,

Shawnee, OK

,

Jan 17, 2020
Verified Reviewer

First of all, I just purchased so I don't know if the product works or not. You listen to a long presentation for the book and after your purchase, you are directed to their main point buying their supplements which I clicked off so I may not be able to get the bonus portion. Personally I feel a company should come out and tell you upfront that there are supplements involved and if you actually get results from the Smart Blood Sugar boot they are available to order. Thanks.

Bottom Line: Yes, I would recommend this to a friend

---

Lost 30 pounds

By William G.

,

Georgia

,

Oct 1, 2019
Verified Reviewer

Got worried because I kept losing weight and my wife wanted to start taking it because of the weight loss. That company usually sells good product. I feel great with no side effects thankfully.

Bottom Line: Yes, I would recommend this to a friend

---

Advertisement

---

Going all out

By Ana C.

,

Lewisville, TX

,

Feb 16, 2019
Verified Reviewer

I had been using GlucoBurn for many years when I developed steroid induced Type II Diabetes.

Even after the slow titration down of the steroids, the gift of T2D stayed. When I started using GlucoBurn, I finally went into "remission."

Unfortunately, my health has taken a turn nosedive, and here I am, back on time released Metformin, because it gives me terrible diarrhea.

I was VB on auto shipments, and I am a procrastinator, and though I intended to cancel, never did. I recently started taking GlucoBurn and another supplement I had grown to trust from results and kicking it up with the GlucoBurn, I finally got my first result under 120, from the high 180's.

Yes, I will continue taking. Should not have stopped, not I did this without the book, etc.

Just found out about the whole program, and YES, I signed up, especially for the shopping lists. I have been studying A LOT about nutrition and all three crap that is in everything, like HIGH FRUCTOSE CORN SYRUP/ POISON (did you know their manufacturer is petitioning the FDA to change the name to something less threatening or RECOGNIZABLE!)!

QUITE FRANKLY, anything this inexpensive is worth trying to keep from losing my foot or eyesight! The doctor is in the DFW area. So am I. I intend to make an appointment. Circumin with Bioperine, I believe kept me alive from cancer, and I wholeheartedly believe in natural supplements. But, buyer beware. There is a whole lot of unregulated fairy dusting going on. Check it out.

Bottom line. Only gave current experience 5 stars because I have not started the complete program yet. When I do, I plan to update this review in 60 days. But GLUCOBURN does help. Whatever you do, stay away from Sytra 5. I believe that is what it is now being called. Very toxic. Very dangerous. I truly believe if I had continued using and tried to ignore the side effects that it would have killed me after it shut down my kidneys and liver.

Bottom Line: Yes, I would recommend this to a friend

---

So far happy

By Linda H.

,

Pahrump, NV

,

Sep 25, 2018
Verified Reviewer

I ordered the book and meals for a week, with a list. It was very easy shopping, four in the family eating right. The night before we started my blood sugar was 364; I woke with a 340.

We started the meals and a new med from my doctor, Trulicity, checking blood sugar before meals and two hours after, by the time I went to bed I dropped to 159 blood sugar. I was very tired. I woke with a 194 blood sugar.

I know some is the new medication, but the numbers are awesome. The food is good so far, I'm going to continue for three months until I see the doctor. I got this for the meals. I love to cook and I still get to but with the right stuff.

Bottom Line: Yes, I would recommend this to a friend

---

Advertisement

---

Associated scam

By Dwight W.

,

California

,

Sep 4, 2018
Verified Reviewer

I ended up with a bogus $0.99 monthly charge from somebody named "Specialty Circulation" when I ordered the book. Of course, they do not answer the phone that was on my credit card statement. Some of the book is legit but not the associated scam. Dr. Merritt should be embarrassed to be associated with them unless of course, it originated with her company.

Bottom Line: No, I would not recommend this to a friend

---

No more pre-diabetes

By Wini Geddes

,

Bay of Plenty, New Zealand

,

Jan 9, 2018
Verified Reviewer

Hi. I was diagnosed pre-diabetic in 2015. It was devastating, and I practically canceled my life and future. After searching for answers like, "this can't be," but that is what the test said. Then I came across Primal Source - Smart Blood Sugar. After taking one capsule a day sporadically for six months and cutting down on foods not to eat (cakes, biscuit, sweets, wine etc.), I'm back to normal. Sometimes I would miss days. Either this stuff works, or I was misdiagnosed.

Thank you Primal Source. My supply is running low. Do I stop taking them now or re-order to maintain the balance from the nutrition? Cool.

Bottom Line: Yes, I would recommend this to a friend

---

Scam

By Jane Bates

,

Edmond, Oklahoma

,

Aug 18, 2017
Verified Reviewer

I cannot contact them to cancel the order. Monthly charges are made to me. It is a real scam. I do NOT want to continue. ANYONE know how to get out of this mess? The product is worthless, and Dr. Merritt is also.

Bottom Line: No, I would not recommend this to a friend

---

Please do not put your credit card info on their site

By Gary Lee

,

Willow Park, TX

,

Aug 5, 2017
Verified Reviewer

I watched the video for Smart Blood Sugar, then entered my credit card. I never ordered the book they kept trying to sell me, nor the other items I did not want. In disgust after watching their long sales pitch, I just left the website without ordering anything.

A few minutes later I received an email from my credit card company that my card had been charged $140.00 for items I never ordered.

Bottom Line: No, I would not recommend this to a friend

---

Smart Blood Sugar works for me down under

By Paul Clauson

,

Cleveland, Queensland, Australia

,

Jul 28, 2017
Verified Reviewer

My doctor suggested that I might be a borderline pre-diabetic. He confirmed this with blood tests. I was prescribed an oral medication called Metec (I think it is called) and to take one tablet with my evening meal.

I found Smart Blood Sugar while looking online at articles on diabetes and watched the overly long, but nonetheless informative video and purchased the book and read it cover to cover when it eventually arrived with the bottles of Glucoburn. I had already cut down dramatically on my carbohydrate intake but had not lost any weight before reading the book and adding the Glucoburn to my diet. I began to follow the program in the book and balancing out my carbs and keeping some real fat in my diet in the form of yogurt, avocados, dairy, chicken and red meat in sensible proportions. Weight loss became apparent within a very short time. I lost five kgs (11 lbs approximately) within a couple of weeks. My waking blood sugar level is now down to 4.5 - 5.5 and post prandial is 6.7 maximum and back to 5.0 - 4.5 after one and a half or two hours. I have to have all my trousers taken in a small price to pay in my opinion. I also take one tablespoon of apple cider (with the mother) before bed every evening with a cup of green tea.

This program works, but you need to discipline yourself.

Bottom Line: Yes, I would recommend this to a friend

---

Old news covered by others at a premium price.

By John Casey

,

Turlock, CA

,

Jul 25, 2017
Verified Reviewer

If Dr. Marlene Merritt really wanted to help people instead of enriching herself, her 100-page book pamphlet, called Smart Blood Sugar, wouldn't have cost me $37. The information in the pamphlet is very good but very old. Dr. Bernstein's book about diabetes talks about carb reduction decades ago. Then the book on the Paleolithic Diet had some of the same info on carb reduction. Dr. Whitaker's book on diabetes came out long ago.

Dr. Merritt is getting rich off of rehashed information at the expense of diabetics like myself. I guess she wasn't making enough money just being a doctor.

Bottom Line: Yes, I would recommend this to a friend

---

Excellent strategy for lowering blood sugar

By Len Ingoglia

,

Flemington, NJ

,

Mar 19, 2017
Verified Reviewer

I have been a diabetic for over 20 years. I have been on many oral medication and have been injecting insulin and other drugs for over two years. I started the program four weeks ago and am very pleased with the results. I have cut my units of insulin by 60% and hope to stop the injections very soon. IT WORKS!

Bottom Line: Yes, I would recommend this to a friend

---