SmileDirectClub
This company has claimed this profile, is getting alerted on any new customer reviews entering this page, and may engage in dialogue with its customers to address their matters.

Companies cannot pay money or provide goods in order to remove or alter customer reviews.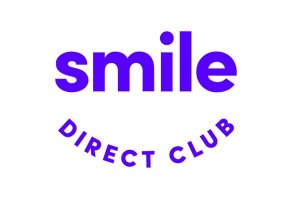 Summary
SmileDirectClub promises to give you a straighter smile within six months of wearing its customizable aligners. While this procedure can straighten teeth for some people, it has limitations compared to traditional braces.
Pros
More cost-effective than braces
Many positive customer success stories
Simple pricing plan, often covered by insurance
Faster results than traditional braces
Cons
Only works for mild to moderate tooth issues
Didn't work for everyone
Some customer complaints about quality, receiving the wrong aligners
You won't undergo comprehensive medical testing beforehand as you would with traditional dental procedures
SmileDirectClub Review: A Detailed Look
SmileDirectClub sells the promise of straighter teeth without the inconvenience of years of braces. These clear aligners will purportedly straighten your teeth within 4–6 months of continuous use—no orthodontics appointments necessary.
This straightening solution works best for mild to moderate teeth issues and is marketed towards teens, though you can use the system at any age.
The company claims that you'll save up to 60% compared to braces and will get results more than twice as fast.
In this review, we take a look at the effectiveness and other important details of this product to help you decide if this is the right option for you.
How It Works
SmileDirectClub's clear aligner therapy program works to shift your teeth into straighter positioning over about six months. You'll receive several sets of custom-made retainers designed to build on the progress of each other.
These aligners are designed for mild to moderate teeth correction problems, including teeth spacing, crowding, rotations, and bite correction. You can take the company's short assessment to learn whether you could be a candidate.
SmileDirectClub is available for anyone 12 and older, but teens under 18 need an adult's permission before signing up.
You'll start the ordering process either by visiting a SmileShop retail location for an in-person scan or ordering an Impression Kit online.
All SmileShops let you book 30-minute appointments, during which a SmileGuide will make a 3D image of your smile using an optical camera.
This scan is sent to the SmileDirectClub lab so that a licensed dental professional can assess your mouth.
If you're found to be a good candidate for the aligners, the company will use those images to build your custom treatment plan, which includes before and after 3D visualizations of how your teeth will move during treatment.
Another option is to order an Impression Kit, which is priced at $29–$49, depending on the promotion.
The kit lets you take impressions of your smile and send them back to the company in the included prepaid packaging.
As with the SmileShop images, a dental professional will review your impression and create a plan for you if you qualify.
Your money will be refunded if the company's experts determine that its aligners aren't the right treatment option.
Once your treatment plan is approved, SmileDirectClub will send you a full set of custom-made aligners.
The set will include instructions for how to wear them and when to switch between them. You can register your aligners online for digital alerts when it's time to upgrade.
Each aligner is designed to make slight adjustments to the position of your teeth so that they gradually shift into better alignment over several months.
You'll likely feel some soreness for the first few days you wear a new aligner set, but it should go away within a few days.
As the aligners are removable, you won't have any food restrictions during your treatment time. You also won't need to complete any further in-office appointments but can reach out to the company for support through its telemedicine platform at any time.
The company will replace aligners for you at any time if necessary, but you might be charged up to a $99 replacement fee.
Treatment Options
Smile Direct Club currently offers two types of aligners—Clear Aligners and Nighttime Clear Aligners.
The Clear Aligners are designed for 22+ hours of wear per day and should give you results within four to six months.
This makes them the brand's quickest option for straightening teeth, but you need to commit to wearing them at all times besides meals.
Nighttime Clear Aligners, in contrast, must be worn for only ten continuous hours at night. This makes them a more flexible option for anyone who doesn't want to wear their aligners during the day or who is concerned about accidentally losing them.
Since you wear them for less time, it can take twice as long to achieve the same results.
After you finish your treatment, Smile Direct Club recommends that you purchase a custom-fit clear retainer. Wearing it as you sleep can prevent your teeth from shifting back over time.
Each retainer set costs $99 and will be available to purchase once you are within 4–5 weeks of completing your treatment. The company suggests you replace them every six months to keep them fresh.
The Difference Between SmileDirectClub Clear Aligners and Braces
The company claims to speed things up compared to traditional metal brackets by putting equal force on each tooth so they move simultaneously.
This speeds up the shifting process, but it also allows for less flexibility for correcting nuanced problems.
For example, the aligners won't work for some people who have crowns or implants, and you might run into problems if you have missing teeth.
Traditional braces can be adjusted to put less pressure on these spots and may lead to fewer complications in the long run.
SmileDirectClub aligners are best for only mild to moderate teeth correction and can't treat many of the bite and jaw disorders that regular braces address.
Dr. David Frank, the owner of Austin-based Walden Dental, has other concerns about invisible aligner companies. "The biggest concern is that there are no X-rays or any other data to rule out where the tooth roots are in position," he shared. "It limits any type of accuracy of long term shifting of the teeth."
This makes it almost impossible to tell if there are underlying root, bone, or jaw issues that are affecting your teeth, and whether using aligners could be ineffective or even harmful for them.
"If you have the presence of bone disease and gum disease, you will dissolve the root surface and you can cause permanently loose teeth that may result in them having to be removed," he told us.
That's not to say that aligners can't be a viable option for some people, especially those who aren't able to commit to regular braces.
"It may work for those people who have no access to dental care and have limited budgets," Dr. Frank said, "for someone who is willing to take the risks of not having a well-controlled followed-up success, and has accepted the limitations of it not working."
Pricing and Return Policy
Smile Direct Club offers two payment strategies. You can make a one-time payment of $1,895 or sign up for the SmilePay plan. This lets you pay $85 per month for 24 months after a $250 initial deposit, for a total cost of $2,290.
All customers over 18 will receive a complimentary one-week supply of Bright On teeth whitening. This includes four pens, each with four applications, that should be used twice per day to brighten your teeth. The results should last for up to 90 days.
The club claims their costs are up to 60% less than competitors. The American Dental Association reports that the average price for braces in the United States ranges from $5,000–$6,000, or about 59% more than making a one-time payment for the Smile Direct Club.
Your costs for Smile Direct Club will also include $49 for your initial 3D imaging and $200 a year for retainers to maintain your results.
Many insurance plans will pay for all or part of the procedure. It's in-network for health providers such as UnitedHealthcare, Aetna, Anthem Blue Cross and Blue Shield, and Cigna. You can find out if you are covered here.
It's possible to return any unused custom-made aligners within 30 days of receiving them.
Your treatment plan is also covered under warranty for 30 days past the end date. If at the end of the treatment, you don't have a straighter smile, you can contact the company and have an expert re-evaluate your results. If approved, you'll receive additional aligners to continue the straightening process.
Analysis of Customer Reviews
More than 550 customers have left reviews for the SmileDirectClub on our site, which average 3-stars and a 50% recommendation rating. Here's a closer look at some of the most important points.
Common Compliments:
Worked as described to straighten teeth
Much cheaper than traditional straightening procedures
Improved teeth within six months of use
Common Complaints:
Some people were shipped the wrong sizes or were sent two top or two bottom aligners
Led to painful, bloody gums for some users
Some users had significant delays with their orders
Higher charges than some users were expecting
Popular Alternatives to the SmileDirectClub
| | SmileDirectClub | Byte Invisible Aligners | Candid |
| --- | --- | --- | --- |
| Cost | $49 molding kit, $1,895–$2,290 for aligners | $29 molding kit, $1,895 for aligners | $95 for molding kit, $1,900 for aligners |
| Is Financing Available? | Yes, $85/month for 24 months plus $250 deposit | Yes, Bytepay starts at $62/month | Yes, Affirm pricing starts at $80 per month |
| Treatment Timeframe | 4–6 months for standard aligners (22+ hours per day) | The average time is five months | 6–11 months |
| How It Works | Complete a 3D image of your mouth (either at home or at a SmileShop) and receive multiple sets of clear aligners that gradually shift your teeth to straighten them | Send the company an impression of your mouth to receive a variety of aligners that straighten your teeth | Make five impressions of your teeth to send to Candid (or go to a Candid studio). If approved, you'll receive custom aligners to shift your teeth into a better position. |
| Return Policy | 30-day returns for unused aligners | Lifetime guarantee for a new set of aligners any time your teeth shift (barring the company's exceptions) | Refunds may be possible if your orthodontist approves a different treatment plan |
Each of these three companies operates similarly. You'll pay for an initial consultation/ teeth mold (which is usually refundable if you don't qualify for treatment) and then pay a set amount for a series of aligners.
All three claim to work within the approximate same time frame, offer a payment plan, and can be potentially covered by insurance. In other words, you're receiving a similar service with each one.
There are a few notable differences. SmileDirectClub requires you to pay an additional $99 for retainers post-treatment, while they are included free with Candid.
Likewise, Candid claims to have an orthodontist review your results, rather than a regular dentist. The company claims this extra level of education ensures that its aligners are more personalized to each patient.
One advantage of SmileDirectClub is that the company offers nighttime only aligners for the same price as traditional ones.
While this option doubles your treatment time, many people will likely prefer not having to worry about wearing the aligners during the day and potentially misplacing them after eating.
Overall, though, these differences are minor and your choice between the three will likely come down to personal preferences based around cost and your insurance plans.
The Bottom Line
SmileDirectClub claims to help thousands of people straighten their teeth quickly, and customer reviews seem to indicate that it works—at least for some people.
SmileDirectClub will only work for relatively moderate teeth alignment issues. This treatment can't address or diagnose any underlying issues with your teeth and will do little to adjust your bite. In some cases, it has the potential to make teeth problems worse by loosening your teeth.
However, these aligners offer an excellent alternative to braces for many teens who wouldn't be able to afford them otherwise. One clear advantage is that you can take them out at any point, which makes it possible to maintain better oral hygiene habits than some people do with braces.
Because of the potential drawbacks, we recommend talking with your dentist before committing to SmileDirectClub. They will help you understand whether you are potentially putting your mouth at risk and if your mouth issues could be better addressed in other ways.
Customer Reviews
Posted on Jun 12, 2017
Avoid this joke of a company!
Stay far, far away from this joke of a company. It has now been six months since I started my process and have yet to even receive a correct set of aligners.
When I first ordered and sent my impressions, I was sent a message saying they weren't good enough, and I would have to pay for another set and send them in. Ok. The second set looked exactly like the first ones I sent, but they were fine. Great.
Then four weeks later I get an email saying due to higher than expected volume, my aligners would be delayed two weeks. Ok.
I get the first set. I can't even wear them. They are so sharp and flared out along the edges that they are literally cutting my cheeks and tongue. I called and am told to just file them. On the bottom, the aligner is so much wider than my teeth that I can actually stick the tip of my tongue in between the aligner and my tooth. I call back, and they tell me I have to take pictures and send them. So I do.
A couple of weeks goes by, and nothing. I call and they say they need more pictures. What the? I send more pictures. A couple of weeks, and no more contact. I call back and am told they will review with the lab and get back to me. In the meantime, I've been sent a second round of aligners and receive an email wanting to know how my plan is progressing. You've got to be kidding me!
I call and ask them what the heck they are doing. I'm told I am being sent a new impression kit so we can start all over. My aligners and plan will be expedited since I have had so much trouble. Funny, they have had no trouble or delay taking the payment each month for the last four months.
I received the new impression kit and sent it back the next day. Three weeks later I get an email telling me my new plan is ready but I need to order and make another down payment. Needless to say, my blood boiled. I get on the phone and am told to hold. So I do. For 20 minutes. Only to be told the email was sent in error, that my new aligners will be shipped in 3-4 weeks. Excuse me? Three to four WEEKS?
Needless to say, I have washed my hands of this joke of a company and am filing a charge-back for all payments.
Bottom Line: No, I would not recommend this to a friend
Posted on Jul 25, 2017
Horrible
I had a horrible time working with this company. Every step of the way was difficult. They do not follow through with what they say they will do. My aligners broke OFTEN, so I had to call them about once a month to get a new set of aligners, and every time the customer service representative said they would get a new set shipped out, but they NEVER shipped out a new set of aligners.
I ALWAYS had to call a second and sometimes a third or fourth time to ask again if I could get a new set of aligners. One of my aligner sets was even missing a tooth! The customer service representatives do not communicate well with each other because I would tell one representative I had a badly made set of aligners and that representative said they'd fix it. After a few days with no word from SmileDirect, I would call back and ask them about it, and they would tell me they had no record of my previous issue.
I always had to call multiple times asking for a new set of aligners before they would ever send a new set out. Most of the time, I was wearing broken aligners for weeks at a time because they couldn't get their stuff figured out. During the last week of my month three, I realized that I never received my month four package and that I would need to be changing into in a few days.
So I called SmileDirect, and they told me that they were backlogged and that I would not be receiving my next month of aligners. They did not give me an estimate of when I would get them; they simply said I wouldn't get them. Plus, they were NOT going to inform me that I would not be receiving my next set of aligners because they were backlogged. If I hadn't reached out and asked them about it, they would have never told me. Last, but most definitely not least, after making four impressions of my top and bottom row of teeth, SmileDirect told me I needed to wear aligners for four months in order to have straight teeth.
At the end of those four months, guess what? My teeth were NOT straight. I called and told them, and they did say I would need to take new impressions and they would make me a new treatment plan. I am guessing I will need one or two more months of aligners than they originally prescribed in order to get straight teeth. Hopefully, they will not charge me for this as they were the ones who told me it would only take four months to get straight teeth when in reality it would take longer than that.
Honestly, I think the invisible aligners you would get through your dentist/orthodontist would be higher quality than the ones SmileDirect give out. The SmileDirect invisible aligners are flimsy, not well fitting and very easily broken and quite frankly they don't even fit that well! You would DEFINITELY get better customer service and treatment plans through your dentist/orthodontist. I truly think you are getting what you are paying for with SmileDirect. You pay a cheap amount of money for cheap invisible aligners, cheap customer service and cheap results. The aligners have been working, but it has been a slow and painful process working with them and their crappy aligners. And honestly, my teeth were not bad to begin with. I only had cosmetic issues with my teeth. I did not have serious structural problems or anything like that. My teeth were an easy fix yet SmileDirect did a crap job fixing them. If you can afford to go elsewhere, I would seriously consider it.
Bottom Line: No, I would not recommend this to a friend
Posted on Feb 16, 2019
Potentially performing medical procedures without medical oversight and fraudulent billing practices
I was looking for teeth straightening cosmetic dentistry and this company came up in search results. After looking at their site it appeared that they were a competitor to Invisialign and their website claimed that a licensed orthodontist would create a treatment plan for me after coming into their "Smile Store" to get a free scanning.
At check-in they had me provide them a lot of information on an iPad including a credit card, "So that you can easily accept your treatment and have your aligners sent to you more quickly." I told them I hadn't decided if I wanted to go with them and was reassured, "Oh you won't be billed until you approve your treatment." I was then escorted back to have my scanning and consultation.
I will say that all the people that I met at the appointment were friendly and the place was clean and welcoming. The person that was doing my scanning had traditional braces and I asked why they didn't use SmileClub and they were dismissive but non-specific. After the scanning was done, I met someone that said they were a dentist, but didn't provide any business card and only gave me their first name. They asked me if I had any questions and I asked if I was a candidate for treatment. He said they would need to send my scans out and in three days I would get an email with my treatment plan and could see estimated before and after pictures.
They then put a piece of paper in front of me asking if I would be wanting a single payment or installment plan. I told them single payment, but that "I won't be making a decision on treatment until I see the treatment plan first." They then they told me I'd get it in three days and could then approved it and then asked me to "Put my name at the bottom" of the paper choosing between the two payment options. I then was given my free gift for coming in and left.
Two days later I got a call from my credit card company asking me if I had authorized a $1850 payment to the company. I had not, so I contacted the company and while I was trying to find their number I got a text message thanking me for my order. When I finally got them on the phone, I told them I had not approved my order yet and I still hadn't seen a treatment plan. They told me that I had signed up for the "rapid ship" option so I was billed as soon as my treatment was ready. I told them again, I had not even seen my treatment plan or spoken with a doctor. They then sent me another text message with a link to a website in it. This just showed me before and after images but had no text or treatment plan. It didn't tell me how many aligners I would need, how long it would take, who the orthodontist was that created and approved it, or really anything. I complained about this and was told that my plan was still being finalized and it would arrive in a day. When I got home I looked at the documents I was given and found that the document they put in front of me asking which payment method I would prefer was a quick scam and the reason they asked me to write my name at the bottom was because they were using this as approval for billing! TOTALLY MISLEADING AND PROBABLY FRAUDULENT!
Now for the last week, I've been getting constant emails, texts, and phone calls pushing me to order and offering me "payment options." I've still never received a treatment plan or contact with an orthodontist in my state or even nationally. I've since gone to see a licensed orthodontist in my state and was told that I am not a candidate for any clear alignment system and need extensive traditional braces for treatment. He explained clearly that I need teeth to rotate and that clear aligners need extra friction for this so people need to have pads attached to their teeth that interface with the clear aligners to properly work (this is why mailed aligners without visits to a dentist are unlikely to work well). He also said that in my treatment I would need teeth to be changed in height as well which can only be done with traditional braces. He informed me that if I had tried to use a clear aligner product it likely would have not worked or caused me damage to my teeth, gums, or jaw.
He was upset to hear that this company doesn't appear to have any medical supervision and suggested I avoid them. Just to be clear, an actual orthodontist was able to tell just by LOOKING at my teeth that I was not a candidate for clear aligners (of any brand) and I should have never been approved for treatment by a licensed medical professional.
Because of this potentially damaging treatment, I've actually contacted the FTC and my state health authority. I've asked them to investigate this company and make sure they are not scamming consumers, locking them into unfair legal agreements (like arbitration), and not causing harm to people's bodies by doing unlicensed and unsupervised medical treatments.
Does this mean that you shouldn't use them for treatment? Not necessarily. It just means that before you elect to have them do a medical procedure to your body, which could have permanent health risks, you may want to ensure that actual medical licensed professionals are involved in the process.
Bottom Line: No, I would not recommend this to a friend
Company Response from Smile Direct Club
Feb 18, 2019
Hi there, thank you for taking the time to leave us a review. We appreciate you sharing feedback.
We typically treat mild to moderate spacing, crowding, and general alignment concerns. Depending on the complexity of the customer's concerns, clear aligner therapy may not be the best option for them. Our licensed dentists and orthodontists oversee treatment remotely and approve of the SmilePlan that each customer receives, but there is absolutely nothing wrong with getting a second opinion prior to committing to treatment. We always advise that our customers see their dentist to make sure that they have no issues prior to treatment.
Customers are not required to put down payment information at the appointment and should not be pressured to if they aren't ready to purchase aligners. We want all customers to have a comfortable and informative appointment, so this is definitely not in line with what we expect.
Please send us an email at grinners@smiledirectclub.com so that we can assist with any issues that you're experiencing and pass along your feedback to the correct shop in regards to your experience there. Best, Madison
Posted on Jun 24, 2017
SmileDirect in-person experience
The tech was very sweet. Stark setting. Unsanitary equipment.
The tech had on blue surgical gloves she used to handle all equipment including iPad and 3D scanner. She put gloves after being all over the equipment into my mouth with the camera. I saw no alcohol or bleach products to clean equipment from one customer to another.
Now I have a summer cold, quite possibly because the equipment was not cleaned from what I could see.
Also, the gloves were not sanitary because the tech did not change them from the previous patient and kept them on even after handling the iPad that consumes touch all morning long.
One gets what one pays for. This is fact.
However, the tech very sweet in her chair side manner. The staff could use training in sanitary practice and the office could use some cheer from its stark appearance.
Bottom Line: No, I would not recommend this to a friend
Posted on Jul 8, 2017
OK product; terrible customer service/fulfillment
This is a typical tech company who went to market without having fundamental customer service and fulfillment in place. I went through the initial consultation and received my aligners with a few issues, and my teeth started to align, but when I needed a replacement set of aligners, it took months, and my teeth reverted back. Customer service repeatedly lied and said they were overnighting them or they would be there in a week (etc., etc.), but it took months. I had to go back in trays to fix, which was a painful process.
I finally finished and now it's been months since they were supposed to send my retainers and my teeth are reverting back again. I won't go through the process again and am trying to get my money back.
Bottom Line: No, I would not recommend this to a friend
Posted on Feb 2, 2019
SCAM! Zero stars!
SmileDirectClub is a complete SCAM! After almost THREE MONTHS of waiting, I still have no aligners to wear. I've been told ALL KINDS of LIES from their customer services representatives. I'll give you the whole story:
1. They promised my aligners would arrive by the first week of December 2018. When the date comes, I called the company and no, no aligners were even on their way, nothing. Because they were shipping to Canada and they had no idea HOW TO DO THIS, so they used us, Canadian customers, as guinea pigs. Charging us for EVERYTHING without sending the product.
2. It's ABSURD that they promise to send something when they don't even know how to ship over here (Calgary/Canada)!
3. I waited and waited and they finally arrived in mid-January. I get excited, I was finally going to start straightening out my smile. OH WAIT! The package I received WAS NOT FOR ME! They sent the wrong ones!
4. They promised to start a rush order for a replacement so I could receive my aligners.
5. After a week and a half, close to the 10 days they promised me I would receive the new set. I call their customer service and the news is: no one placed the order. They were on their way to re-charge me for the whole new set of aligners (yes, they were charging me AGAIN, even though I never received the first set of aligners), and no one placed a replacement order for me.
So long the idea of straightening my smile with SmileDirectClub because it's a COMPLETE SCAM. They've been charging my credit card with no delays, but I have no product in exchange.
Next time SmileDirectClub asks "how can I make you smile," let's try not being a fraud!
I DO NOT recommend this service to anyone. So long the illusion of "cheaper treatment" for straightening my teeth. I wish I has never known of this company's existence. I had to ask for a refund. Not a smile for me.
Bottom Line: No, I would not recommend this to a friend
Company Response from Smile Direct Club
Feb 3, 2019
Hi Annalie. We're concerned to see this, as we take pride in the efficient and convenient experience we aim to offer our customers. In the event of a delay, we always work to make things right. We aren't able to address any specific case details publicly due to HIPAA regulations, but please reach out to us directly at grinners@smiledirectclub.com to speak further. Regards, Elizabeth
Posted on Dec 14, 2017
Worthless!
Stay away from this company; they promise things they cannot produce.
We paid for it, then it took four months longer to get the first set of retainers, but they kept charging me. Now I finally got them on August 17 and they are telling me I'm done (November 17, 4 months) and want me to by the end of process retainers.
Buyer beware. Stay away from this company.
They rather you pay the total up front because they know it won't work. Warning, stay away from giving these scam artist your money or you will regret it. Four months of retainers and not one tooth was moved. I have talked and emailed no less than 22 people and each claims to be serious about helping me, but no one knows who the other is or what their email is.
Warning, warning, warning. Stay away from giving these scam artists your hard earned money.
Bottom Line: No, I would not recommend this to a friend
Posted on Aug 26, 2017
The most disorganized company you can imagine
This is the most unorganized poorly run company I've ever come across. I should have known in the beginning when they didn't contact me that they received my impressions or even my photos. I ordered on June 21st, I've been waiting for two months now, and I've talked to numerous customer service representatives, live chatted, used Facebook messenger, and texted several supervisors only to be lied to without explanation every time and told that I'll have my aligners within a week. Once that week goes by, I still have nothing.
After more conversations I'm told the same thing, "You'll have them in a week." My case has been handled by three separate customer service supervisors and still no answers, only false promises and lack of follow through. Is my money not as green as someone else's? I have screen shots of people saying they ordered their aligners in mid-July and have already received them while I sit here and wait with no information as to why.
Here's the thing, it's not rocket science, it's basic business practice. It's about ethics. 1) Don't miss lead customers by false advertising and not being able to deliver the timeline that is promised. 2) Don't lie and pacify customers just to get them off the phone. Be honest, tell the truth, offer explanations and "the whys." 3) FOLLOW UP with customer complaints. I really don't think any of those core ethics are very difficult to adhere to.
Bottom Line: No, I would not recommend this to a friend
Posted on Jan 15, 2018
Risky, wasn't worth the wasted year
To save you the read, they will send you aligners that don't fit. They will either be warped and twisted like they melted a little, or your molars will fit snug in the tray, but your front teeth aren't in, and when you push on your front teeth to make them snug in the tray, your molars will pop out. Like a see-saw. This WILL happen. It WILL take weeks for you to be able to resume your treatment. I had a four-month plan, it took six months to get this far, and I haven't even started month four yet.
If you want to hear more:
I had to go in for a mid-course correction at the end of month two. The scanned my teeth with a laser, and month three (when they arrived) they fit really well! Awesome, right? Not exactly.
When it came to putting on in month four, they didn't fit. The top row was the see-saw from the above paragraph, and the bottom row magically assumed my bottom teeth were already straight, when they knew they weren't. They said it was a manufacturing defect, and I waited yet again, and the new ones were EXACTLY the same.
I went back in for another laser scan (surprise, right?). This time, they realized that the plan they made was flawed and destined for failure. Although month three fit, so I was completely on track, month four was jacked up, and it was impossible for my bottom teeth to fit side by side.
So they sent me a brand new plan. This time, eight months. This new plan also leaves me with a gap in my front teeth because to correct for their screw up, they needed to push all of my teeth forward. Also, they wouldn't admit fault; they were trying to use the dentist who made this plan (whom I also have never met) as a scapegoat by constantly telling me they don't know anything, they aren't a dentist, etc.
This is a textbook example of a company that grew too big too fast and was unable to identify their growth plans and process gaps in order to deal with issues like this. They also, in my case, would go nine days without responding to be, and it takes time to make new aligners. Keep that in mind that you never really know if they fit like they're supposed to. In my case, that final aligner's gumline was a good 3mm above my actual gum line, and of course, this was because the teeth were crowded and not straight. It's like trying to shove 100 singles into your wallet and fold it in half. You can't. Too much bulk.
So remember me, friends, on your journey to straightening that smile. unfortunately, SmileDirectClub will not let you see each week's trays ahead of time to so can try to protect yourself from this nonsense. You're going to have to take a leap of faith, and I truly hope you don't get burned.
Bottom Line: No, I would not recommend this to a friend
Company Response from Smile Direct Club
Mar 7, 2018
Hi there Anthony. Aligner Fit concerns are indicative of teeth not tracking as projected. Teeth do have a mind of their own, and as with any orthodtontic treatment, there's no way to predict exactly how they will move. In the instance that teeth don't track as projected, we do offer midcourse correction and reevaluation to account for this and help customers achieve optimal results. This is a normal aspect of all aligner treatment therapy. If you have any additional questions or would like to speak directly on this, please reach out via grinners@smiledirectclub.com.
Posted on May 13, 2017
Unresponsive to insurance questions
My biggest problem with SmileDirectClub is that they do not respond to any insurance questions. I have a premium dental insurance with Cigna so it should cover everything, but SmileDirectClub is not willing to spend any time to work with me to get the reimbursement.
Bottom Line: No, I would not recommend this to a friend
Company Response from Smile Direct Club
Mar 8, 2018
Hi there. We would like to clarify that although our company was started by entrepreneurs, all of the actual treatment and assessment is performed by licensed dental professionals. Of course, with teledentistry, this is done remotely. However, we do have a dental team available to speak directly with customers regarding any questions or concerns they may have. The dental professional assigned to each customer is licensed in their state as well.
Here's a Q+A with our lead dentist:
https://smiledirectclub.com/blog/meet-your-dentist-smiledirectclub-q-dr-sulitzer/
Posted on Jan 25, 2019
Deceptive sales practices
I have no idea whether the product works or not. One star for deceptive sales practices and flat out lies.
The sales associate told me that order would not be processed until a dentist called and got confirmation. This was a complete lie, as I just got a text that my order had been processed and aligners were on their way. No dentist consultation.
The dentist consultation was important to me. My sales associate was very personable but seemed much better suited to selling low-end cosmetics than cosmetic dentistry.
Nonetheless, I left their office excited for the product. But it seems that she may have neglected or chose not to inform me of some key information. I was told by a friend who used a similar product that to maintain his smile, he needs to wear a retainer to sleep for the rest of his life. If true, that's a pretty significant piece of information to leave out.
Again, I have no idea whether the product works or not, and how it compares to other aligners on the market. But I strongly recommend staying away until they get their act together.
Bottom Line: No, I would not recommend this to a friend
Company Response from Smile Direct Club
Jan 25, 2019
Hi Bob. Thanks for taking the time to leave a review. We appreciate the feedback. Typically, a retainer is recommended for any teeth straightening treatment. We're disappointed to hear about your experience at the SmileShop and will be passing the feedback along to our management team. Feel free to email us at grinners@smiledirectclub.com if you have any questions. Best, Madison.
Our Promise to You
In order to safeguard you and ensure helpfulness and relevance, our compliance team manually assess every customer review before it goes live.
We have a zero-tolerance policy for fake reviews, and companies cannot control or alter any reviews at any time.