Sworkit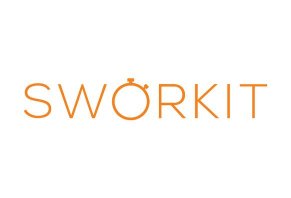 Summary
Sworkit is a subscription fitness app that gives you complete control over the length and style of your workouts from a collection of 300+ exercise moves.
Sworkit Review: Our Personal Experience With This App
Sworkit, short for "simply work it" is a fitness app that offers subscribers the flexibility to choose the length, style and difficulty level of their workouts so that they can stay in shape without a traditional gym membership.
The app first gained attention on a 2016 episode of Shark Tank when billionaire Mark Cuban invested $1.5 million into the fledgling parent company Nexercise for a 10% share of Sworkit.
Founders Benjamin Young, Ryan Hanna, and Gregory Coleman have since developed the service into a standalone exercise platform that focuses on moves you don't need outside equipment to complete.
According to the company website, Sworkit is on a mission to help everyone find workouts that make sense for them, regardless of whether they are beginners or already have an established exercise schedule.
Once you choose the type of exercises you want and how much time you have to exercise, and the app will take care of the details to deliver a personalized workout routine.
Does Sworkit make sense for getting in better shape, or should you consider one of the many fitness-app alternatives instead? We'll help you decide by the end of the article.
How It Works
Sworkit operates as both an Apple and Android app, and it also works on Apple TV and through web browsers. While the company previously offered a free and premium version of the app, now it's exclusively offered on an annual or monthly subscription basis (more on that later).
First choose the type of exercise you want to complete from the listed options: strength, cardio, yoga, or stretching. When you select an exercise type, you're next shown a subgroup of the available programs.
For example, choosing the "Strength" option gives you a choice between workout programs that specifically target your full body, core, upper body, or lower body, as well as themed sequences like "Rump Roaster," "Seven-Minute Workout," "Six-Pack Challenge" and more.
When you select one of these options, you are shown a pre-determined blueprint of its moves. As an example, the "Seven-Minute Workout" consists of jumping jacks, wall sits, pushups, abdominal crunches, and other full-body movements.
You then can customize the workout by selecting a time range from one to 60 minutes and adjusting the timing for reps and rest periods.
The app default is to complete each exercise for 30 seconds each with a 10-second rest between sets. It's also possible to adjust settings on the app to enable or disable warm-up stretching and whether the moves are shuffled.
You can incorporate music into the exercises by integrating Sworkit playlists from either Spotify or Apple Music, or by playing your own.
After you begin a workout, your phone screen shows an animation of the move you need to complete, the time remaining in the set, and audio commentary to help you with your form.
The app gives you several seconds heads up between each exercise transition and the animated person demonstrating the exercises varies between moves.
About Sworkit Workout Plans
Sworkit's website makes it clear that they have programs designed for both beginners and experienced exercisers and that the workouts can act as your primary fitness activity or be used to supplement other forms of exercise.
It's possible to use Sworkit as a personal fitness trainer by choosing one of three tracks that the company offers: Leaner, Fitter, and Stronger.
Each of these plans lasts six weeks and includes 18 sessions, and you have the option to select your difficulty level as beginner, intermediate or advanced. Each workout can be customized to your preferred length, though the company suggests making each workout at least 20 minutes.
Sworkit also gives subscribers the option to build up their own workouts from their library of over 300 exercises. You can choose moves based on the part of your body they focus on, their difficulty level, and even how quiet they are. These workouts are saved to your profile for future access.
My Personal Experience
I signed up for Sworkit to give it a run. My opinions are as follows.
The animated instructors and audio voiceover did an adequate job of explaining each move. I worked out with my phone on the ground and found that the instructors were occasionally too small on my phone's screen for me to get a good sense of what was going on until I paused the workout to take a closer look.
The animation was also a little glitchy and sometimes froze for several seconds during the transition from one exercise to another.
After experimenting with exercise routines in each category, my experience was that the app is best suited for strength workouts and least well suited for yoga.
I found that the app's vaguely robotic talking style and isolation of each move made sense in a bodyweight strength class, but that it prevented me from getting into a cohesive flow during the yoga exercises.
As each yoga move was chosen at random and held for the same amount of time (regardless of the difficulty), I felt like there was little transition between them and that it was hard for me to focus on my breathing as you do in a typical yoga class.
Cost
At the time of writing, Sworkit is offered on a subscription basis. You can pay an annual membership fee of $89.99 ($7.50 per month), or sign up for a month-to-month membership for $14.99 per month.
Each plan includes a seven-day free trial, and the company website states that you won't be billed until it passes.
As with most subscription services, your Sworkit membership is auto-renewing unless you cancel it before the renewal date, which is the anniversary of the day you originally signed up.
The company website states that it's possible to pause your Sworkit membership for up to 12 months and that they offer a 14-day money-back guarantee if you request a refund within two weeks of initially signing up.
What Do Customer Reviews of Sworkit Show?
We looked at customer reviews of this service on the Google Play Store and the Sworkit Facebook page to learn what real people think.
Both platforms give Sworkit high marks. Lots of reviewers mentioned that they had relied on Sworkit for several months and that they felt that it led to tangible improvements for their fitness level.
These users reported that they liked the variety of workouts and customization that it allowed.
The biggest complaint we noticed came from people who had previously used the free version of the app and weren't happy when the company switched over to a subscription model.
Many of these long-time customers felt like they had been priced out of the app and didn't appreciate that they weren't grandfathered into the new pricing structure.
A few reviewers also called the app glitchy and reported that they found its layout unintuitive. These reviewers seemed to have the same problem I had with the app where the animation occasionally lags behind with what the instructor is saying.
PC Magazine reviewed the iPhone version of Sworkit and concluded that the app offered great flexibility for creating a personalized exercise routine and that it synced well with popular fitness tracking apps like Apple Health and Google Fit.
The app lost points in their opinion because its workouts don't scale in difficulty based on your fitness level like some of its competitors did.
Speaking of competitors, let's look closer at the apps that rival Sworkfit to see what selling points they each offer.
Alternatives
There's no shortage of apps available that promise to whip you into shape at home, but do any stand out from the rest? The chart below highlights the key details of a few of the most prominent subscription fitness programs in the industry.
| | Sworkit | Daily Burn | Aaptiv | Pelton App |
| --- | --- | --- | --- | --- |
| Price | $14.99/month or $89.99/year | $14.95/month or $26.95/month for premium subscription | $14.99/month or $99 per year | $12.99/month |
| Ways to View Content | App offers pre-made workouts, or you can create your own with 300+ exercise moves | On-demand and live stream workouts (available at 9 a.m. EST) | On-demand (audio content only) | On-demand and live stream workouts (20+ new classes offered each day) |
| Types of Exercise | Strength, cardio, yoga, and stretching | Group fitness classes based around cardio, yoga, Pilates, HIIT, flexibility and other workouts. | Treadmill, outdoor running, elliptical, walking, rowing, strength training, stretching, indoor cycling, meditation, stair climbing, and boxing workouts | Yoga, cycling, running, strength, meditation, boot camp, stretching and cardio workouts |
| Workout Length | 1–60 minutes | 10–60 minutes | 10–60 minutes | 5–60 minutes |
| Approx. Number of Workout Routines | 300+ exercise moves that can be combined into an almost infinite number of exercise routines | 1000+ total videos in 20+ workout programs | 2,500+ total workouts, more workouts added weekly | 10,000+ workout videos with more content added daily |
| Extra Equipment Needed | Fitness mat, some exercises require kettlebells or resistance bands | Fitness mat | Many workouts require access to gym equipment | Many workouts require access to a spin bike, treadmill, or free weights |
This chart shows that there are a number of workout options available via app at a subscription price of $10–$20 each month. Daily Burn, Aaptiv and Peloton Digital Membership give you access to on-demand classes filmed or recorded with professional fitness trainers.
Each of the fitness apps we looked at offer workouts that require minimal outside equipment, though Aaptiv, and Peloton App might seem the most limited if you don't have access to the specialty equipment that some of the workouts call for, like hand weights or a spin bike.
A smart consideration is to determine whether you're looking for the vibe of a group fitness class or prefer the sense that you are working with a personal trainer.
Daily Burn, Aaptiv and Peloton App workouts are designed to capture the enthusiasm of working out with other people, and some of the classes offered are filmed during real studio workouts.
Sworkit in contrast, is tailored more towards your specific goals, and it provides a higher level of customizability within each workout.
The Bottom Line
Sworkit offers a high level of customization for creating a workout that fits your interests and the time you have available.
It wins points from us for its user-friendly platform and how simple it is to adjust the timing for each sequence within the workout.
One downside I found from using the app myself is that the workouts lacked the personal touch that comes from completing a sequence of moves developed and led by a human instructor.
The yoga session I completed struck me as jarring because there was no flow from one movement to another.
Overall, I think that Sworkit is best for people who want complete control over their workouts and prefer a "stripped down" form of instruction.
If you don't vibe with the "Ra-ra!" attitude of studio fitness classes, this might be a better fitness app for you than watching a pre-recorded class.
Customer Reviews