Bowflex MAX Trainer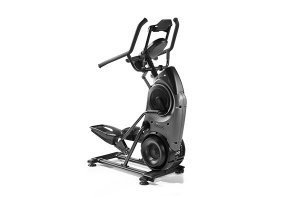 Summary
The Bowflex Max Trainer fitness equipment series will give you a full-body cardio workout quickly. However, it may be too intense for beginners, so pace yourself accordingly.
Pros
Workouts incorporate arms and legs for more efficient cardio exercise
You can decide whether to purchase a model with a built-in screen or use your own tablet
Numerous built-in workout programs
Integrated JRNY app gives more options for customized workouts
Cons
Machines may be considered expensive for performing one form of exercise
JRNY app is available only as a subscription
Some customer complaints that the machine broke quickly
Bowflex MAX Trainer Review: Details, Models, and Features
The Bowflex Max Trainer is a series of high-intensity cardio machines from Nautilus, Inc that promise to get you in excellent shape with workouts that range from four to 30 minutes.
The machine is a combination of a stair-stepper and elliptical, and it's designed to be compact enough for almost any living space.
Users can create their own workout programs, follow the pre-installed ones included with your chosen model, or subscribe to the exclusive BowFlex JRNY app to access hundreds of other workouts.
Bowflex sells three versions of its Max Trainer: the M6, M8, and Max Total. In this analysis, we'll look at how these machines work, the key differences between the models, and whether better home cardio machines are available.
How Does the BowFlex Max Trainer Work?
All Bowflex Max Trainers operate as a combo stair-stepper/elliptical. Each device comes with a range of resistance levels so that you can change the intensity as your abilities increase.
The Max Trainer's goal is to give you a high-intensity workout quickly so that you stay in a fat-burning state for hours after. The machine incorporates both your arms and legs with every movement so that you work your full body at once to maximize effectiveness.
To use the Max Trainer, you'll stand on the footplates like you would a standard elliptical and hold onto the handles at your preferred position.
Next, you'll choose whether to follow a preset workout program or to simply set the resistance level and get started. This level can be adjusted at any time using the switch on the handles.
As the machine is designed to deliver an intense cardio workout, you may struggle to get through the entire session when you first begin. Many users shared in their customer reviews that they could only make it through five minutes at a time when they got started, but that they slowly worked up their stamina after several weeks.
Looking Closer at High-Intensity Interval Training
Bowflex's workouts are based around the concept of High-Intensity Interval Training (HIIT). The idea is that you get a quality workout in quickly by changing the intensity of your actions every few minutes to keep your heart rate up and deliver maximum benefits within the shortest amount of time.
As one workout example on the product website, you can complete a 14-minute workout that includes a series of the following intervals:
25 seconds high intensity
80 seconds low intensity
In this case, you would complete the interval sequence a total of eight times.
Working out for just 14 minutes sounds appealing for the time-pressed, but are HIIT workouts actually an effective fitness strategy?
Research shows that alternating your workout's intensity leads to a variety of benefits, including a higher rate of calorie burning per exercise minute and improved aerobic capacity. You're also less likely to experience "workout fatigue" because interval training tends to switch up what you are doing every few minutes so it's harder to get bored.
However, HIIT training isn't for everyone—especially those who are new to exercise. Pushing your body to its upper limits can have negative consequences if you don't already have an exercise habit, and it can put unwanted stress on your joints and muscles.
That's one benefit of the Bowflex Max Trainer; these fitness machines make it possible to get in a low-impact workout at any intensity.
Models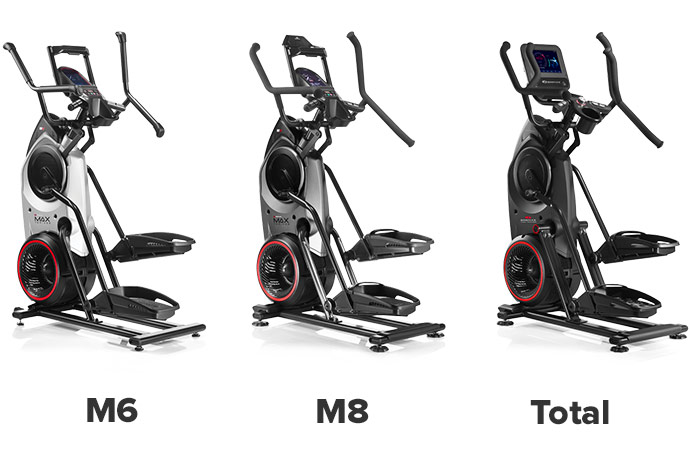 Image credit: bowflex.com
| | Max M6 | Max M8 | Max Total |
| --- | --- | --- | --- |
| Price | $1,699 (or $95/month for 18 mon.) | $2,299 (or $128/mon.) | $2,799 (or $156/mon.) |
| Resistance Levels | 16 | 20 | 20 |
| Features | Bowflex JRNY compatible, includes 5 workout programs, workout history tracking for two users, ergonomic handles with water bottle holder | Bowflex JRNY compatible, includes 7 workout programs, workout history tracking for four users, dual-positioned handlebars with aero bar upgrade and water bottle holder | Upper Body Power Measurement, includes 8 workout programs, workout history tracking for unlimited users, track heart rate with a built-in display, triple- positioned, sculpted handlebars with dual rail system and water bottle holder |
| Screen | Bring your own device | Bring your own device | Built-in touchscreen |
| Warranty | Frame and parts: 2 years | Frame and parts: 3 years | Frame and parts: 3 years |
One of the most significant differences between Max Total and the other models is that it comes with a built-in touchscreen. That's convenient for those who don't want to use their own technology with their fitness equipment.
Beyond giving you direct access to the JRNY app and other workout statistics, you can use this screen to log into your accounts on streaming platforms like Hulu, Netflix, and Amazon Prime to entertain yourself as you exercise.
It's up to you to decide whether this screen, along with a few other features like extra built-in programs and a different handle setup, is worth the additional $500 compared to the M8.
About Bowflex JRNY
To get the maximum benefit from your Bowflex Max Trainer, the company recommends that you sign up for a subscription to the JRNY app (all purchases will include a two-month free trial).
The app tracks your capabilities over time and creates customized workouts designed to challenge you and keep you improving. The time and intensity per session will increase with your fitness capabilities. You'll be guided by "Max," a virtual coach that will encourage you to keep pushing your abilities to reach new fitness milestones.
It's also possible to follow trainer-led videos for workouts for extra motivation and guidance on form. While you work out, you can stream a variety of playlists from Bowflex Radio that themed around pop, rock, hip-hop, best of the decade, and other genres.
If you need a change of scenery, you can follow one of 19 scenic locations like Death Valley, the Swiss Alps, and more.
The JRNY app costs $149.99 for an annual membership or $19.99 per month. This subscription will automatically renew unless you cancel it at least 48 hours before the end of your current subscription period. You will retain access to your account throughout the rest of the subscription time.
Below are user comments from the JRNY App reviews on Google Play, where it averages 3.9 stars after 650 reviews:
Calorie counts might be inaccurate
Not always fully integrated with machines
Great extension of included workouts
Solid options for customizing workouts
Doesn't support option to stream own music
A desire for more workouts over 21 minutes
Limited options to sync app data with other fitness services like MyFitnessPal or Google Fit
Purchasing Process and Satisfaction Guarantee
The best way to purchase Bowflex Max Trainers is through the company website. They are also sold through a few online distributors like Amazon, but most models aren't available in physical stores.
When scheduling delivery, you have the choice of whether to pay to have your Bowflex Max Trainer professionally assembled or to go the DIY route.
The machine will come with complete installation instructions, and there are supplemental assembly videos on the company website. Bowflex recommends that two people assemble it to ensure safety.
Processional in-home assembly can be purchased at the time of checkout, and the price will vary based on your location. Expect to pay around $170 for this service, on top of $150 for standard shipping.
Purchases from the company website come with a six-week satisfaction guarantee. You can request a return at any point within this timeframe for a full refund, minus any return shipping costs, or in-home assembly costs. The machines needs to be in original condition and preferably in original packaging.
Also, it's possible to receive a refund for an annual JRNY app subscription, but only if you purchase it directly through Nautilus, Inc (not through the Apple or Google App store, or other third parties.
You may qualify for this refund if you submit your request within six weeks of purchase by emailing the company with your login email and cancelation request. Your access to the app will be restricted as soon as your request is processed.
Analysis of Customer Reviews
Here at HighYa, we have 44 reviews posted for the Bowflex Max Trainer Family. These average 3.4 stars. Below is a summary of some of the main comments.
Common Compliments:
Fun, habit-forming piece of fitness equipment
Led to significant weight loss for many users
Efficient, quality cardio workout
Space effective for exercise equipment
Common Complaints:
Some had poor customer service experiences when they needed replacement parts
For some, machine lasted fewer than 18 months before breaking
A few users experienced significant joint pain when the device was in use
Popular Alternatives to the Bowflex Max Trainer
| | Bowflex Max Trainer | Tonal | Peloton Cycle | Mirror |
| --- | --- | --- | --- | --- |
| Workout Target | A high-intensity cardio workout that combines movements of an elliptical and a stair stepper | All-in-one machine that mounts into your all for building strength through weight lifting | Follow live and on-demand spin classes streamed from NYC and UK studios, members also get access to the Peloton app that offers yoga, running, meditation, strength-training, stretching strength-training, boot camp, walking, and dance cardio workouts | Lets you follow virtual cardio, yoga, boxing, and other fitness classes offered through an interactive mirror that blends in as décor when not on |
| Equipment Cost | $1,699–$2,799 | $2,995, plus $495 for Smart Accessories (handles, bar, rope, bench, mat, and roller) | $2,245, plus about $150 for accessories like shoes, weights, and headphones | $1,495 |
| Shipping Cost | $150, plus about $170 for professional assembly (optional) | $250 | Included with purchase | $250 |
| Monthly Subscription Cost | $19.99/mon. or $149.99/yr. | $49.99/mon. | $39.99/mon. | $39.99/mon. |
| Is Free Membership Available with Purchase? | Two months available free | No, all purchases require a 12-month subscription commitment | No | No, all purchases require a 12-month subscription commitment |
| Is a Subscription Necessary for Workout? | No, the machine comes with built-in workouts and can be used in free mode. | No, digital weight functionality is available without a subscription | No, the machine comes with several built-in classes, and the screen will display cadence, resistance, and output information when freecycling. | Yes |
You will pay a lot for the initial purchase—a minimum of $1,500 before accounting for any accessories or subscription fees.
All four of these machines are designed to be paired with their coordinating subscription service. However, only Mirror is rendered useless without it. The three other systems let you exercise in free mode without any extra guidance, though Bowflex Max Totals come with the most built-in workout programs.
From a time perspective, Bowflex workouts focus on giving you maximum benefits fast. The company claims you can fit in a quality workout in just 14 minutes, while the average length for most Peloton spin classes is 30-45 minutes. Both Tonal and Mirror fall in the longer range as well, though you have lots of flexibility to create your ideal workout session.
Cost-wise, the Bowflex's JRNY monthly subscription costs half or less what you'll pay for the other services, and it's also the only company that offered an annual discount. This brings down the total price of the equipment compared to Tonal, where you'll pay four times as much annually in subscription fees.
Choosing which system is best for you depends on your fitness preferences. Bowflex promises a quick workout and is slightly more cost-effective, but the machine essentially allows for only one type of exercise. You could argue the same for Peloton Cycle, but the subscription includes access to the Peloton app with wider-ranging workout options. Both Tonal and Mirror, in contrast, are designed to accommodate a broader range of workouts.
If space is your biggest concern, Mirror is the easiest machine to match with your décor while the Peloton spin bike will stand out. Bowflex Max Trainers have a relatively smaller footprint, as they take up about four feet by 3.5 feet of floor space.
The Bottom Line: Is It Worth It?
The Bowflex Max Trainer series promises to give you an intense cardio workout, and it will deliver, so long as you are willing to put in the work.
Customer reviews indicate that many users found this machine challenging, even when they thought they were in decent shape. For that reason, we suggest you expect to get winded on your first few attempts and plan to work your way up to full-length workouts over several weeks.
The Bowflex is priced similarly to other tech-enabled fitness equipment, but you'll pay less for the related subscription service. This machine is also the most functional of any we looked at if you decide not to go with the subscription.
Bowflex offers models both with and without a built-in screen, so you don't have to pay for that feature if you prefer to use a tablet. However, there are numerous reviews from disgruntled users who had their Max Trainer break down sooner than expected, but often right after the warranty had run out.
Overall, this machine makes sense for anyone who likes getting in quick, intense workouts, but it may be too much for those who are new to exercising. Either way, keep in mind that if you decide to try it, you will be out the $150 shipping fee if you request a return within the six-week window.
Customer Reviews
Posted on Jul 31, 2015
Wow.
Just got my M3 in, put together in less than an hour. I figured I would jump on and do a quick 14 minute work out. Wrong. What a work out this is going to be, it will be a challenge but fun. Thanks Bow Flex
Will do a follow up review in a month.
Bottom Line: Yes, I would recommend this to a friend
Posted on Jul 6, 2015
Very happy!
To start with, I found an online coupon that took $100 off of my order so my shipping was essentially free. They said it would be 30-45 days for delivery, I received it in 5 days. I put my M3 together in less than an hour so I am really glad I didn't pay for their assembly. It was really very easy. I am definitely having to work up to doing a full workout. I have had knee and ankle surgery and have no problems at all using the Max Trainer (other than me being badly out of shape). The small footprint is perfect for our living room. I would highly recommend this equipment. We figured it up and will have it paid off by just paying what we were paying for a membership to a gym that we never had time to get to. Having the Bowflex Max Trainer at home has already made a huge difference even in our 12 year old daughter who loves working out on the machine!
Bottom Line: Yes, I would recommend this to a friend
Posted on Aug 6, 2015
I absolutely love this machine!
I own a TreadClimber and it's good. But wanted something more engaging and challenging and this is it. My husband is in great shape, motor lifting mechanic. I am not in great shape. Sad/Bad for a RN. It takes me a few breaks to get finished with 14-minute interval. And even his first couple of times he needed to take a break.
Bottom line: there aren't any shipping delays. I ordered the Max Trainer on 7/19 and was delivered on Friday, July 24th. We put it together and it was not hard for us. And I believe if a person uses the machine in consistently and with some dietary changes, even if it's just for 14 minutes for three days each week, you will tone up and lose weight. I feel my abs, buttocks, thighs, arms. Wow. This thing is awesome. I have never been so excited to workout. Mot much strain on my knees either like with the TreadClimber. This thing is well worth the money.
Bottom Line: Yes, I would recommend this to a friend
Posted on Aug 24, 2015
This is a Great Machine
I am 63 years old, and am no more than a 'weekend warrior'. I work out maybe 1 to 2 times a week, but that's it.
I looked into the Bowflex Max Trainer as an alternative to the gym, where I would have another avenue for exercise right at home, and as another avenue to keep the body weight down, as age slows my metabolism.
I took a chance on this in terms of low impact, because I have a bad knee that actually hates the movement of the ARC trainers, and I don't have the room horizontally for a conventional Elliptical Trainer.
I assembled it myself, with the internet research that indicated the application of "as tight as possible" is the best way to reduce/eliminate noise, and after 4 months of steady use, I can say that the machine is just as quiet today, as the day that I assembled it. I was worried about the possible noise factor, but it seems to operate exactly as advertised. I know that some people complain about squeaking, but my unit exhibits none of that.
As far as the difficulty in completing the exercises, I agree that the machine isn't easy, but I am able to finish all of the exercises. You don't have to go at an all out sprint and burn yourself out, and by pacing yourself, if I can complete the 300 calorie target burn program at my age, you should be able to, too.
I highly recommend this machine. Follow the assembly instructions as given, use, and enjoy!
Bottom Line: Yes, I would recommend this to a friend
Posted on Oct 6, 2015
Satisfied customer
My wife and I received our Max 5 trainer over a week now. So far the only down side is where the bottle holder is located, it's hard to reach.
Now for the good news, first if you can afford the M5 it's worth the extra money. Second this is by far the best workout on a cardio machine I've ever experienced.
The 14 minute workout is definitely a challenge I was able to complete 2 and burned over 500 calories.
I was skeptical at first but after considering for 2 months, my wife and I decided to go for it and I am so glad we did.
Lastly my wife has challenges from arthritis and the impact is minimal.
I am now a Bowflex family member.
I purchased the 552 weights stand and looking to feel my home gym with more. Thanks Bowflex Max5.
It's only been only a few days. I'll check in with you after 30 days to share our results.
Bottom Line: Yes, I would recommend this to a friend
Posted on Dec 19, 2015
Best concept ever.
I received my Max Trainer M5 about one week after I ordered it (12/3/2015 to be exact). But watch out for FedEx, they are delivering the machine with no signature required and if my neighbor hadn't called me at work, my machine would have sat in the rain and snow all day. FedEx dumped it in the worst spot possible.
1. Assembly was pretty easy. My wife and I had it together in about an hour.
2. Quality. This thing is pretty solid. I feared it was going to be fragile and flimsy (I was wrong). The steal is heavy duty (commercial strength). I weight almost 270 and it handled me fine.
3. Workout. Though I lift weights almost every day, I haven't done cardio in about a year. My first workout was the first level Max interval. It was challenging, but I did it. The movement reminds me as if I'm riding my bike standing up? It's comfortable and easy on the knees (I have one bad knee).
4. Problems. After about three uses, a bolt fell out of the inside of the unit (nothing I assembled). I opened it up and found three loose bolts on the wheel that turns the belt). Of course one of them completely fell out. So basically, the factory forgot to tighten these bolts during production. I could only access two of the bolts so I had to call customer service. They immediately knew what the problem was and are sending me the parts and a repair man from somewhere in my area to fix it. Customer service told me the belt wheel where the bolts were loose was plastic. For crying out loud Bowflex, you build this amazing machine and use a plastic belt wheel? Why would you do that? No, no!
Use metal, always. In the meantime, I'm out of service but I like the machine so much that I'm willing to exercise my patience.
5. Recommendations to Bowflex. 1. Use all metal parts if possible and think commercial at all times. Just charge accordingly. 2. The electronics screen could be elevated about 5 inches (it's a little low), the drink holder as well. 3. Add an on/off switch.
Do those things and you'll have the best overall cardio machine ever made. Well, you do anyway but...
6. Overall. The Max Trainer is definitely the best cardio machine I have ever used. The treadmill I was going to buy had a price tag of $3,400 so paying $1,600 for the M5 was significantly less. This is truly a great concept and it has exceeded my expectations. But use METAL not plastic!
Bottom Line: Yes, I would recommend this to a friend
Posted on Feb 25, 2016
Wow, love it!
I'm a 55 year old female not in peak form, and I have 20 lbs to lose. I've just had my Max5 for a week, and so far I love it.
I received it five days after ordering (could not believe that), and I put it together BY MYSELF people, in under two hours! I'm a 5'4", 140lbs banker, and tools are in no way my forte, but it wasn't hard, or that heavy, and I just used a bit of female ingenuity to get the unit into the base. The thought of someone paying $250 to have it done is ludicrous.
So far I love the flexibility of the programmed workouts, but have yet to figure out the best workout with the highest calorie burn. I don't seem to be burning 2.5X more than when I'm on my elliptical. I tend to track heart rate and calories burned via my Fitbit, and I'm hoping it's more accurate because it reads a higher calorie burn.
Bottom Line: Yes, I would recommend this to a friend
Posted on Mar 5, 2016
Great product!
Couldn't be happier, fast shipping and really easy to assemble. I run but this thing really works you. I have finally made it up to 12 minutes but it's a struggle. Ill keep pressing, easy on the joints so you don't have to worry about pain. Make sure to check the bolts to make sure they don't come loose, maybe Bowflex should consider a small tube of Loctite. Other than that, I'm looking forward to getting in shape.
Bottom Line: Yes, I would recommend this to a friend
Posted on Mar 10, 2016
Great Machine. Well worth it.
We have had the Max Trainer M5 for 10 days now, so this is an early review. So far my wife and I have been using it regularly with great results. We both are feeling better, toned and starting to lose weight. I liken this machine to an elliptical mixed with a stair stepper but when you're are in Max mode it feels very similar to how I feel when I'm standing on my mountain bike climbing a hill. Lots of quadriceps and downward pedaling. I've spent a total of 79 minutes on it and my wife has almost doubled that.
A simple note to those in poor shape. This exercise is very intense to start with. It would probably behoove you to start in a mode other than MAX to get your endurance up and build leg strength. I am in average shape and I started out on resistance level 1 MAX and it kicked my butt. I thought my heart was going to explode. Now after a week of using it I can make it on level 1 no problem. You will become accustomed to the workout and will build endurance very quickly.
On to the stuff I've read from other folks: I'm not sure if people are getting lemons or are just not very mechanically inclined but it took me just over and hour to build the machine (alone). I see absolutely no reason to pay someone to build this for you unless you seriously don't know how to turn a screwdriver. If you follow the very easy to read instructions included with the neatly organized and labeled hardware and/or get a friend that has even the littlest amount of handiness, this machine is a breeze to build. Save yourself the money. The only sticking point might be the weight of the boxes. Each comes in at around 80 lbs (2 boxes). Unless you are a hobbit you could just enlist a friends help to carry these into the house and up the stairs, or ask some unsuspecting neighbor.
The machine is smooth, not too loud (unless in MAX mode) and takes up a very small amount of space. We find the Bluetooth capability very nice because we can sync it with our MyFitnessPal apps on our phones to keep track of our daily goals. The arm movements actually make you feel like you've done some upper body. It won't replace weights but at least you are getting your full body involved in the workout. The only thing that seems to not be seamless is the heart rate monitor grips. Sometimes they read quickly, sometimes a lot of hand adjustment needs to be made to get a good read. I don't have overly large/or small (Trump) hands either so this should not be an issue. Of course if you use the included band or have a smart watch the point is moot.
Lastly I will throw some kudos to Bow-flex (Nautilus) because they offer a great military discount. If you are in the service please don't forget to ask and it will make all the difference on whether you decide if spending the money is worth it. I struggled with the price but I do believe so far (barring some future catastrophic breakdown) that this machine is well worth the asking price.
The one great design flaw in this is that it doesn't really have any good angles to hang clothing from, so instead of having a high dollar clothes hanger you will just have a piece of modern art adorning your home if this doesn't get use.
Best of luck and if you decide to get this you will not be disappointed. I will update later down the road.
Bottom Line: Yes, I would recommend this to a friend
Posted on Aug 7, 2016
It works!
I'll make this short. I'm overweight. I started at 231 pounds, I'm 5'3" and a 38 year old female. I'm an off and on workout junkie but I always give up because I have no time to spend in exercise that I need. However, a friend bought this Bowflex Max Trainer and enticed me to join her. So I did. The first two weeks were hell. I was barely finishing 14 minutes.
I sweated like I've never had before. I couldn't even stand straight on it. I'm on week 4 now, I have built up so much strength in my legs, so now my stairs at home are a cake walk. I use manual mode ranging between 8-10 for 20 minutes now. The only thing I do extra is a speed walk jog on treadmill at home for 30 minutes. The max speed on treadmill is 3.5. It's Alternating 3.0 and 3.5 with a six minute warm up and then a cool down.
Here's the best part: in 2 weeks, my legs which had bulge are no longer swollen.
At week 4, my legs have not looked this nice since my early 20s! My inner thighs are amazing no workout ever did what this did for my inner and back thighs.
I'm hooked and I can not believe the results. Also, I had a large Fanny top, I could hold a cup there but now it's gone! Now my butt is rounding and table top is gone. I'm experiencing just amazing results on hips thighs and butt. This machine will be in my life from here on out. Hopefully someday I can afford my own.
Bottom Line: Yes, I would recommend this to a friend
Posted on Aug 17, 2016
Great product
My wife and I purchased the M7 model almost two weeks ago. We have been using it every day, however since we are so out of shape we are starting out slow and only doing a 7 minute session and add time as we feel fit. Just using the 7 minute session we have lost weight, but we have changed our diet as well. You cannot lose weight by exercise alone. I am hoping to move up to the 14 minute session within three weeks, if not four. I use the app and love the fact that it shows my progress daily. My Calories Burned increases daily and that pumps me up. Seeing my improvement makes me want to do more and more each time.
The assembly of this unit is very easy. I currently came off a surgery for a broken collar bone (still had the staples in) and built it by myself in an hour and a half. The instructions are very well laid out. The nuts, bolts and washers are well labeled in the packaging.
I would highly recommend this product to anyone. But remember if you do not change your diet it will be hard to lose the weight.
Bottom Line: Yes, I would recommend this to a friend
Our Promise to You
In order to safeguard you and ensure helpfulness and relevance, our compliance team manually assess every customer review before it goes live.
We have a zero-tolerance policy for fake reviews, and companies cannot control or alter any reviews at any time.