StrictionBP Reviews
Claimed This company has claimed this profile, is getting alerted on any new customer reviews entering this page, and may engage in dialogue with its customers to address their matters.

Companies cannot pay money or provide goods in order to remove or alter customer reviews.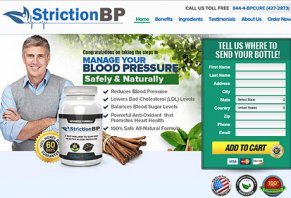 StrictionBP is a daily dietary supplement that claims to use ceylon cinnamon, magnesium, and vitamin B6 to reduce blood pressure, cholesterol, and more.
About StrictionBP
StrictionBP claims to be a 100% safe, all-natural blood pressure management supplement that can reduce blood pressure, lower bad (LDL) cholesterol, and balance blood sugar levels. On top of this, the antioxidants contained in StrictionBP are claimed to promote heart health.
In order to accomplish this, StrictionBP is claimed to include a proprietary blend of the following ingredients, all of which are manufactured in the USA in a GMP-certified and FDA approved facility:
Ceylon Cinnamon – May help reduce systolic and diastolic blood pressure.
Magnesium – Claimed to help dilate and relax your blood vessels, which results in improved blood flow.
Vitamin B6 – May help reduce homocysteine levels in the blood, which can help prevent damage to your blood vessel linings.
In order to achieve its claimed benefits, the company recommends taking StrictionBP twice daily. And when compared to prescription medications, StrictionBP's natural formula is claimed to help you avoid unwanted side effects such as erectile dysfunction, depression, skin rash, and more.
You've probably tried wrangling your high blood pressure down for years, with only a limited amount of success. And when it was properly addressed, the side effects from your prescription medications seemed to be worse than the high blood pressure itself. But have you finally found an answer with StrictionBP? Consider the following:
Is StrictionBP Clinically Proven?
No, but you could be forgiven for thinking otherwise.
This is because the facts and figures provided on the StrictionBP website reference the ingredients it contains (although it doesn't specify which ones), not the supplement itself.
But what does science have to say about these ingredients?


Keep in mind that only StrictionBP's ingredients have been clinically tested, not the supplement itself.
Are StrictionBP's Ingredients Effective?
According to WebMD, there is insufficient clinical evidence available showing that cinnamon can provide any of the benefits claimed by StrictionBP's manufacturer. However, magnesium can be effective for high blood pressure during pregnancy, and is listed as "possibly effective" for irregular heartbeat, diabetes, high cholesterol, and chest pain. Vitamin B6 is also listed as "possibly effective" for high blood pressure.
With this said, there isn't a product label provided on the StrictionBP website, so we're not informed if this is all the ingredients contained in the supplement, how much of each ingredient it contains, or whether or not there's enough of each to be effective.
Because of these concerns, if you're looking to address your blood pressure using a supplement, you might want to purchase magnesium and vitamin B6 supplements independently (we'll talk more about this in the final section).
Other Methods of Controlling Blood Pressure
Outside of supplements, the Mayo Clinic recommends the following in order to naturally address your high blood pressure:
Lose extra weight
Exercise regularly
Eat a healthy diet
Watch your sodium intake
Limit your alcohol consumption
Avoid tobacco use (as well as secondhand smoke)
Reduce your caffeine intake
Why Aren't Consumers Raving About StrictionBP
Given how effective StrictionBP is claimed to be, you might think that everyone would be talking about the supplement. However, this doesn't seem to be the case. This is because, despite the fact that the StrictionBP URL was first registered in November 2013, there weren't any online customer reviews for the supplement at the time of our research.
However, we did learn that StrictionBP is manufactured by Optimal Health Products, LLC, based out of Wilmington, DE. The company holds an F rating with the Better Business Bureau based on more than 90 complaints (as of 2/9/15). Important Note: The manufacturer only responded to 2 of these complaints, which could be indicative of what you'll experience if you need to get in touch them.
StrictionBP Pricing & Refund Policy
StrictionBP is only available though the manufacturer, and in the following purchasing options:
1 Bottle: $39.95 plus $6.99 S&H
Buy 2, Get 1 Free: $79.90 plus $8.99 S&H
Regardless of which option you choose, you'll also be signed up for the company's autoship program. This means you'll continue receiving a fresh supply of StrictionBP every 30 (or 90) days, and your credit card will be charged $39.95 plus $6.99 S&H (or $79.90 plus $8.99 S&H) each time.
Important note: Based on our professional experience, nutritional supplements sold with automatic autoship enrollments are often more about locking you into recurring shipments (and charging your credit card accordingly) than they are about providing you with any kind of real benefits.
With this said, StrictionBP comes with a 60-day refund policy, less S&H charges. In order to request a refund or cancel your autoship enrollment, you'll need to contact customer service at 844-427-2873.
Will StrictionBP Help to Naturally Reduce Your Blood Pressure?
Chopping to the point: The short answer to this question is: Maybe.
This is because, although some of the supplement's ingredients are possibly effective for reducing blood pressure and addressing other heart-related issues, we're not informed how much of each ingredient contains. As such, there's no way to tell if StrictionBP contains enough to be effective.
Considering this important fact, along with the company's autoship enrollment after your purchase, this means it ultimately might not be worth its relatively high price.
Instead, if you're looking to address your high blood pressure using a supplement, we might recommend purchasing magnesium and vitamin B6 at your local pharmacy, for a much lower price than StrictionBP.
2 out 2 people found this review helpful

This appears to be a product that sparked my interest? But...

By Robert D.

,

Jacksonville Fl

,

Nov 20, 2019
Verified Reviewer

I too attempted to order a single bottle of StrictionBP but the screen went blank like a previous reviewer mentioned. Then a notice popped up for a second that said scam with my credit union's name on it with the exact amount? I guess I must wait until Monday to check? The product sounds promising. It's not ever a miracle cure. You MUST also change your diet, get off your butt and exercise. I too have side effects from those conventional medications. But CUSTOMER service is of utmost importance! StrictionBP must narrow their ordering practices. Can you send in an old-fashioned check or money order when ordering? Merry Christmas!

Bottom Line: No, I would not recommend this to a friend

Nov 24, 2019

Greetings Robert!

Thanks for your review! We sincerely appreciate our customers taking the time to share their experiences with us and always take the feedback to heart.

We are concerned about this pop-up that appeared notifying you of a scam? This is the first we've heard of this and would certainly like to address it. Rest assured, however, that our site is secure, our products and available offers are legitimate, and we take the partnership towards a healthier you very seriously.

At this time we only accept payment via Credit/Debit card, and cannot process payments via cash, check, or pre-paid card. We apologize for this inconvenience, but hope that we can still earn your confidence to assist you in meeting your health & wellness aspirations.

If you have any open questions or concerns, please do not hesitate to contact us, toll-free, at 1-844-248-3717 and we'd be happy to assist you 7-days a week.

You can also reach out to me personally at: Trevor.F@optimal-health.com, if there is anything I can do to help.

Kind Regards,

Trevor Frank

Director of Customer Support

---

12 out 12 people found this review helpful

Scammers

By Tom G.

,

Chesapeake, VA

,

May 29, 2019
Verified Reviewer

I have been trying to cancel my subscription for several weeks. Their numbers are fake. No one answers an email. Hence a scam. I had to have my bank cancel their dollars and block them from my credit card. Stay away from them. SCAMMERS.

Bottom Line: No, I would not recommend this to a friend

Jun 2, 2019

Hi Tom,

I hope this note finds you well. My name is Trevor, and I am a member of the Optimal Health & Wellness Team. StrictionBP is one of our most popular premium supplements.

First and foremost, I'd like to thank you for purchasing StrictionBP! With our tens of thousands of satisfied customers, you can rest assured that we value each customer and our customer interactions. As such, your feedback is extremely important and we will work hard to correct any less than satisfactory experience.

As it relates to your specific complaint; I've checked our e-mail inboxes for any messages from you and could not procure any results. Can I ask which e-mail address you were using to attempt to make contact?

We can also attest to the fact that our customer service staff is in the office and taking calls, 7-days a week, and can be reached at the toll-free number on our website, which is listed in the upper right corner of the home page (1-844-248-3717). We also have an automated voice service which can perform basic tasks such as cancelling your account which is available on that line, 24-hours a day, 7-days a week.

That being said, it's never our intention to leave anyone feeling frustrated or that they're unable to reach out and get their concerns addressed. At this time we have located your account and successfully cancelled out recurring shipments to ensure that no future charges are accrued. We also want to do our part to make this right.

I would like the opportunity to review your account and ensure that this has been fully resolved to your satisfaction. If you could, at your convenience, please e-mail me at: Trevor.F@optimal-health.com and I'll be certain to reply within 24-hours.

Thank you in advance for your patronage, and for giving StrictionBP the opportunity to earn your business.

We wish you good health.

Sincerely,

Trevor Franke

Director of Customer Support

General guidance related to common customer questions:

Looking for shipping updates?:

Orders are typically shipped out within 24-48 hours of being placed. When orders are shipped, you should be notified via email with tracking information. Although this happens seamlessly in the vast majority of cases, there are times when these notifications can get filtered as spam or are simply overlooked.

If you've exhausted all avenues at finding this notification, we encourage you to reach out to us toll-free at: 844-248-3717. We are available Monday-Friday from 7:00 AM (CST) to 7:00 PM (CST), and Saturday-Sunday from 8:00 AM (CST) to 4:30 PM (CST).

Billing Inquiries:

If you have questions about a charge associated with your order, or would like to change or cancel your StrictionBP order profile, we are available and happy to help you. Simply call us at the number above.

---

Advertisement

---

20 out 20 people found this review helpful

Don't waste your money

By Fred R.

,

Honolulu, HI

,

Feb 6, 2019
Verified Reviewer

I purchased a trial, took for three months to no results. I called to cancel auto shipping, they said it already left the warehouse. I would have to call back for a return authorization after I got the package. When I got the package, I called and they gave me such a ration of crap about returning it. I will not do business with them again.

Bottom Line: No, I would not recommend this to a friend

Feb 13, 2019

Hi Fred,

I hope this note finds you well. My name is Trevor, and I am a member of the Optimal Health & Wellness Team. StrictionBP is one of our most popular premium supplements.

First and foremost, I'd like to thank you for purchasing StrictionBP! With our tens of thousands of satisfied customers, you can rest assured that we value each customer and our customer interactions. As such, your feedback is extremely important and we will work hard to correct any less than satisfactory experience.

As it relates to your specific complaint; I would need to see your account directly to determine if process was followed here; but it's never our intent to leave our customers with a bad taste in their mouth after doing business with us. We try to be transparent when new shipments are due to arrive with things like e-mail notifications; but we know they can often be filtered as spam and never reach a pair of eyes.

The billing of our products does coincide with the shipment of new product to you; so, although I do see the scenario of the shipment already leaving the fulfillment center as feasible, we don't want to make you jump through hoops to cancel, return product, or get a justifiable refund.

I would like the opportunity to review your account and ensure that this has been fully resolved to your satisfaction. If you could, at your convenience, please e-mail me at: Trevor.F@optimal-health.com and I'll be certain to reply within 24-hours.

Thank you in advance for your patronage, and for giving StrictionBP the opportunity to earn your business.

We wish you good health.

Sincerely,

Trevor Frank

Director of Customer Support

General guidance related to common customer questions:

Looking for shipping updates?:

Orders are typically shipped out within 24-48 hours of being placed. When orders are shipped, you should be notified via email with tracking information. Although this happens seamlessly in the vast majority of cases, there are times when these notifications can get filtered as spam or are simply overlooked.

If you've exhausted all avenues at finding this notification, we encourage you to reach out to us toll-free at: 844-248-3717. We are available Monday-Friday from 7:00 AM (CST) to 7:00 PM (CST), and Saturday-Sunday from 8:00 AM (CST) to 4:30 PM (CST).

Billing Inquiries:

If you have questions about a charge associated with your order, or would like to change or cancel your StrictionBP order profile, we are available and happy to help you. Simply call us at the number above.

---

17 out 17 people found this review helpful

Fake information phone number given for customer service

By JoAnne T.

,

Texas

,

Nov 17, 2018
Verified Reviewer

I have tried to contact StrictionBP by phone number given, and it's not a working number. So I am canceling my orders. Google had the same number, no response. I wish to cancel the service auto-refill. If anyone knows a correct number, please let me know. Thank you.

Bottom Line: No, I would not recommend this to a friend

Jan 15, 2019

Hi JoAnne.

I hope this note finds you well. My name is Trevor, and I am a member of the Optimal Health & Wellness Team. StrictionBP is one of our most popular premium supplements.

First and foremost, I'd like to thank you for purchasing StrictionBP! With our tens of thousands of satisfied customers, you can rest assured that we value each customer and our customer interactions. As such, your feedback is extremely important and we will work hard to correct any less than satisfactory experience.

As it relates to your specific complaint; I understand that there has been some difficulty in reaching our customer service team, and for that, we sincerely apologize. What I can confirm is that our customer support lines are working and our support team is receiving calls at 844-248-3717 Monday-Friday between the hours of 7:00 AM – 7:00 PM (EST), and on weekends from 9:00 AM – 5:30 PM (EST). This is always the case, so I can't say why you were having so much difficulty reaching us.

These contact details are included in the documentation you would have received with your order as well as being provided on our website and on the numerous emails you would have received after you placed your order. Additionally, I did find this number when I did a google search.

Is it possible you have been calling outside of our customer support hours?

Can you let me know what telephone you have been calling and where you got it?

Also, if you would prefer to e-mail us, you can do so at ContactUs@StrictionBP.com.

All that said, our objective is to ensure you are completely satisfied and to learn that we fell short of your expectations is unacceptable.

If you would be so kind, and if this issue is still open… please feel free to contact me directly at Trevor.F@Optimal-Health.com and I would personally like to make this right for you.

Thanks so much for your patronage.

We wish you good health.

Sincerely,

Trevor Frank

Director of Customer Support

General guidance related to common customer questions:

Looking for shipping updates?:

Orders are typically shipped out within 24-48 hours of being placed. When orders are shipped, you should be notified via email with tracking information. Although this happens seamlessly in the vast majority of cases, there are times when these notifications can get filtered as spam or are simply overlooked.

If you've exhausted all avenues at finding this notification, we encourage you to reach out to us toll-free at: 844-248-3717. We are available Monday-Friday from 7:00 AM (CST) to 7:00 PM (CST), and Saturday-Sunday from 8:00 AM (CST) to 4:30 PM (CST).

Billing Inquiries:

If you have questions about a charge associated with your order, or would like to change or cancel your StrictionBP order profile, we are available and happy to help you. Simply call us at the number above.

---

Advertisement

---

6 out 8 people found this review helpful

Works as well, if not better than my pharmaceutical medication did.

By Rennah B.

,

Massachusetts

,

Sep 6, 2018
Verified Reviewer

I ordered StrictionBP to avoid taking other forms of medication, which have a lot of nasty side effects. Striction has lowered my blood pressure more than any of the medications I had been given previously. Not only that, I haven't had a cold in almost three years since I've been taking it. For that alone, it's worth taking. I'm thinking it's the Ceylon Cinnamon.

As for ordering it, I do it by the month or when I need it. I have had no problems with billing, and everyone there is helpful when you call.

Bottom Line: Yes, I would recommend this to a friend

---

5 out 6 people found this review helpful

Works for me

By Paul T.

,

Michigan

,

Aug 21, 2018
Verified Reviewer

I have been taking it for two years and have been able to get off of half my blood pressure meds while maintaining a drop from 150/97 to an average of 127/76. It is nice only to have to take one pill instead of two that didn't drop my blood pressure. I wish I could get off all my meds, but this has cut them in half.

Bottom Line: Yes, I would recommend this to a friend

---

28 out 28 people found this review helpful

Ordering irregularities

Los Angeles, CA

,

May 9, 2018
Verified Reviewer

After reading about StrictionBP, it seemed like a healthy supplement. I immediately ran into problems after filling out the order form. I pushed submit and all of my information went blank. I was faced with a new blank order page and attempted to place my order again, but the same thing occurred - a blank page.

I immediately called my bank only to find out that instead of the one order I intended to place, I was debited for two separate orders. Basically, each time you push submit and the screen goes blank, customers are tricked into filling out a second blank order form, believing that there was a glitch and the first order did not go through. However, by refilling a blank order form you are placing a second order, and your debit or credit card is charged twice the amount you intended.

The company does not notify the customer that their first order went through, making the customer feel as if they must repeat the process. This is tantamount to an AUTO-ORDER scam. Thank God my bank was looking out for me and they declined both orders even though there was plenty of money in my account. Evidently, the auto reorder which took place triggered a red flag at my bank, and that's why they declined both orders.

After reading other negative reviews, I decided to follow the advice of simply purchasing cinnamon from a market or health food store and the B-6 over the counter at any pharmacy.

Bottom Line: No, I would not recommend this to a friend

Jan 17, 2019

Hello Milton,

My sincere apologies for the delay in responding to your review - we've missed some of these as they are on a third-party site and not always on our radar. My name is Trevor Frank, and I am a member of the Optimal Health & Wellness Team. StrictionBP is one of our most popular premium supplements.

First and foremost, I'd like to thank you for your interest StrictionBP! With our tens of thousands of satisfied customers, you can rest assured that we value each customer and our customer interactions. As such, your feedback is extremely important and we will work hard to correct any less than satisfactory experience.

As it relates to your specific complaint; it's totally understandable why you'd be frustrated by the experience you've detailed, and we can assure you that it isn't our intent to mystify or confound our customers by auto-enrolling them into unknown membership programs with unforeseen associated costs. The experience detailed sounds more like an anomaly, as anyone signing up for our product should receive order confirmation both through our site and via e-mail detailing what to expect throughout your tenure with us as a customer. The fact that you did not would allude to a potential website anomaly or system issue, which we apologize for and do work diligently at correcting when our testing finds such a discrepancy.

Furthermore, we're glad to hear you've found another blood pressure regiment that you're trying but can assure you that there is more to Striction BP than some over-the-counter vitamin shop cinnamon and a generic b-vitamin supplement.

We would love to be able to show you what Striction BP may be able to do for you and correct any previous shortcomings if you'd allow us to. We would implore you to reach out to us at your convenience, at 1-844-248-3717, and we can extend a courtesy discount of 50% on your order.

Also, if you would prefer to e-mail us, you can do so at ContactUs@StrictionBP.com, or you can reach out to me directly at Trevor.F@Optimal-Health.com, and I'll do everything I can to help make this right.

Thanks so much for your interest in our products.

We wish you good health.

Sincerely,

Trevor Frank

Director of Customer Support

General guidance related to common customer questions:

Looking for shipping updates?:

Orders are typically shipped out within 24-48 hours of being placed. When orders are shipped, you should be notified via email with tracking information. Although this happens seamlessly in the vast majority of cases, there are times when these notifications can get filtered as spam or are simply overlooked.

If you've exhausted all avenues at finding this notification, we encourage you to reach out to us toll-free at: 844-248-3717. We are available Monday-Friday from 7:00 AM (CST) to 7:00 PM (CST), and Saturday-Sunday from 8:00 AM (CST) to 4:30 PM (CST).

Billing Inquiries:

If you have questions about a charge associated with your order, or would like to change or cancel your StrictionBP order profile, we are available and happy to help you. Simply call us at the number above.

---

42 out 43 people found this review helpful

This company takes your money and lie that they have to order product themselves

South Carolina

,

Jan 7, 2018
Verified Reviewer

I ordered a bottle on December 30, 2017, and never received an order confirmation. After numerous calls to the company and their excuses, finally they gave me a new confirmation number on January 6th, 2018, with 3 bottles complementary of the troubles I had, only to find out they can't send it because they themselves don't have it, they have to order it. And I still don't have the item I paid. It's a scam and I'm getting the attorney general involved and my credit card company to investigate this fraud.

Bottom Line: No, I would not recommend this to a friend

Jan 17, 2019

Greetings Jesse,

My sincere apologies for the delay in responding to your review - we've missed some of these as they are on a third-party site and not always on our radar. My name is Trevor Frank, and I am a member of the Optimal Health & Wellness Team. StrictionBP is one of our most popular premium supplements.

First and foremost, I'd like to thank you for your interest StrictionBP! With our tens of thousands of satisfied customers, you can rest assured that we value each customer and our customer interactions. As such, your feedback is extremely important and we will work hard to correct any less than satisfactory experience.

As it relates to your specific complaint; I understand why what you've detailed here would be so frustrating, and can assure you if any shortage of product were to ever occur, it would be rare, and amended quickly. We do send out tracking information via e-mail automatically once an order is shipped, and if there are delays, usually you'll be notified through this method as well - however, with modern e-mail filters being what they are, much of our proactive communication can be labeled as spam, and never ends up reaching the intended eyes of our customers.

That being said, we can assure you that our product, company, and satisfied customer base are certainly not a scam. Striction BP is a great product that helps thousands every month successfully manage their blood pressure. We would love the opportunity to prove that to you and correct this.

If the interest still remains, we would love to hear from you at your earliest convenience at 1-844-248-3717. I can confirm we have product in-stock, and ready to ship. We will also honor any previous commitments made, and provide the courtesy 3 bottle supply as well to ensure you can experience the product thoroughly, and what it can do for you.

Also, if you would prefer to e-mail us, you can do so at ContactUs@StrictionBP.com, or you can reach out to me directly at Trevor.F@Optimal-Health.com, and I'll do everything I can to help make this right.

Thanks so much for your interest in our products.

We wish you good health.

Sincerely,

Trevor Frank

Director of Customer Support

General guidance related to common customer questions:

Looking for shipping updates?:

Orders are typically shipped out within 24-48 hours of being placed. When orders are shipped, you should be notified via email with tracking information. Although this happens seamlessly in the vast majority of cases, there are times when these notifications can get filtered as spam or are simply overlooked.

If you've exhausted all avenues at finding this notification, we encourage you to reach out to us toll-free at: 844-248-3717. We are available Monday-Friday from 7:00 AM (CST) to 7:00 PM (CST), and Saturday-Sunday from 8:00 AM (CST) to 4:30 PM (CST).

Billing Inquiries:

If you have questions about a charge associated with your order, or would like to change or cancel your StrictionBP order profile, we are available and happy to help you. Simply call us at the number above.

---

64 out 66 people found this review helpful

Garbage

By David Heino

,

Taylor, MI

,

Dec 11, 2017
Verified Reviewer

I have high blood pressure and my doctor has me on three different medications. I saw the commercial for StrictionBP and liked how it was all natural and could lower my blood pressure without the other drugs. They offer you a trial period to allegedly try the product but they don't tell you the trial period starts the moment you put in your order. So by the time the pills get to you, you've already been billed for the next shipment. Well, I started taking it right away, two pills in the morning, and then two more at night. It hasn't done a thing to my blood pressure. Even with the medications, I'm on from my doctor my blood pressure is still ranging from 141/84 to 165/96.

StrictionBP is a total waste of money and should not be considered for purchase. In the commercial, it said it could lower your blood pressure by up to 25 points. It hasn't done squat. Run away from this scam garbage.

I called to tell them to cancel any further shipments since they've already charged me for a second bottle. The girl said "why do you wish to cancel" and I told her the product is garbage and doesn't work like it's advertised. So she says "if I offer you a bigger discount and throw in some other health products would you be interested?" I said, "maybe one of those products works on hearing, as I just told you it's garbage and doesn't do anything remotely close to what you advertise." Then she offered me a bigger discount.

Bunch of scammers and all these fake pills. As long as you can call it a "dietary supplement" then you can make just about any claim you want.

Bottom Line: No, I would not recommend this to a friend

---