80 Day Obsession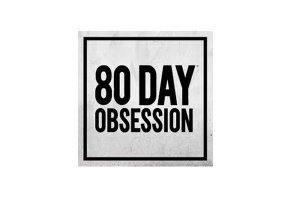 Summary
Beachbody promises that its 80 Day Obsession program will jumpstart your fitness goals and challenge you to reach the next level physically. Most users love it, and if you don't, Beachbody On Demand has additional programs in its library that can better suit your needs.
Pros
The program includes 14 weeks of unique workouts
Challenging classes for all fitness levels
Beachbody On Demand membership gives you access to dozens of additional programs
Cons
Spotify music integration isn't ideal
You'll need a variety of hand weights and other equipment to get full benefits of the program
80 Day Obsession Review: A Detailed Look
Fitness trainer Autumn Calabrese wants to help you build a workout habit and tone your glutes, sculpt your core and improve your total body health in just 14 weeks with this program that puts the focus both on exercise and eating right.
Offered by Beachbody On Demand, this diverse workout series switches up your activities six days a week to give you strength training, core and cardio work, and recovery days. It's designed for people at an intermediate fitness level who are ready to challenge themselves.
Each workout can be performed away from the gym, though you'll need some specialized equipment on hand like dumbbells, resistance bands, and an ab slider.
In this review, we take a detailed look at the 80 Day Obsession program to help you decide if it is right for you.
Program Details
Once you make an account with Beachbody On Demand, you'll gain access to the full 80 Day Obsession program. This includes a quick-start video, a guide to the eating plan, an 80-day workout calendar, monthly lifting weights trackers, and the full workout program.
These workouts are split into four categories:
Phase 1: Days 1–26
Phase 2: Days 27–50
Phase 3: Days 51–74
Peak Week: Days 75–80
Each day's workout will have a different focus, including legs, booty, core work, cardio, and more, and most are approximately 45–60 minutes.
Recovery day classes may be as short as 20 minutes.
Program Benefits
80 Day Obsession promises to help you gain all-over-fitness through a combination of healthy eating habits and a daily changing workout plan. Is this an effective way to tone up? Research indicates that it is.
Time and again, using a variety has been proven to be one of the most effective forms of exercise. A mix of cardio, flexibility work, and strength training is proven to lead to good long-term health outcomes.
As an added benefit, regularly switching up your workout can prevent you from getting bored with it and may help you maintain your fitness habit long-term.
Diet is the other side of the equation. 80 Day Obsession advocates for a focused eating plan based on your specific caloric needs.
You are meant to do a personal calorie calculation before each phase of the plan and then to meal prep based on your results.
There is also an option to purchase portion control containers from Beachbody to ensure you stay within your recommended perimeters.
This method shows promise, as studies have found that pre-planning what you eat prevents unwanted snacking and better keeps you within your caloric limits.
My Experience with 80 Day Obsession Workouts
I signed up and started sweating in the day one class (Total Body Core). Each video begins with a health disclaimer and an introduction from Calabrese. She leads the class with six participants behind her.
There's an informal time at the beginning where everyone gathers equipment before starting an aerobic warmup consisting of jumping jacks and similar moves.
I was surprised the workout started without any music—you need to sync your Spotify account with the program's pre-made playlists designed for each class type (cardio, core, etc.).
While this gives users the flexibility to listen to different music if desired, I found it cumbersome to have to navigate two different apps to get a workout.
The workout quickly transitioned from a warmup to involving hand weights and resistance bands. This equipment is clearly essential for following the program.
Calabrese spends portions of the class walking around the participants, encouraging and correcting form.
Throughout the workout, we transitioned from floor exercises to light cardio, all while keeping the core muscles activated.
Though it was a full hour class, I felt like the time flew, and the moves maintained a gentle intensity the whole time.
I was breathing hard and sweating by the end but was able to complete the entire workout with only a few breaks and modifications.
Waking up with sore abs the following morning, I decided to try day two's 45-minute cardio flow class.
All that was needed was water and lots of space to move around—no weights or resistance bands today. The class is set up to include multiple sets of the same cardio moves so that you can learn them quickly.
Unlike the previous day's workout, even the warmup got me sweating in this class. I had to take a few breaks to catch my breath but found it encouraging that the other class participants seemed to be struggling slightly too.
Overall, Calabrese kept up a steady workout pace throughout the whole class that wasn't demoralizing but made me feel like I was putting in an effort.
I appreciated that the workout involved so many repeat sets because it let me know what was coming next so I could mentally prep for it.
I found both 80 Day Obsession workouts to pack in an impressive amount of exercise within each class. Many of the moves were ones I was familiar with like mountain climbers and jumping jacks, but there was enough that was new to keep things stimulating.
Following this workout series for the full 80 days is sure to be brutal at times, and should lead to significant fitness improvements by the end.
Analysis of Customer Reviews
17 customers reviewed the 80 Day Obsession on our website, for an average rating of 3.2-stars, with a 47% recommendation rating. We've summarized the positive and negative opinions below:
Compliments:
Engaging enough to stick with for the long term
Autumn is a talented, motivating instructor
Good mix of high and low-intensity workouts
An effective way to lose weight
Complaints:
You'll need to have a lot of different sized weights and other accessories on hand
Not suitable for beginners, those with injuries
No noticeable results for some participants
Pricing and Return Policy
80 Day Obsession is available as part of the Beachbody On Demand membership. This subscription gives you access to the platform's full content library, which includes other courses like PiYo, Morning Meltdown 100, LIIFT4, and P90X3.
Membership is available at the following price points:
$39 for three months (14-day free trial)
$59 for six months (30-day free trial)
$99 for a year (30-day free trial)
Each of these subscription options will automatically renew unless you cancel ahead of time.
You can also purchase a variety of accessory packs designed specifically for 80 Day Obsession workouts.
The basic package costs $59.99 (plus shipping) and includes 9-inch and 12-inch resistance loops, strength slides with booties for glute and core work, seven portion-control containers for food prep, a program intro guide and workout calendar.
Other bundle deals can include subscriptions for Beachbody of Demand brand supplements or Shakeology superfood meal replacement shakes.
Each physical purchase qualifies for a 30-day money-back guarantee where you can get a full refund, minus shipping.
Popular Alternatives to 80 Day Obsession
Depending on what you are looking for, there are a number of alternatives worth considering.
If you primarily want access to home workouts and don't need the structure of a pre-set schedule, then you're likely to find that in virtual workout programs like Aaptiv, Peloton Digital, and Daily Burn.
Each offers a variety of workout options at a set price point, ranging from $12.99–$19.99 per month. Aaptiv workouts are audio-only, while Peloton Digital and Daily Burn offer both video and audio classes as well as options to join live classes.
What you're losing with these alternatives is the structure of 80 Day Obsession that comes with a workout calendar and a clear roadmap of what workouts you need to do each day.
This might create accountability for people who aren't used to working out and need help establishing a routine. However, it could feel stifling for those already with a fitness habit.
Another consideration is that the plan lasts less than four months; after that, it's up to you to start it over or find another way to maintain your results.
The Bottom Line
Fans of Beachbody On Demand style workouts will find a lot to like about 80 Day Obsession. This 14-week program covers a variety of fitness movements and techniques to give you a full-body workout. Regardless of your fitness level, you'll likely start sweating within minutes.
What might be annoying for some is the program's lack of music integration. I didn't appreciate having to sync my Spotify with the workouts and didn't find the pre-created playlists to flow seamlessly with the classes.
Lastly, signing up for Beachbody On Demand means that you will have access to dozens of additional Beachbody fitness programs if you decide 80 Day Obsession isn't right for you.
Customer Reviews
Posted on Apr 6, 2018
Biggest Beachbody dud ever
First off, we were all lied to. We were told that this would be 80 days of 80 different workouts. This is a flat out lie. There are truly only 3 weeks worth of workouts. The rest of the time is just changing the number of reps of those workouts. This was false marketing and a major disappointment. You have to do the exact same moves for a month, before moving onto the next month's moves.
Second, Autumn is unbearably obnoxious. You would think that a high-profile Beachbody trainer, given the unique opportunity to provide the longest live-format workout program on the Beachbody On Demand platform, would take this task seriously. Quite the contrary: she laughs and jokes with the cast and crew so often that she forgets what move she is on and what rep number she is on in every video. There are so many times throughout the entire program that she is giggling so much about stupid inside jokes with her cast and crew, that she messes up the pacing of the workout and inserts an inappropriate laugh break into the video.
Yet, when you absolutely need a break from a hard move, she moves on so quickly that you have to pause the video to grab appropriate equipment for the next move. Her pacing is nonsensical. There is no rhythm of sets with defined breaks. No, it's laugh breaks or no breaks at all. It's a waste of time.
Not to mention that her constant horsing around is utterly distracting from the workout. How can someone perform the hard moves, be motivated to keep going, and feel confident about achieving progress, when Autumn can't even take her own workout seriously? Let me get this straight. The viewer/customer is NOT in on the inside jokes, nor are they funny when she tries to explain to the camera, nor should we even be joking when there is a hard workout to be done.
Speaking of hard workouts, an unfocused, clownish trainer is NOT the personality type you need when doing compound movements with weights, where an injury is a big risk. There are infinite tips that an experienced trainer can give you regarding form for each move. Well, instead of helping you with form to prevent injury, Autumn is laughing up a storm and asking a crew member to pick up her dumbbell for her. Yeah, really motivating.
Because of her complete inattention to pacing, form, and proper breaks, you feel one of two ways after each workout: 1) overtrained and extremely fatigued, or 2) bored and not having worked up a sweat at all.
After the first month, I had to start muting the audio and playing music instead, to avoid her cringe-worthy, unwelcome jokes. This didn't mean that I was spared the laughing fit breaks, though; I only was spared having to hear the lame jokes. After the second month, a couple of weeks into phase 3, she managed to penetrate through the muted audio to finally execute the biggest dealbreaker ever: she began joking around and doing inappropriate moves onscreen. I did not pay a lot of money on BOD, Beachbody equipment, Shakeology bundles, and dumbbells to watch my trainer spank the air as if there was a butt in front of her and do other suggestive moves onscreen.
This was the last straw for me. I quit the program at Day 60 and immediately segwayed into the Insanity program. I am so much happier with Shaun T as a trainer. He gives timed breaks, is motivating, talks about form nonstop, and gives tips on how to modify or get more out of your workout. Because of this, I am getting quicker results. He makes Autumn look like a joke.
I absolutely do not recommend 80 Day Obsession for anyone. It is a waste of time, and you can spend 80 days or more doing another workout with a trainer who actually takes exercise seriously. Or you could even go to a gym and do your own workout and take your own self seriously.
I would also like to mention that this program doesn't even work for weight loss or visible toning. I was in an accountability group on Facebook with hundreds of other people doing 80 Day Obsession. We were not even told how the structure of the program would help with weight loss by the coaches in the group. We were all just told to "trust the process," over and over and over. Dozens of women who followed the program and nutrition to a T (at 100% compliance, with no cheating, like I did) were frustrated for TWO MONTHS (mind you, this is a 3-month program) by actual weight GAIN and no change in clothing fit. It was then that we were told that we would "shred" in month 3. What a joke. Phase 3 doesn't even make you break a sweat. I sweated more doing Insanity's first workout than any 80 Day Obsession video, including the phase 3 videos.
I wasted my time with 80 Day Obsession. I would be at my goal by now if I had just started (and completed) Insanity or my own gym routine instead.
Bottom Line: No, I would not recommend this to a friend
Posted on Jan 23, 2018
Beware
You are told by the coaches that "there are 80 different workouts." So far, this is a lie. We finished the first week and when I went to preview the second week, each day has the same moves, you simply increase reps. I feel like I was misled by my coach. The timed nutrition is difficult to follow, unless you don't work. I am very upset at how misleading this program is.
Bottom Line: No, I would not recommend this to a friend
Posted on Mar 27, 2018
Misleading
This program only gets dramatic results for people who have already been working out for at least 6 months or for skinny people who want to build muscle. The timed nutrition program does not help you lose weight even in the weight loss bracket. The workouts can get annoying because they waste time towards the end joking around and pausing for no reason. There is so much up and downshifting in the cardio flow workouts that you get dizzy. It's not really 80 days, it's 90. The bands roll around your thighs and leave bruises. The sliders pop out under your feet frequently. I wasted three months of hard work and doing timed nutrition to lose 5 pounds and a few inches. I could have done that walking my dog.
Bottom Line: No, I would not recommend this to a friend
Posted on Mar 10, 2018
Mixed feelings
I was so excited to start this program. I loved all of Autumn programs, and just love Beachbody in general, so after doing several programs, I was immensely looking forward to this one.
At first, I loved the new exercises, the variety of loops, sliders, and weights. But then as the program progressed, I started really finding the hour workouts just not enjoyable due to the repetitiveness of the third rounds. I had very good results with 30-minute workouts, and especially 21 Day Fix, so to simply double a workout and call it Obsession started to seem a little annoying to me. I found her less coaching and motivating, and more joking around with the cast. For someone at home working out by themselves, watching someone just laugh and take their time while waiting for the next move just began to get obnoxious for me.
It's unfortunate for me to even feel badly towards one of her workouts and feel the need to leave a review, but I needed to be honest. I would, however, be lying if I said that I did not get any results. During phase one my body started feeling better than ever, but to not enjoy the workouts as each day went on, I just didn't find it worth it. I'm on day 45 and I really just started to tune out and lose motivation.
Would I say it's a waste of time? No. There are many enjoyable things about it. Would I recommend it over other programs? No. Will I most likely finish the program but leave out the workouts I despise, such as Cardio Flow? Yes. Sorry Autumn, but this program wasn't my favorite.
Bottom Line: No, I would not recommend this to a friend
Posted on May 27, 2018
The cons outweigh the pros
It's. So. Boring. Do this program if you enjoy 80 days of Autumn's lovely voice screaming "What happened?" "What's going on back there?" "C'mon guys, WAKE UP, you're so quiet!" First off, no one does workout videos to hear comments from the background crew. Secondly, those fools don't even have microphones, we the audience can't hear them when they do speak up (Autumn can't seem to hear them either). Third, for what I can gather, all their conversations revolve around how the moves are hard and they don't want to do them. Very motivating.
Sure, it is interesting to use different types of equipment but constantly transitioning between weights, sliders, and loops wastes time and can be frustrating when you're trying to keep up. Plus, those loops slide and leave bruises! You can get a much better burn from shorter workouts with simpler moves and simpler equipment requirements.
I'm on day 63, so there's no turning back. I'll finish it and NEVER do it again. I see no results and honestly, I see no changes in any of the participants in the videos (but they started out with ideal bodies anyway). I can't wait to get back to my old buddy, Shaun T.
Bottom Line: No, I would not recommend this to a friend
Posted on Mar 27, 2018
Absolutely love it, and looking forward to repeating it
I'm halfway through Phase 3, and was a little worried in Phase 1 because I thought it might be a bit too simple. Phases 2 and 3 changed my mind. The workouts ARE different between phases, and the reps and execution of the workouts are different within phases (e.g., sometimes you do 2 sets of 15, sometimes 3 sets of 10, sometimes you change the order, etc.). You truly do not do the same workout twice, and interestingly, it really does make a difference. The nutrition is key. It will require attention and diligence, and you can't expect to exercise your way out of bad nutrition choices, but they can't make the program any clearer.
The user is not off the hook; it requires discipline and perseverance and consistency to change your body. But if you bring those three traits to THIS program, then change you shall. The best thing is that, once the 80 days are over, you can do it again, and it will still be a challenge, because there's always a way to do the workouts better, lift heavier weights, tighten nutrition, etc. The results will keep coming. It is NOT A QUICK FIX. It's WORK. And IT WORKS.
Bottom Line: Yes, I would recommend this to a friend
Posted on Feb 13, 2018
Thought they should get another star
I just started the first day of phase 2 and it's really a great workout, so I wanted to give it 5 stars. I'm impressed at the strength gains.
Bottom Line: Yes, I would recommend this to a friend
Posted on Jul 7, 2018
Decent exercises, but annoying
I was excited for the workouts as I like Autumn's 30 Day Fix workouts. The exercises are good, but who has super heavy weights at home? I do at home workouts when I can't get to the gym and only have up to 20 lbs.
Mostly, I find the constant chatter annoying and unnecessary. I wish there was music to override all that chatter about body parts, etc, and also to motivate. Exercise is my fun "me time" and music just makes it more fun. Lastly, it is great that the modifier improves and does the advanced moves, but how about also have a modifier who always does the modifications? Preferably someone in their 40s or 50s with injuries and needs to limit jumps and can't go as deep in lunges, etc. More diversity in the group in terms of age would be great- maybe 1/2 can be Fitness models in 20s and 30s, but 1-2 in 40s and 50s would be great.
Overall, ok workouts, but I find it too annoying to do more than a few days a week. I am on day 65 so will finish but will move on to other workouts afterwards.
Bottom Line: No, I would not recommend this to a friend
Posted on Feb 9, 2018
My absolute favorite!
I was very nervous and apprehensive about starting this program. The time nutrition seemed a little scary, and I am terrible at finishing programs that are longer than 3 weeks! But one month in and I cannot wait to keep going. First of all, I need a program that is more weights-based than cardio, because I hate cardio. There is cardio in this program but it is more focused on weights and sculpting.
Secondly, and my favorite part, these were filmed live in late 2017. Which means that they are doing exactly what you are doing and struggling with the same things you are struggling with. They do a weekly video of the cast talking about how their week is going, and it is just so refreshing to see so much honesty in a workout program. The same goes for Autumn. You see so much more of her personality during these workouts. Instead of walking around most of the time, she is like 95% down there doing exactly what you are doing. You also see her have to lighten her weights and struggle with her own issues. The laughing and personal feeling of this program is what makes me so excited to keep going!
And last, the timed nutrition. I have actually been able to follow this nutrition plan more than any other. I guess I needed someone to tell me exactly what to eat and when to eat it. It does require meal prepping and planning, which is something I was terrible out. But the plan is forcing me to things I have never done before, and it makes me feel more confident in my ability to stick with this for another two months!
P.S. As far as the "80" different workouts. Yes, through every phase the moves are the same, but the way the workout is structured is different every day (with the exception of Cardio). However, the cast is showing up every day that you so it feels different every time!
Bottom Line: Yes, I would recommend this to a friend
Posted on Aug 29, 2018
Excellent program if you put in the effort
This program is amazing if you put in the work. I am on my second round of 80 Day Obsession. I recommend this program as it is a good mix of low intensity and high-intensity workouts. I work muscles I never knew I had! Doing the program again is much different. I can definitely do moves I couldn't do on my first round. Is the second time around hard? Definitely. Am I better at it? Definitely. You will be sore in this program. You won't want to do it some days (because you will be tired and sore). However, I recommend you push through. This program is one of the best. You definitely get in what you put out of it!
Bottom Line: Yes, I would recommend this to a friend
Posted on May 1, 2018
Enjoyed the process
I enjoyed going through the 80 Day cycle and the different workouts. Yes, they were not 80 unique workouts, as each phase had same movements repeated with different reps. Still, I did look forward to the workouts each day and the challenge of finishing an 80-day program.
I was worried at first because I don't always have an hour to spare in the morning and prefer 45-minute workouts. Well, no worry there, as people said in other reviews there is a lot of downtime. I just did my set and fast-forwarded the video to the next rep. I guess I missed all the inappropriate jokes that way. LOL.
Seriously, life is too short to worry about some laughter in a workout video. I did my reps and moved on. I don't think I'll repeat the 80 days a second time, but overall it was a pretty good experience for me to get back on road to recovery from a stress fracture.
Bottom Line: Yes, I would recommend this to a friend
Our Promise to You
In order to safeguard you and ensure helpfulness and relevance, our compliance team manually assess every customer review before it goes live.
We have a zero-tolerance policy for fake reviews, and companies cannot control or alter any reviews at any time.