Kinobody Reviews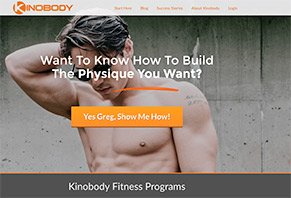 Kinobody's six different fitness and nutrition programs can help you build lean muscle mass, reduce body fat, improve your athleticism, and much more.
What Is Kinobody?
Founded by Greg O'Gallagher, Kinobody's fitness programs claim to help you transform your physique using "proper workout and nutrition strategies."
You'll burn fat while increasing muscle mass, achieve excellent strength and overall fitness, and get the lean, muscular body you've always wanted.
Compared to a lot of other fitness programs, Kinobody claims to not only help you achieve your goals but also to help you create a fulfilling life around them. This is accomplished through Kinobody's six different programs, which we'll talk more about next.
No doubt you've seen a lot of similar claims from dozens of different online fitness programs before, but is there anything that makes Kinobody different?
If so, what kinds of results can you realistically expect? Are their programs worth your hard-earned money? We'll explore all of this and more, here.
What's the Different Between Each Kinobody Program?
Stage 1: The "Warrior" Physique
Kinobody's Warrior Shredding Program claims to be an "intensely focused" strength training plan that can help you:
Get "more chiseled than you ever thought possible,"
Gain muscle in all key areas while simultaneously losing fat,
Boost sex appeal,
Attain the coveted v-shape, and
Drop 6-8 pounds of fat and 2" off your waist,
… in as little as a month. And according to the company, you won't feel hungry or fatigued during the Warrior Shredding Program.
In order to accomplish this, Kinobody claims you'll learn a proven, repeatable, easy-to-follow nutrition and exercise plan that will support muscle gains, testosterone, and workout performance. Just what does this involve? Other than claiming to eat 2-3 large meals per day and exercising 3 times per week, we're not told.
Each Warrior Shredding Program includes a 74-page, step-by-step PDF that unveils how to get ripped faster than you ever thought possible, full workout training videos, a "missing chapter" that shows you how to achieve a defined 6-pack, along with a FAQ guide for quick access to important answers.
Stage 2: The "Greek God" Physique
Kinobody's Greek God Program uses something known as MEGA (Minimal Effort Growth Acceleration) training to take what you achieved in the Warrior Shredding Program and pack on more muscle, but without gaining fat. You'll be able to rapidly and simultaneously "increase strength, muscle mass, proportion, definition, and sex appeal"—just by working out 3 days per week.
Exactly what will you find in the Kinobody Greek God Program? Although we're told few specifics, the company claims you'll be able to learn:
How to maximize dense, rock-hard muscle without hitting a strength-building plateau
If you do experience a plateau, you'll learn 10 different exercise that can help you break through
How often you should work out to maximize strength and muscle gains
How to maximize nutrition, even on a strict budget
… and more!
Kinobody's Greek God Program also includes a FAQ Guide, 3-Day Split Workout Guide, and Private Members Community access.
Stage 3: The "Superhero" Physique
The final stage in Kinobody's muscle development system, the Superhero Program focuses on giving you a perfect v-shape that "women love and men envy."
In order to accomplish this, you'll be shown how to train strategically (e.g. smarter) instead of harder, using something known as rest pause training.
Along with your order, you'll receive the Core Superhero Bulking Program Manual, Workout Substitution Guide, Bonus Module, Lifting Protocol Tutorial, and Living The Superhero Lifestyle e-book.
The Goddess Toning Program
As its name implies, the Goddess Toning Program is a nutrition and workout system that uses strategic cardio and strength training exercises, along with a personalized nutrition plan, to help women achieve a slim, fit, and toned—"not just skinny"—body.
During the Goddess Toning Program, you'll be able to eat what you want while burning fat and toning muscle, without obsessing over diet and exercise, and by exercising just 3-4 days per week. You'll even learn fitness and nutrition tips that can last a lifetime.
Each Goddess Toning Program also includes Exercise Routine Videos, Goddess Mindset & Motivational Workbook, and The Goddess Meal Guide.
Aggressive Fat Loss 2.0
Dubbed the "most effective and sustainable fat loss strategy ever," Kinobody's Aggressive Fat Loss 2.0 system will "reprogram your body" to accelerate fat loss, without having to withstand "extreme fat loss" approaches or crash diets.
Despite this, you'll learn exactly what to eat for every meal, diminish your cravings for junk food, boost mental clarity and focus, and remain satiated all day long.
Granted, Kinobody admits that Aggressive Fat Loss 2.0 takes a "strict approach," although your life won't have to revolve around the program, and you won't be required to avoid carbs or fat.
Each Aggressive Fat Loss 2.0 programs consists of 7 components:
Main Course
Aggressive Fat Loss Cheat Sheet
Audio MP3 course companion
Full exercise tutorial video
Hypnosis For Mental Programming & Behavioral Change
Becoming Present And Conquering Your Goals
The Science of Fasting
Private Members Group
Bodyweight Mastery
According to Kinobody, their 8-phase Bodyweight Mastery workout program takes a "carefully calibrated and fine tuned approach" to helping you achieve a lean, muscular, and proportionate physique—using only your body weight.
Not only will you look good, but you'll also be functionally athletic with "incredible strength."
What does this look like? Kinobody claims you'll achieve a square chest, wide back, slim waist, well-defined shoulders, and more!
Along with your purchase of Bodyweight Mastery, you'll also receive the Nutrition Guide, Full Workout Progression Tutorials, and Private Members Group access.
Whew, that's a whole lot of information! How much will all of this cost you?
How Much Do Kinobody Workout Programs Cost?
Kinobody's programs are priced as follows:
Warrior Shredding Program: $47
Greek God Program: $47
Superhero Physique Program: $47
The Goddess Training Program: $47
Aggressive Fat Loss: $47
Bodyweight Mastery Program: $39
Regardless of which program you purchase, Kinobody offers a 60-day money back guarantee on all their programs. Interestingly, there wasn't any contact information listed on the Kinobody website which you could use to request one.
Who's the person behind Kinobody, anyway? What are their credentials? Let's take a look.
Who Is Gregory O'Gallagher?
Despite the fact that Greg O'Gallagher has a very popular social media presence (54,000+ Facebook and 77,000+ Instagram followers at the time of our research, for example), there was little third-party information available about him.
According to the Kinobody website, we're told that he's a certified personal and an "expert in building the Greek god proportions." Greg is also the voice behind the Road to Ripped podcast and—obviously—the author of each of the fitness programs discussed above.
Pro tip: The personal training industry is largely unregulated, so there's no real way to confirm whether or not someone is certified. As the link above also outlines, there's also no way to know exactly how they're certified, or whether or not their experience qualifies them to give training advice, regardless of any certifications they possess.
Online Customer Reviews for Kinobody Workout Programs
There wasn't much more online customer feedback for Kinobody's workout programs, either, which we found surprising, given Greg's apparent popularity.
In fact, other than the standard fake affiliate reviews, we only came across one Reddit thread, where most feedback seemed to revolve around Greg himself, versus the efficacy of Kinobody's workout programs.
We also found a Bodybuilding.com thread referencing the Kinobody "Muscle Building Course" (unsure which course this refers to), although there was very little feedback.
In both cases, some users claimed to have experienced positive results, while others claimed that you can learn all of the same information elsewhere online, but for free.
Speaking of which, exactly what kind of information will you find in Kinobody's workout programs, and how will it differ from the competition?
What Will You Learn from Kinobody?
If you took the time to browse the Kinobody website, you probably noticed that the information for each program was buried deep inside long form landing pages. And in order to come up with any meaningful nuggets of information, you had to wade through a whole lot of marketing hype.
In fact, after reading through 6 different landing pages, the only useable thing we learned about Kinobody's workout programs is that at least some of them utilize rest pause training. While we were researching Kinobody reviews, we came across more useful information about what's involved in the program from third-party sites, including intermittent fasting and pyramid training:
Rest Pause Training – Although it might sound complicated, rest pause training simply involves taking a short, 10-15 second rest between each set. A HighYa reader tells us that Kinobody's programs focus on longer resting periods, typically one to two minutes.

Intermittent Fasting – Although there are many different forms of intermittent fasting. Involves cycling between periods of eating and not eating.

Pyramid Training – Pyramids involve starting with lower weight and performing a higher number of reps, and then increasing to higher weight/lower reps. Specifically related to Kinobody, this same HighYa reader tells us these programs promote Reverse Pyramid Training (RPT), which involves beginning with your maximum weight and progressively reducing it by 10% - 15%.
While there are pros and cons to each of these methods (just like any other workout strategies), suffice it to say that you could—to return to what one forum user mentioned in the previous section—learn pretty much all you need to know about them without paying a penny.
Should You Order a Kinobody Fitness Program?
Based on everything we've learned about Kinobody, here are our final thoughts:
On one hand, it's hard to argue that Greg O'Gallagher has an awesome physique; one that most men would love to achieve. This is part of the reason why you'll find his pictures and selfies plastered all over his website and social media feeds.
Also, it seems like Greg features at least a handful of tried-and-true techniques that could reasonably help you achieve the body you want. Each Kinobody program comes with nutrition plans, which is likely more important for achieving your ideal body than working out.
On the other hand, there is curiously little customer feedback about Greg or his Kinobody programs, and what little there is seems to be mixed.
On top of this, while some of the techniques Greg uses (at least the ones we know about) can be effective, they're certainly not anything new, and you could probably learn everything you needed elsewhere online, for free.
Does this mean you should order a Kinobody program? Ultimately, that's only a question you can answer. But if you decide to roll the dice, you can always get your money back within 60 days of purchase.
Terrible community advisors and admins on Facebook

By Justin J.

,

Alexandria, VA

,

Jan 26, 2019
Verified Reviewer

I've done and complete the Kinobody Program, and it's legit, and it works. Now the High Protein, Low Carb and Fats are pretty tough and works.

But the most terrible thing is the people in the community. They are very emotional and take everything to the max when it comes to offending someone. I was removed from the Facebook community for telling a user to stop using a specific form because they could bruise and damage muscle tissue. Later an admin commented and suggested that I tell him how to fix. I told the admin that it's not my responsibility to show him. And I don't have to listen to what you tell me to do, and suggested that the user can go on YouTube and learn the proper form. Five minutes later I was removed. They have very poor admins, and I stress that people should avoid the community.

Bottom Line: No, I would not recommend this to a friend

---

Waste of time

By James C.

,

United Kingdom

,

Oct 24, 2018
Verified Reviewer

I have been training for over 15 years now and along the way I have obtained a number of workout plans, some paid for, some not.

I have to say I haven't even tried this workout yet but already it seems an utter load of jargon. He overcomplicated things when it would be very easy to cut out 60% of the pages given to you and just give you a strong workout plan, which you can work through over the course of your workout journey.

After reading it, I am struggling to see an actual written workout plan and schedule that I can actually follow.

The plan is all over the place, and you're left wondering what you have actually purchased aside from some very scientific explanations that we as customers don't really need to know. It appears to be him just inflating his own massive ego by writing complicated information, that we don't need.

I can guarantee the plan offered by Athlean x Jeff Cavaliere will be a much more honest option where he isn't fleecing you for as much as you can before you even lift a weight. It will have structure and a plan to follow daily.

As previously stated, this program leaves me feeling like I have to take all the information from the Kino plan and somehow devise the routine myself, which is why I bought the damn thing in the first place - so I don't need to do that!

An absolute waste of time and money.

Bottom Line: No, I would not recommend this to a friend

---

Kinobody is in the sales business, not the fitness business

By Alexander K.

,

Seattle, WA

,

Aug 14, 2018
Verified Reviewer

Kinobody seems to focus spending probably 90% of its yearly budget on sales videos, sales pitches, graphic media, an attractive website, and about 10% of its budget on creating a working fitness program.

In fact, after purchasing the packet, you are left unsure of whether or not you even have the product. Their system pushes you to buy three other programs before even showing you the product that you paid for. They direct you immediately back into more sales pitches.

If you can finally figure out how to get to the program, you will spend a measly half hour reading through the entire program; only to realize they supply you with a couple of really common workouts that you can learn from going to the gym and watching someone for 20 minutes. The majority of the writing seeks to disparage other programs, and then not offer a more effective alternative.

You will spend two hours of frustration, searching for the actual program, only to realize that this one limp chapter of a couple of workouts that you looked at eight times during your search actually is the entire thing. Enjoy doing the same two days split for the next three months.

They pretend like they are offering more options in exercises and movements by showing a list of alternative workouts, but they do not detail which of the normal lifts they are supposed to replace. You will see these alternate workouts and think "I would really like to do this one or that one, how do I implement them into the program?" It doesn't tell you how.

I read through the whole thing before finishing a cup of coffee and immediately wanted my money back. But after reading reviews, I soon discovered that their money back guarantee is yet another sales pitch and that it is an incredible hassle to get the refund. I decided my time is worth more than that and just became comfortable with the fact that I lost that money.

The worst part? As someone who has worked out regularly for 12 years, I can tell you that if you follow this program, yes, your biceps and chest will probably grow, so Kinobody gets to pretend like they are effective. However, I can also tell you that if you go outside and lift a rock over your head 20 times a day, you're going to grow muscle. Kinobody fails at optimizing growth potential by providing a full comprehensive program for peole who want to ge the most of their workouts.

Well done Kinobody, I hope you're all millionaires with 100% profit and 0% product value. Add the money I sent you to the pile.

Bottom Line: No, I would not recommend this to a friend

---

Horrible! Never purchase!

By Brian F.

,

Dallas, TX

,

Jul 11, 2018
Verified Reviewer

I admire Greg, and his YouTube videos are generally helpful. However, his company is run very poorly and I've had literally the worst customer service experience ever with Kinobody, which is why I'm writing this review.

He advertises a 30-day money back guarantee, but when you reach out and try and get your money back, they make you jump through holes or simply don't respond. I've had to reach out to my credit card company to get them to take the funds from Kinobody, so I can get my money back.

Huge waste of time and unnecessary stress. NEVER buy anything from Kinobody!

Bottom Line: No, I would not recommend this to a friend

---

Advertisement

---

Absolutely effective

By Justin R.

,

Canton, OH

,

Jun 13, 2018
Verified Reviewer

My wife sent me a video promotion of the aggressive fat loss program. I used to be in amazing shape in my late teen/early 20s. It easily got away from me as I am no 26, married and have three little ones. The workout routines are achieved in a little over an hour only three times per week!

I started the aggressive fat loss program a little over a week ago, cut 1.5" off my waist and cut almost 9 lbs! This is no joke! Intermittent fasting is absolutely amazing! My energy levels are through the roof! I maintain energy from 530 when I wake up until 1100 when I got to sleep! No crash, no fatigue...at all!

This program is completely worth the money.

Bottom Line: Yes, I would recommend this to a friend

---

Got exactly what was promised

By Rhys A.

,

Manchester, United Kingdom

,

May 23, 2018
Verified Reviewer

I have followed the Greek God program for over a year now and it as delivered everything it said it would; big, thick, lean shaped muscle.

As a supposed 'Ectomorph' this was fantastic to finally see some results from spending just three times, 45 minutes in the gym per week.

The only improvement I could suggest is all the bonus material be incorporated with the original source material into one linear course; I found myself having jump about between the original source material and the bonus content to get an overall perspective. At most this is a couple extra hours of reading though, and Gregg's writing style isn't boring or waffling.

Gregg more than makes up for this in teaching the principles of working out 'smart' by maximizing effort and time with the most effective workout techniques for the program.

A bit does revolve around intermittent fasting, however, this is a non-issue as it is not the main focus or essential to the course, and after four weeks of following it my psychology towards food has completed altered to the point where I still enjoy it but find I don't overeat.

The last benefit I can think of; Gregg takes the overly complex world of cutting/bulking/maintenance calorie tracking and simplifies this to an equation. End of.

Overall I would highly recommend.

Bottom Line: Yes, I would recommend this to a friend

---

Amazing programs.

Colorado

,

Apr 1, 2018
Verified Reviewer

I was a bit confused by your evaluation. I didn't even buy his program and was able to get a good amount of information scattered throughout YouTube. It took me from fat to lean(ish). I then decided I wanted to try to follow his program to a T and bought his warrior shredding program. This was when I began to get definition in my muscles and when I lost a lot of fat, and my weight stayed the same relatively, but you could see the changes. It is extremely informative and puts it all together. I don't know why it was hard for you to find the information though.

Bottom Line: Yes, I would recommend this to a friend

---

Great programs!

I am a 27-year-old woman. I started with the Goddess workout at about 145 lbs after gaining weight from being immobile for months after a car accident. For my height of 5'5, I was rather large. I was never that heavy before, and I could feel EVERY bit of extra weight when I moved. I was unhappy and uncomfortable. Doing the Goddess workout for a good 1.5 months helped strengthen my injured leg back to full capacity! And on top of that, I finally got down to my normal weight of 117 lbs, in a month and a half! Intermittent fasting and working with Greg's program and his tips and tricks definitely helped so much!

I personally want to have more of a ripped physic as opposed to the Goddess look, so I am planning on switching to Greek God in order to build up my strength in a subtle way. So I will definitely be working on my body following Greg's instructions. The man knows what he's talking about. He gives no BS.

Bottom Line: Yes, I would recommend this to a friend

---

Wasn't for me

I used the Superhero program, and it was not for me. There are definitely some good tips such as rest pause and pyramid sets. Here's what didn't work:

The program relies on intermittent fasting, which I wasn't able to sustain for more than a week at a time on and off.

The program includes specialization phases that focus on working certain muscle groups for eight weeks. In theory, this could make sense, but I found that the "non-focus" muscles were lagging behind and as a result, I was losing mass and definition fast.

I prefer a five-day program, as where this is a three-day schedule. The workouts were not sufficient enough for three days.

I like to access my workouts on my iPhone while I'm working out and found that the mobile version was not seamless to navigate.

Bottom Line: No, I would not recommend this to a friend

---

Someone who actually tried the program

By Ahmed

,

Khartoum, Sudan

,

Jan 21, 2017
Verified Reviewer

The guys promise you a lean, hard and muscular body like a warrior, a Greek god, or a superhero.

I used the Greek god program for 11-months and got exactly what he promised, and I'm 100% satisfied. Besides the insane strength gains I've had, I'm now over confident and a ladies man.

I do want to note that before I used the program, I had an above average body. During the program, I never had to take supplements.

Kinobody is the future of lifting because it only asks you to train three times per week, and each session will NOT take more than 45 minutes.

Bottom Line: Yes, I would recommend this to a friend

---

RPT and Long Rests, your review is the exact opposite

By dxiner

,

Orange Beach, AL

,

Sep 8, 2016
Verified Reviewer

Just pointing out that Greg promotes Reverse Pyramid Training (RPT) which is starting with max weight then reducing by 10-15% for 2 more sets.

The other part you got wrong is the resting period. He recommends long rest times, 1 - 2 minutes.

The program is based on the concept that as you are creating a calorie deficit from whichever diet program you are doing, having basic strength training with high protein intake changes the fundamental structure of your muscles and body.

Having tried this program for 3 months I haven't dropped much weight, however I have lost 3 inches on my waist, gotten leaner abs, and now have the ideal triangle shape upper torso.

Each program targets diet differently based on the starting point, and the workouts are separated based on overall fitness for the AFB (aggressive fat burning) or GG (greek God) levels.

Just saying that if you are going to review a product please buy it and actually understand what you are reviewing. Thanks.

Bottom Line: Yes, I would recommend this to a friend

---